9 of the Best Products from Celebrity Beauty Collaborations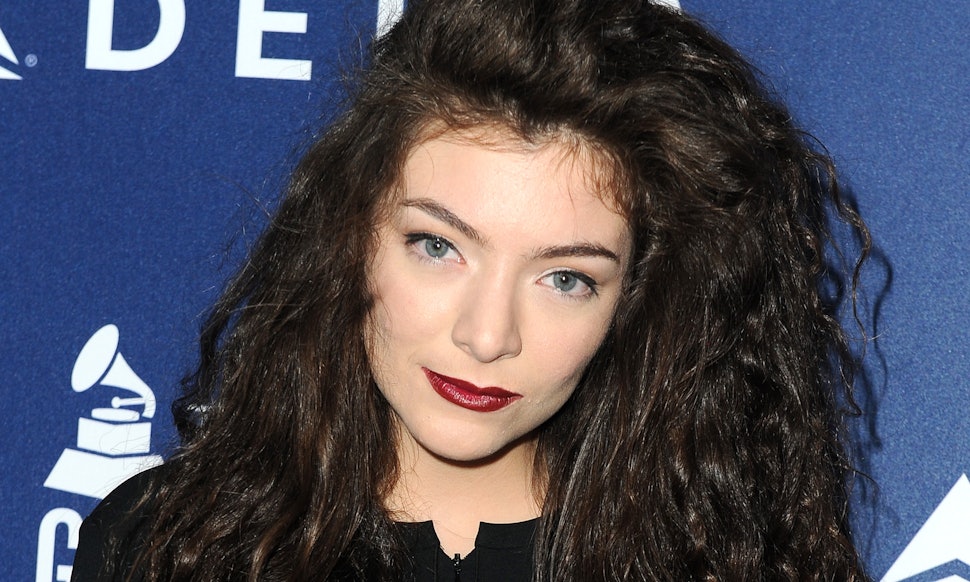 Angela Weiss/Getty Images Entertainment/Getty Images
There are a lot of things we're looking forward to in the coming months: a thaw-out of this frozen tundra, a possible royal engagement, and perhaps most of all, Lorde's limited edition collection beauty collaboration with MAC.
We don't know much about the collaboration yet, but it's probably safe to assume that it'll include a rich, dark lip color — despite reports that nude lipsticks are becoming more popular than vivid shades — and hopefully a dramatic nail polish or two.
MAC is known for their celebrity collaborations, with alumnae including Rihanna, Nicki Minaj, Azealia Banks, and Hayley Williams. The Osbourne women are set to release their new MAC products, which includes a pale purple lipstick, this June.
But MAC isn't the only beauty brand to team up with celebs. Here, 9 other pretty partnerships, and some of the best stuff you can snag from each collab.
Santigold For Smashbox
The electro-pop singer/songwriter's Smashbox collection, inspired by a post-apocalyptic world, recently became available online. This lipstick ring, studded with Swarovski crystals, is part of the limited edition line.
The Santigolden Age Be Legendary Lipstick Ring, $49, Smashbox
Alicia Silverstone For Juice Beauty
Alicia Silverstone collaborated with organic beauty brand Juice beauty to create this shea butter-based facial highlighter. Other natural ingredients like açai berry, goji berry, and champagne grape seed extract make this product almost good enough to eat. Almost.
Alicia Silverstone For Juice Beauty Irresistible Glow Facial Highlighter, $22, Beauty
Kelly Ripa For Deborah Lippmann
Celebrity manicurist Deborah Lippmann has worked with a handful of a-listers (including Sarah Jessica Parker, Mary J. Blige, and Cher) to create beautiful nail lacquers. A portion of the proceeds from every sale of the Celebrity Shade collection will be donated to the respective celebrity's charity of choice. We love this shimmery pink shade created with Kelly Ripa.
Whatever Lola Wants, $18, Deborah Lippmann
Kat Von D For Sephora
Kat Von D has created an exclusive cosmetics line for Sephora. Inspired by Old Hollywood and rock 'n' roll, the 29-piece collection runs the gamut from eyeliners and eye pallets to blush and concealer.
Alexa Chung For Eyeko
Gwen Stefani For OPI
OPI is no stranger to celebrity collaborations. They've worked with stars like Nicki Minaj, Katy Perry, and Mariah Carey to create inspired shades. The brand's latest partnership is with Gwen Stefani, whose collection includes an array of satin, glossy, and chrome polishes.
Gwen Stefani Rock Starlets Mini Sets, $13, Ulta
Katie Holmes For Bobbi Brown
This Bobbi Brown palette, created with and inspired by Katie Holmes' on-the-go lifestyle, comes complete with classic colors for eyes, cheeks, and lips. It's perfect to toss in your purse for touch ups throughout the day and works especially well to complete day to night transformations.
Bobbi Brown Bobbi & Katie Palette, $105, Amazon
Rihanna For MAC
Last May, Rihanna's MAC shade 'RiRi Woo' sold out just three hours after becoming available online. Don't worry, she has some other amazing red shades that are still available for purchase. We think Lorde's line will be met with similar success, so you better be ready on your mouse pad when the collection becomes available.
Katy Perry For Eylure
You'd expect Katy Perry to create a line of hair dyes or hair chalks, right? Instead, the pop princess has dreamt up a line of false lashes, with plenty of pairs to choose from.
Katy Perry Banging Beauty, $10, Eylure