13 Quotes From Romance Novels For Your MOH Speech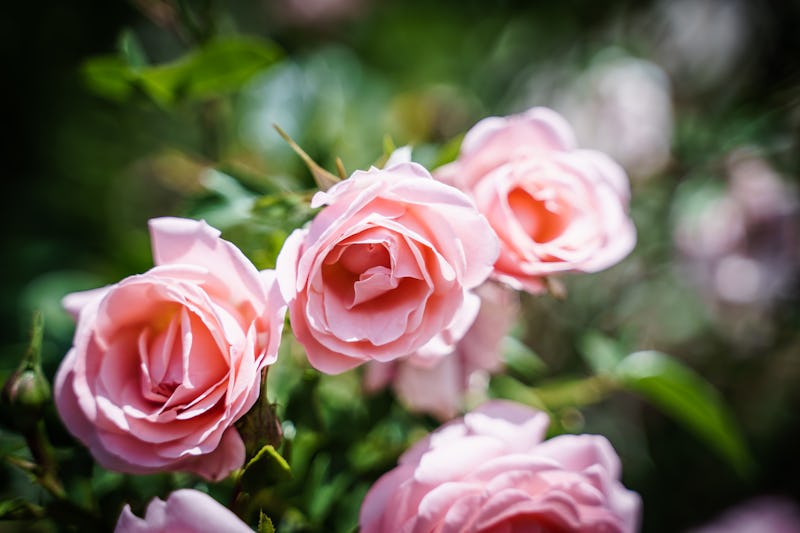 Carles Navarro Parcerisas/Moment/Getty Images
From William Shakespeare to Pablo Neruda, Emily Dickinson to Charlotte Bronte, books and authors are popular go-tos when it comes to wedding speech material. And while classic literature and poetry can certainly make a splash at the ceremony, readers would do well to turn to romance novels for inspiration. Here are my suggestions for romance novel quotes to use in your maid of honor speech.
Whether you are celebrating your sister or your soon to be sister-in-law, your childhood bestie or your college roommate, being maid of honor for someone you truly care about is truly an honor. But it's also a lot of pressure. You have to plan the perfect bridal shower and bachelorette party, keep the bride sane in the weeks leading up to the wedding and happy the day of, and compose the perfect toast for the reception. While books may not be the answer for some of the items on your MOH to-do list, they are the key to your speech. And since romance novels have everything a wedding toast (and a happy marriage) should — passion, joy, love — what better kind of book to turn to?
In case you need some inspiration, here are 13 perfect romance novel quotes for your maid of honor speech. When it comes to your loved one's special day, take a little pressure off of yourself and trust the professionals to get the job done right.
1. "Loving someone is one of the biggest chances we ever take. It's something that blossoms slow or hit us hard, something that stirs and builds gradually, or something that shocks us with its sudden intensity. And sometimes it's something that's been a part of us our entire lives. But almost always, it's inevitable."
— A.L. Jackson, Come to Me Softly
2. "We are all fools in love."
— Jane Austen, Pride and Prejudice
3. "Sometimes when we're not paying attention, relationships hap­pen.There is no rule that requires two people in love to be ex­actly alike. In fact, there is some scientific evidence to suggest that on a genetic level, the people who are the most opposite are the most likely to have a healthy and long-lasting pairing. But really, who can explain the mysteries of attraction? Blame it on Cupid.The moon.The shape of a smile. Both of you can thrive on your differences, as long as you respect them. You say tomato, he says tomahto .Let it happen,Dive in head first. We usually learn the most about ourselves from people who are different from us."
— Lisa Kleypas, Smooth Talking Stranger
4. "Love is like the wind, you can't see it but you can feel it."
— Nicholas Sparks, A Walk to Remember
5. "When you find somebody you love, all the way through, and she loves you—even with your weaknesses, your flaws, everything starts to click into place. And if you can talk to her, and she listens, if she makes you laugh, and makes you think, makes you want, makes you see who you really are, and who you are is better, just better with her, you'd be crazy not to want to spend the rest of your life with her."
— Nora Roberts, Happy Ever After
6. "Love is supposed to be scary. If it was easy, everyone would do it."
―
Susan Mallery
,
7. "My studies have shown that the process of falling into mature love happens in four steps. When you meet a woman, you subconsciously look for cues that she's the kind of person you should be with. That's assumption. If she passes the assumption test, you begin to get to know her to find out if she's appropriate for you. If she is, you're attracted. If, as you get to know her, the attraction is reinforced with joy or pain or both, you'll fall into infatuation. And if you manage to make a connection and attach to each other during infatuation, you'll move into mature, unconditional love."
― Jennifer Crusie, Bet Me
8. "Love more than existed; it was hers."
— Carol Marinelli, Princess's Secret Baby
9. "Love without friendship is like a kite, aloft only when the winds are favorable. Friendship is what gives love its wings."
— Sherry Thomas, Ravishing the Heiress
10. "Love takes something that's difficult and makes it feel so effortless."
― Debbie Macomber, The Man You'll Marry
11. "It's like a feeling. Like that feeling you get when you've been away from home for far too long, and you're tired and hungry, [...] and your car is low on gas and it's getting dark, and you're sick of cheap hotels and cheap diners and every song on the radio and every thought in your head, and all you want to do is crawl into your own bed and fall into a dead sleep . . . and then you turn the last corner, and there it is. Home. All your troubles melt away with one big sigh, and you hit the gas hard, because you just can't stay away one second longer."
―
J.T. Geissinger
,
12. "Love was more than passion. It was built on intimacy, a history woven of private moments, knowing looks, and silent smiles."
— Meredith Duran, That Scandalous Summer
13."There was a reason for everything that happened and that all of those reasons were like threads that, over time, wove together into the pattern of a person's life. Every thread was necessary for the final pattern to be complete."
― Erin Nicholas, She's the One
Images: Carles Navarro Parcerisas/Moment/Getty Images; Giphy