The A Game Is Coming To An End On 'PLL'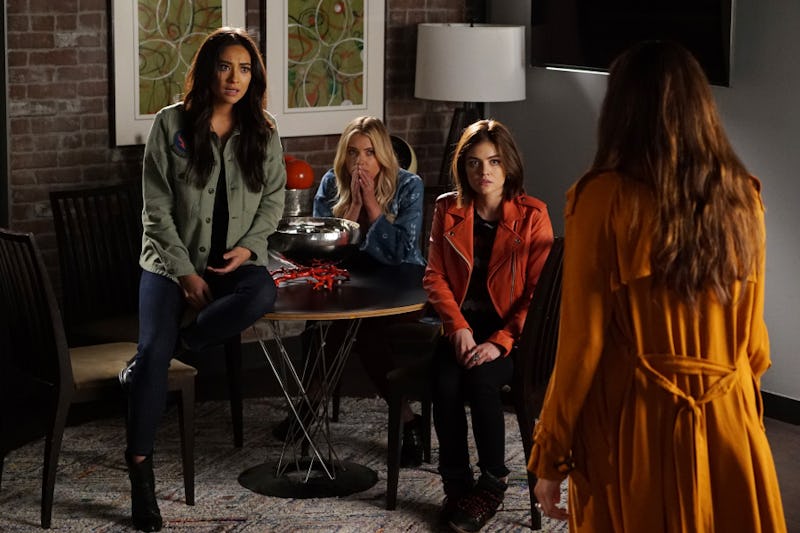 I don't know about you, but I find it hard to remember what life was like before Pretty Little Liars premiered in June 2010. What did I do with my spare time before I devoted it to hours of theorizing about the latest villain's identity, staring at anagrams, and wondering which secret DiLaurentis family member would show up next? The deadly Pretty Little Liars Season 7A finale airs on Aug. 30 and the show will return in spring 2017 for the second half of the season. But, what happens after that? Will there be a Pretty Little Liars Season 8?
After months of speculation about the show's future, it has now been confirmed that Season 7 will be Pretty Little Liars' last, Variety reported on Aug. 29. The news was officially announced on Facebook live by showrunner I. Marlene King and the actors who play our beloved Liars — Troian Bellisario, Ashley Benson, Lucy Hale, Shay Mitchell, and Sasha Pieterse. The outlet also noted that the series finale, which will likely air in late summer 2017, will be two hours long. Although this news is devastating for fans, the major benefit of a creator ending a show on his or her own terms (as opposed to sudden cancellation) means that King has plenty of time to craft the perfect series finale and give the Liars the sendoff they deserve.
With that in mind, here are five lingering mysteries that need to resolved in the finale 10 episodes of Pretty Little Liars next year. (Because, you know, I'm sure King is dying for my input.)
1. What's The Deal With Bethany Young?
For a character that we've been hearing about for years, we still have literally no idea who Bethany really was and why she's (supposedly) so important to the show's overarching mysteries. Is she Mary Drake's daughter? Spencer's twin? Please, somehow make this character relevant!
2. Where Does Wren Fit In?
I will be a Wren/Melissa theorist until the day I die, and the fact that he's returning to the show is proof enough for me that he's heavily involved in the A game — and he's likely Uber A. Isn't it time to just unmask him already?
3. Who Is Really The Evil Twin?
By Mary Drake's account, her deceased sister Jessica is the real evil twin and her deceit is what landed Mary in Radley as a teenager — an experience that left her emotionally scarred for life. But, I'm not totally ready to jump on board with her story. Although she did ultimately demand that Rollins stop torturing Ali, she absolutely used cruel tactics to gaslight her niece and it's hard to move past that. And, to take it one step further — are we absolutely sure that Mary isn't really Jessica? After all, it wouldn't be the first time someone in Rosewood buried the wrong person.
4. How Are All These Villains Connected?
Something that has often baffled (and frustrated) Pretty Little Liars fans is the fact that Aria, Emily, Hanna, and Spencer have been relentlessly tortured for reasons that have very little to do with their own actions — even though they're the main characters. Every time a villain is unmasked, it turns out that the Liars' suffering was collateral damage as the result of someone whose motive was directly related to Ali.
Although the entire A team is obviously evil and Ali didn't deserve to suffer either, it would be interesting to finally expose the family secrets of all the Liars — we know they have plenty. I'd like to see some sort of overarching explanation about how all these family secrets intersect and why the Liars continue to find themselves in the crossfire no matter what they do. It would feel somewhat dissatisfying for all roads to lead solely back to Ali and her family.
5. Which Parts Of Charlotte's Confession Were True?
We were seemingly given a slew of answers in the Season 6A finale. There's just one problem — they all came directly from Charlotte, who turned out to be the least reliable source possible. It's safe to say that more than one lie was told during this apparent "confession" — and the plot thickened even more when Mary Drake recently claimed that she didn't know Charlotte was even aware of her existence. (Of course, whether or not Mary was telling the truth is also up for debate.) Either way, Season 7 needs to parse out Charlotte's story and clue us in about what really happened on Rosewood's most tragic night.
Most of all, I hope the Season 7 finale shows the Liars leaving Rosewood feeling safe and free once and for all. They certainly deserve it.
Images: Eric McCandless; Screenshot/Freeform; prettylittleliars/Tumblr (2); Giphy (2)