Alison Received Big News On 'PLL'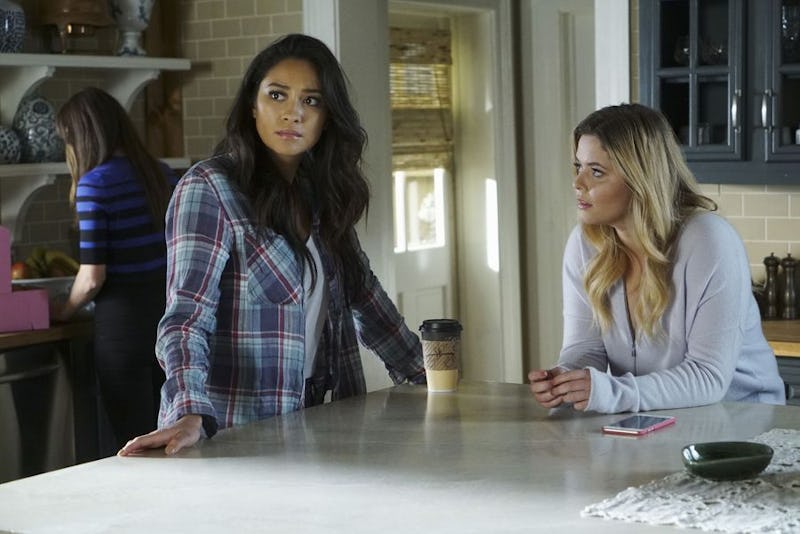 Well, there you have it, folks. We knew that the Pretty Little Liars Season 7A finale would deliver some game changing news to one of the Liars and as usual, the series didn't disappoint. It turns out that Alison getting sick in the high school bathroom had nothing to do with the hooded students she found in her classroom. (Though that probably didn't help things, of course.) It turns out that Alison is pregnant on Pretty Little Liars , information that she disclosed privately to Emily when the two of them were alone. And while Emily immediately asked if Archer Dunhill is the father of Alison's baby, I'm not entirely sure we can take her "yes" as concrete proof.
I'm not saying that Alison was ever unfaithful to Archer aka Rollins. That's not the case at all. I'm just still very suspicious that A.D. could've somehow fertilized and placed Emily's stolen fertility eggs inside of her during her time in the mental institution. So it's still very possible that Rollins isn't the father after all, unbeknownst to anyone else, including Alison herself.
Obviously this is huge news for the Rosewood gang for several different reasons. I mean, having a kid is a big deal under any circumstance let alone when you're dealing with such a complicated family tree as the DiLaurentis clan. Not to mention that it makes Alison very vulnerable since it's not just her life she'll need to look out for from now on. And what if this really is A.D.'s kid, who could've done this in an attempt to create the family he never had? That's definitely going to complicate things even further.
It's hard to say how this will exactly play out moving forward and if any other surprises will crop up throughout this pregnancy in regards to the baby's DNA. But one thing is for sure, Alison's life will never be the same again.
Image: Ron Tom/Freeform