Yes, You Can Still Date 'Bachelor' Nick Viall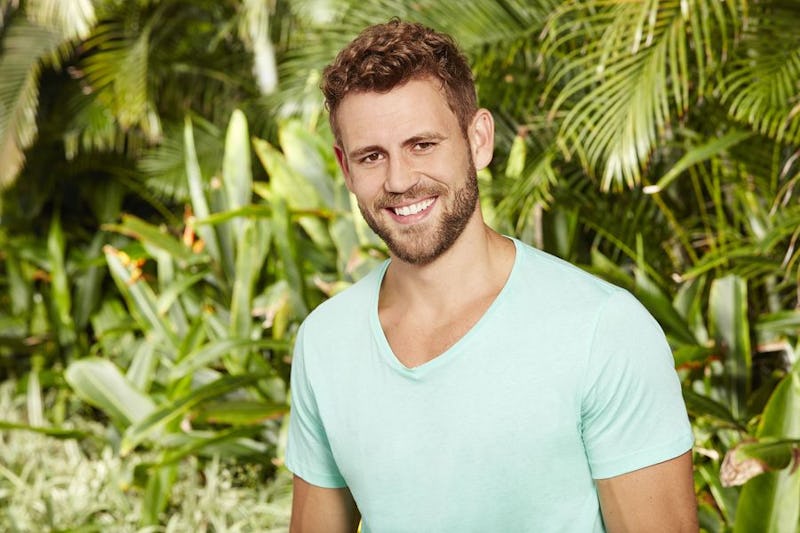 Nick Viall is the new Bachelor, and I've never been happier about a casting decision in my entire life. Nick has gone from brokenhearted on Andi's Bachelorette season to brokenhearted on Kaitlyn's Bachelorette season, with a pit stop in Bachelor In Paradise for good measure. Now, he's the master of his own destiny, finding one of 25 women to fall in love with and hopefully marry. I mean, the guy really deserves a win, doesn't he? And lucky for Nick, he's not the only one who thinks so. Legions of heart eyes emojis flooded Twitter when the announcement became official during After Paradise on Aug. 30, which means there are ladies out there who are all about Nick. But can you still apply to be on Nick Viall's season of The Bachelor ?
Guess what? You totally can still apply to be a part of The Bachelor Season 21. I swear, Bachelor creator Mike Fleiss was tweeting all kinds of tomfoolery, teasing out the Bachelor and who it could and couldn't be, and then — bam! He announced Nick is the Bachelor and the world exploded. There are many women who want to apply for Nick's season of The Bachelor — so many, in fact, that when Bachelor mega producer Elan Gale tweeted that, yes, there is still room to be on The Bachelor, he had to immediately follow it up with a link so that everyone would stop texting him for the information. You walked into that one, didn't you, Elan?
I'm a happily married woman, but I think my husband would be OK if I ditched him to be on The Bachelor, right? OK, well, maybe not. That's why I need all of you single and interested ladies to jump into that web application form and be on the show. Or at least try to be on the show. I will cheer you on from my marital couch and pray that you get the big, beautiful Neil Lane diamond in the end. So, apply to be on The Bachelor, women of America. It's your duty to me and to all of Bachelor Nation. But mostly me.
Images: Craig Sjodin/ABC