Nick Has Been Around The Block In 'Bach' Nation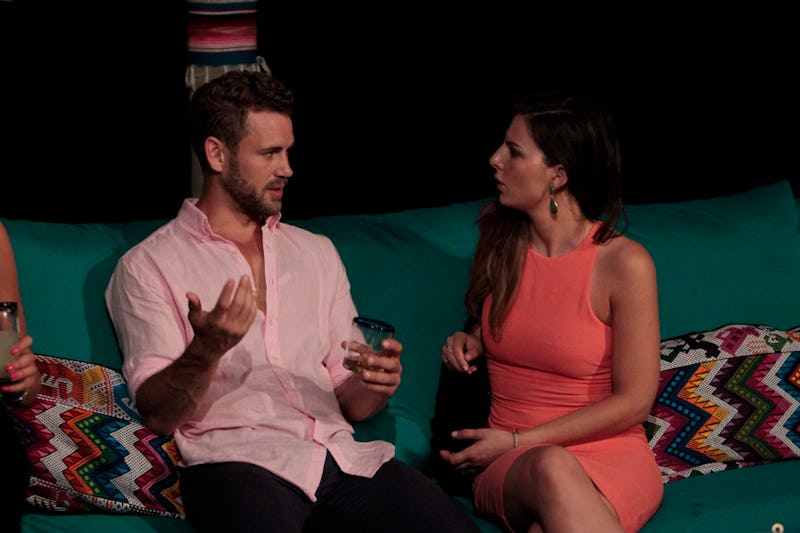 Nick Viall is the Bachelor and I'm sure some of you are probably thinking, "Wait, that guy again?" But yes! Nick is gracing America's televisions once again, and I couldn't be happier for it. Of course, he's been around the block a little bit — once in Andi's season of The Bachelorette, once in Kaitlyn's season of The Bachelorette, and once on Bachelor In Paradise. And after young Bachelor and Bachelorette contestants (Ben Higgins and Jojo Fletcher were both in their mid 20s) it seems like the series is going back to the more mature dating pool. But at 35, is Nick the oldest Bachelor ever?
Not quite. I know it seems like Nick has aged out of The Bachelor, but he was born on September 29, 1980, making him nearly 36. The oldest Bachelor during filming was actually Season 6's Byron Velvick, who was 40 when cameras started rolling. Brad Womack, who was the Bachelor twice, was 35 the first time around (same as Nick) and 38 the second. The youngest, if you were wondering, was Jesse Palmer on Season 5, who was 25 when he started his search for love. Nick may be much older than the other cast members on Bachelor In Paradise, but in terms of Bachelors of seasons past, he ranks in the upper-middle portion of the age chart. And don't worry, Nick — 35 is definitely the new 25.
Of course, I hope that Nick's contestants are proportionate to his age. It seems every year, the women on the show get younger and younger — no matter the age of the contestant they're all vying for. How about a 30-year-old for Nick? Or maybe even — gasp — a 32-year-old? I know it's shocking, but since the producers can appear to treat 30-something women like Clare Crawley and Tenley Molzahn like they are ancient (spoiler: they're not), it would be nice to get some age-appropriate options taking that journey with Nick during his season of The Bachelor.
Images: Rick Rowell/ABC; Giphy