7 Adventurous Meals You Should Eat Because #YOLO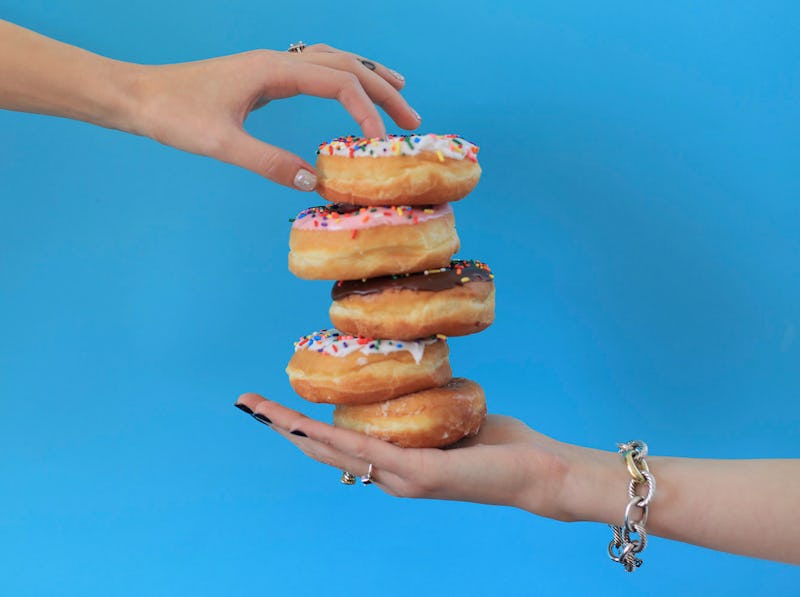 With the infinite gallery of decadent food that is the Internet, you gotta admit — it's a glorious time to be alive. All those 'grammable, drippy burgers, the pastry-stuffed milkshakes, the genius carb hybrids that you see out there on social media: These adventurous meals are truly things of beauty, reminding us that life is too short not to put spaghetti on your pizza. #YOLO.
Speaking of YOLO, the new CW series No Tomorrow embodies this spirit perfectly. Evie, a white collar worker who follows all the rules, meets Xavier, the consummate thrill seeker. The catch? He tells her the apocalypse is nigh. Whether or not the end of days is upon her, Evie is inspired by this revelation to tackle her long overdue bucket list. This got me thinking about my own existential to-do list, which would include (in descending order), dying my hair an insane color, getting friendship tattoos with my motley crew, and grubbing out on some of the most insane food that the twisted geniuses of the world have documented.
To inspire you to carpe all your diems, we've teamed up with The CW's No Tomorrow to assemble a list of jaw-dropping, mouth watering meals to sink your pearly whites into. Don't miss the series premiere of No Tomorrow on The CW October 4th – Tuesdays at 9/8c.
1. Piña Colada Pancakes
You love Piña Coladas. You love pancakes. When consumed separately, they're swell. When you put them together, your wildest dreams come true.
2. Lobster Pizza
Yes, that is 100 percent a lobster head sitting atop the country's favorite carb: pizza. This pie is sort of having an identity crisis, and — like me — it's deciding between being a beer slinging college senior or a swanky young professional. No matter what society tells you, you can choose to be both.
3. Sushi Burger
I am an avid sushi consumer, but quite frankly, it ain't always filling me up. After pounding down three rolls, I still find myself eating the ginger and licking the spicy mayo right off my plate. Alas, the solution we have all been craving: SUSHI. BURGER. Fusion cuisine at its most diabolical.
4. Rainbow. Freakin. Bagels.
Here it is, guys... THE FAMOUS RAINBOW BAGEL! This multicolored Internet darling has already made the rounds. But how does one cure a catastrophic hangover and still maintain their party spirit? My vote goes for this cray rainbow bagel with cannoli cream cheese. Even if you don't have a hangover, at least you can say you tried this gabbed-about bagel.
5. Scoop Me Right Up
Even if you're like me (i.e., your local ice cream shop hates you for taking all the samples), you want an ice cream cone that gives you everything. And by everything, I mean all the flavors sprinkled with Everything bagel seeds. If you had to select one last cone to devour, may I recommend this stacked cone the size of a real live baby?
6. This Grilled Cheese
If it were socially acceptable to lick your phone screen in the hopes of tasting the ooey gooey goodness that is THIS grilled cheese, then I'd imagine we would all need to get new phones due to water damage. Stick your phone in a bowl of rice. It's worth it.
7. Penne Pasta On Pizza
If I had to request one final meal, it would have to be my grandma's penne pasta — a dish I've repeatedly been force-fed until my fly gracefully busts. Pair this with pizza, and I'll give you everything. My body is ready.
This article is sponsored by The CW's No Tomorrow, series premiere October 4th – Tuesdays at 9/8c.
Images: Bustle; Hungry Twins (2), Food Baby NY (1), Savory Sweet Sisters (2), Eat Me NYC (3)/ Instagram