Meet KitNipBox, The Cat Treat Subscription Box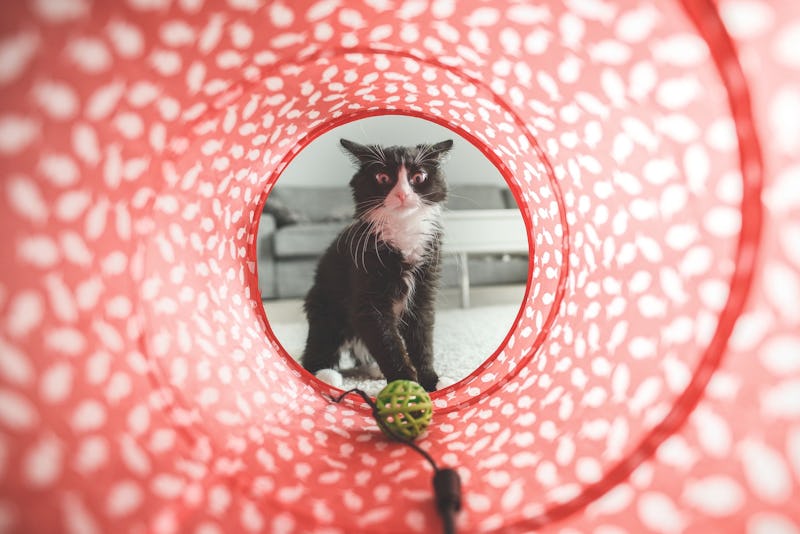 Your pets become part of your family very quickly. And if you love and treasure your feline pets, you might want to look into this new subscription box for cat treats. It's as simple as signing up and waiting for it to show up at your front door: an entire box filled with things your cats will love. From toys to snacks, this subscription is sure to make your pets purr.
KitNipBox's monthly fee, which starts at $20, is totally reasonable when you see the types of goodies you receive. Each box comes with toys and food, along with accessories and other items. If you've been a pet store lately, getting all of that under $20 is not usually possible. Especially not for cat-lovers out there — KitNipBox officials said in a release that pet stores have a larger selection of items for dogs than for cats. So if you're looking for a hassle-free way to get your cat all of the things they deserve, KitNipBox is your answer.
The great thing about this monthly subscription is the fact that it arrives right at your doorstep. A portion of the money you pay even goes to different animal welfare organizations. This way you can pamper your pet and feel great about it. And just in case you have more than one cat at your home, you can choose the subscription option that's $30 a month and comes with more fun treats and toys. Your animal friends don't have to fight over the goodies anymore!
If you are not a cat owner and have a different type of pet in your life, there are subscription box options for you as well. Luckily, pet ownership is getting attention from the tech/startup world. Depending on what kind of animal you have, there is a subscription service out there for you.
1. BarkBox
Every dog needs a little something besides your love. Luckily, BarkBox will send you a crate of goodies every month. You can even choose the levels of sturdiness depending on your dogs ability to chew through toys.
2. RatPack
If you have a little rodent living in your home, this subscription might just be for you! You can choose a monthly pack or a mini pack through RatPack, depending on your budget.
3. A Horse Box
Maybe you are one of the lucky people to own or take care of a horse. A Horse Box is a company that will send you treats that your horse is sure to love and appreciate you for. Some of the things show in the YouTube unboxing videos look good enough to eat!
4. Happy Bunny Club
Your bunny companions will be jumping for joy thanks to the Happy Bunny Club subscription you get for them. It's worth just for the unboxing videos alone. I think I'm going to get a little bunny now.
5. My Aquarium Box
Finally, if your little pet lives underwater, the My Aquarium Box will be the thing they look forward to every five to six seconds. Different types of fish food, and cleaning supplies will be coming your way.
Images: Pixabay