A&E's JonBenet Documentary May Be On Netflix Soon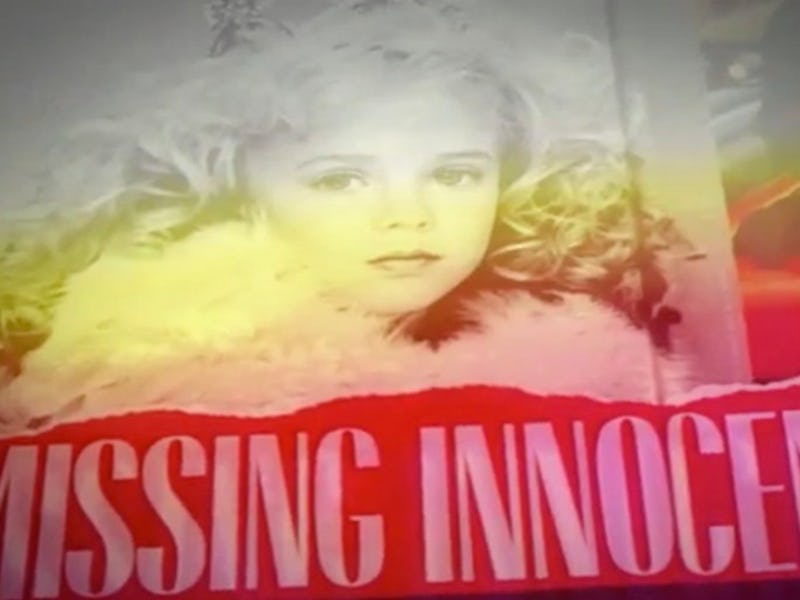 As the 20th anniversary of JonBenét Ramsey's murder approaches, there will be no shortage of TV coverage about one of the most infamous crimes of the 20th century. An Investigation Discovery series, a six-hour "docu-thriller" on CBS, and a Lifetime movie about the case are set to air this fall. But, first up is A&E's documentary The Killing of JonBenét: The Truth Uncovered, which premieres on Sept. 5. The documentary's official synopsis from A&E promises to deliver a lot of new information — never-before-seen case details, a 1998 interview with JonBenét's brother which has never been released, and new evidence. If you're a true crime fanatic who doesn't have cable, you're probably wondering if A&E's JonBenét Ramsey documentary will be on Netflix.
Although it hasn't been officially confirmed, it seems likely that the documentary will end up on Netflix. In January 2015, The Observer reported that Netflix had begun streaming nearly every A&E TV show and movie. Included on the list were a number of true crime and documentary movies, including Amanda Knox: Murder on Trial in Italy, Jodi Arias: Dirty Little Secret and The Murder of Princess Diana — all high-profile cases, just like Ramsey's. In the likely event that The Killing of JonBenét: The Truth Uncovered does hit Netflix, we'll have to patiently wait for the date it will begin streaming.
Although there have previously been Lifetime movies and specials about the Ramsey case, none are currently streaming on Netflix. But, if you need an online fix to hold you over, there is an episode of a British docuseries titled "Who Killed the Pageant Queen?" which is available in its entirety on YouTube. It's split into four parts, but the hour-long version on YouTube doesn't have the greatest sound quality — so it's worth a few extra clicks in order to get the best quality possible.
"Who Killed the Pageant Queen?" was released just seven years after the murder, but it's interesting to contrast the information and technology available at the time compared to what has been uncovered since. The showrunners were clearly on board with the intruder theory and they make it clear that the Ramsey family was immediately (and unfairly) assumed guilty by many people, despite maintaining their innocence. Years after the episode, their innocence was proven in 2008 when new "touch DNA" technology exonerated all immediate family members. This exoneration came two years after Patsy Ramsey's 2006 death from cancer, so she remained under suspicion until the day she died.
The episode doesn't pretend to be unbiased — their sources, including private detectives, add to criticisms of the Boulder Police Department for their handling of the case. In a Reddit AMA that he later deleted but was quoted by CBS, former Boulder Police Chief Mark Beckner said of the investigation, "I wish we would have done a much better job of securing and controlling the crime scene on day one. We also should have separated John and Patsy [JonBenét's parents] and gotten full statements from them that day." Beckner also said, according to USA Today, "It was the Christmas holiday and we were short staffed, we faced a situation as I said earlier that no one in the country had ever seen before or since, and there was confusion at the scene as people were arriving before we had enough personnel on the scene." Beckner told Boulder's Daily Camera that he deleted his comments because he was under the impression that it was being posted to a private forum. "I didn't know it was an open-architecture type thing, or I wouldn't have done it. It was a misunderstanding and naiveté on my part," he said.
The documentary's overall claim is that a rush to judgment can have devastating effects on the main suspects and investigation. So, while we wait for the day The Killing of JonBenét: The Truth Uncovered hopefully hits Netflix, at least there's one documentary to stream online.
Image: A&E