How To Soften Leather Boots To Avoid Blisters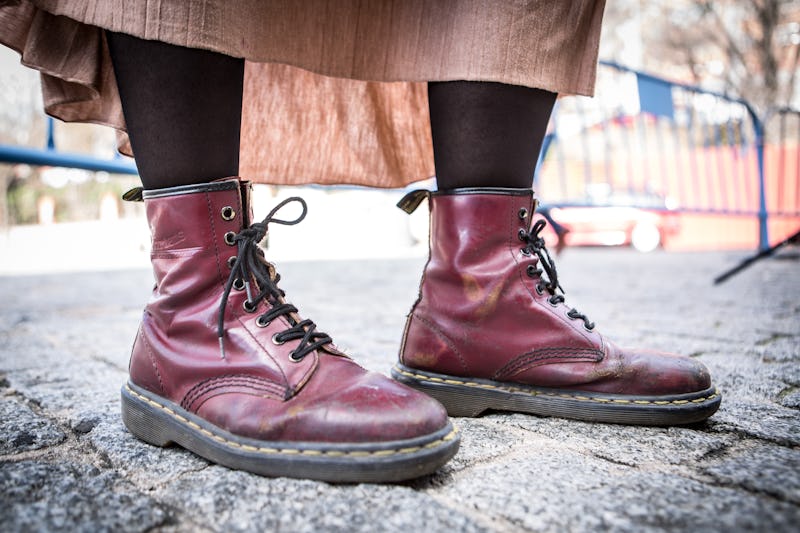 Pablo Cuadra/Getty Images Entertainment/Getty Images
It's official. The end of summer is nigh, but the beginning of fall fashion is here, and what's not to love about that? Blanket scarves, chunky sweaters, and boots are back. With boots, though, you'll need to soften leather boots because if you're like me and searching for a new pair, stiff leather is basically a guarantee of blisters. If you've already gotten your bomb new boots for fall or just want to soften an existing pair, there's a way to do it that's not going to damage your go-to fall shoe.
Personally, boots are my favorite part of fall fashion. Sure, I love the perfect jackets and cozy scarves, but there's something about a great pair of boots that completes every outfit. Plus, the options seem all but limitless. From combat and moto boots to riding boots and Chelsea styles, you can get whatever you need. With these boots, though, comes the inevitable task of breaking them in, but by softening the leather on the boots, you can get that effect without the pain and the blisters.
There are some surprisingly easy and simple ways to soften leather boots. Some even utilize things you may have in your home already. What are some of the methods for making those leather boots more comfortable?
1. Oil
Vita Labs Organic Extra Virgin Coconut Oil, $10.25, Amazon
Yes, that's definitely coconut oil. The end all, be all of oils can actually be used to condition and soften your boots. While there are other types of oils that can be used, you may already have this baby in your cabinet.
2. Leather Conditioner
Beesbutter All Natural Leather Conditioner, $17.95. Amazon
If you want to go a more traditional route, leather conditioner will soften your boots perfectly. While your boots won't feel immediately lived-in, the conditioner will help to protect the leather and make it a bit more supple when you wear them next.
3. Saddle Soap + Petroleum Jelly
Fiebing's Saddle Soap, $9.95, Amazon
To really soften boots, it'll be a bit of a process. First, you'll need to clean your boots with rubbing alcohol until the boot is soaked. Follow that up by lathering your boots in saddle soap and letting them dry. Lastly, use petroleum jelly to further soften the boots.
While wearing your boots will obviously break them in and cause them to soften, it won't eliminate the blister problem. To get a jump on the process, try one of these methods, and may your boots always be soft.
Images: Pablo Cuadra/Getty Images; Courtesy of brands (3)