Is Lauren H. Single After 'Bachelor In Paradise'?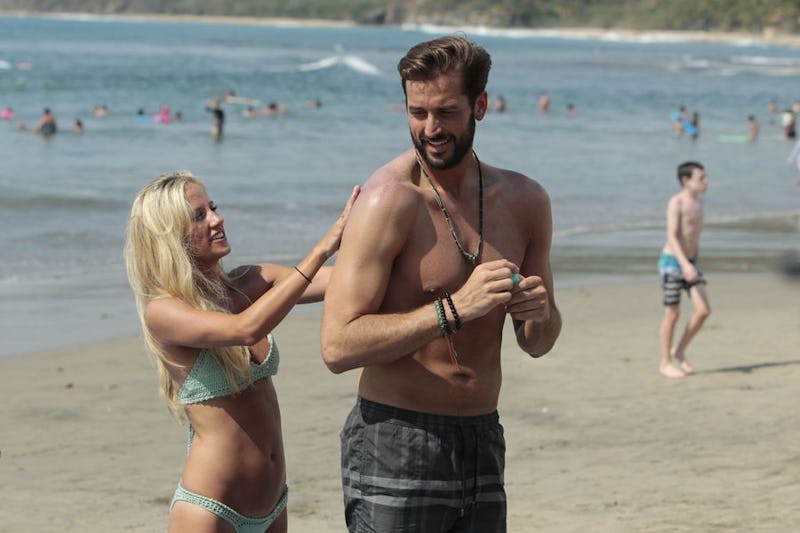 As the weeks have gone on, Bachelor in Paradise 3 has gotten more and more intense. Rivalries have been established (Ashley I. and Caila, Nick and Josh, to name a few). Relationships have blossomed and withered within short periods of time. But not everyone will leave Mexico with a soulmate. Is Lauren Himle single after Bachelor in Paradise 3 ? There's been no official word regarding the kindergarten teacher's relationship status and there seems to be no clear partner visible in her social media presence.
In a recent interview with a Detroit CBS radio station, she called Friday Night Lights' Tim Riggins (played by Taylor Kitsch) as her "dream guy." On Instagram, Lauren H. posted a photo of her pup Owie and called him "the literal love of my life" on National Dog Day. It's very possible Lauren H. left Paradise as a single woman.
Lauren H. is the other Lauren from Ben Higgins' season of The Bachelor — he ended up engaged to Lauren B. and eliminating Lauren H. during the sixth week of his journey. On Bachelor in Paradise, Lauren H. arrived in Mexico with a double date card with Shushanna, which they used to ask out Wells and Brett the Lamp Guy from Andi Dorfman's season (he will seriously never live down that lamp). While their surfing double-date may have gone well, it doesn't look like sparks flew enough to keep Brett and Lauren H. together post-Paradise.
Here's what else Lauren H. has been up to after Bachelor in Paradise.
She's Posting Inspirational Quotes
Lauren H. has posted a number of inspirational words to her Instagram account about knowing your worth and being your best self. Preach it.
She's Supporting Good Causes
Lauren H. posted a video of herself doing the ALS Ice Bucket Challenge, donating flower crowns to Headbands of Hope in honor of Childhood Cancer Awareness month, and helping to fix up Detroit homes as part of the local non-profit Life Remodeled.
She's Spending Time With Her Dog
With a face like that, who wouldn't want to be with that doggy? What a cutie. "I'm obsessed with you Owie, also wish you could read and/or talk and/or marry me," she wrote in a photo caption.
She's Enjoying Time With Her Family
Lauren H. posted this cute photo on IG, featuring the four generations of her family in Ann Arbour, Mich. Adorable.
She Went To Las Vegas With Bachelor Alums
Last month, Lauren H. headed to Sin City with some fellow Bachelor contestants: Caila Quinn, Haley and Emily Ferguson, Lauren Barr (LB), Jen Saviano, Shushannа Mkrtychyan, and Jami Letain,
She's Been Traveling
Aside from Vegas and going to Mexico for Bachelor in Paradise, Lauren H. has also made her way to Fort Lauderdale and Cabo San Lucas as well, according to her IG.
So even though Lauren H. may not have found true love in Mexico, it looks like she found good friends and continues to live her life to the fullest.
Image: Rick Rowell/ABC