The Urban Decay Vice Lipstick Palette Has Arrived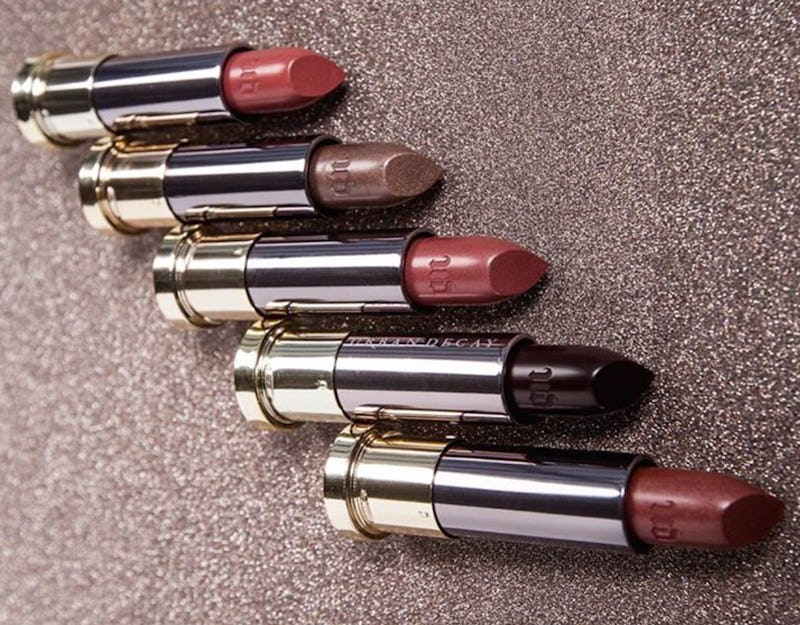 It's here! Last month, we got a sneak peek of Urban Decay's Vice Lipstick palettes. The details at the time were thus: One would be named "Blackmail" and the other would be called "Junkie." Well, the Urban Decay Vice Lipstick Palette in Blackmail is available online at Ulta right now. Remember, the brand famously relaunched its entire lipstick range earlier this year and added an app. UD effectively rebooted and rebranded with 100 shades and proudly proclaimed that "Lipstick is my Vice." The Vice lippies come in a variety of finishes and in bullet form. While Urban Decay denied that a Vice Lipstick Vault was in the works or on the horizon for Holiday 2016, the Vice lipsticks have been reinvented in a flat palette for the holiday shopping season. How much is the Urban Decay Vice Lipstick Palette in the Blackmail theme?
The limited edition palette is $35! For that price, you get 12 fly pans of lipstick, a brush, and a sleek 'n' chic compact with a mirror and a brilliant design, but more on that in a hot sec. This palette is totally totable, so you can swap out, customize, or mix 'n' match your lipstick while on the go. It's an affordable way to sample several of the shades in the Vice range. The palette boasts pinks, reds, nudes, neutrals, lights, and darks.
Ready for a closer look?
It's your "go to" and on-the-go lip arsenal.
The Vice Blackmail palette is basically a mini lip wardrobe. These are the shades, with finishes and descriptions in parentheses: Sheer Shame (Sheer, berry), Firebird (Cream, deep fuchsia), Big Bang (Metallized, bright pink sparkle), Disobedient (Cream, medium pink), EZ (Cream, bright red-orange), 714 (Mega Matte, bright red), Vanished (Sheer, pale neutral nude), 1993 (Comfort Matte, medium brown), Ex-Girlfriend (Sheer Shimmer, nude-rose w/pink shimmer), Amulet (Metallized, metallic brick rose), Conspiracy (Metallized, plum-bronze shimmer), and Blackmail (Comfort Matte, deep berry wine).
Urban Decay once again proves why its palettes are so beloved by its Beauty Junkies! According to the product description on the Ulta site, the palette was specifically engineered to avoid wasting product and to prevent messes. The brand created the lipstick wells with "a special stair-step effect." What's that? Basically, the recessed design has a little extra room and lets you wipe any excess lipstick off the brush and thus keep the lipstick in its proper compartment, as opposed to smeared all over the palette.
There's also an attached cover that protects the product in the wells. It also reminds you that it's perfectly acceptable for lipstick to be your vice. #Brilliant.
The Urban Decay Vice lipsticks are works of art for your lips! Everything from the color payoff to the packaging gives life!
With UD Vice, you will never, ever have to search for the perfect lipstick shade. With dozens upon dozens of options, you will walk away with at least one or 18 or 27 shades you absolutely love and use until you run out! If you want a rad, lip-focused travel palette, this is it.
Images: Courtesy of Ulta (4); Urban Decay/Instagram (2)