Nick & Jen Are Done On 'BIP' — Duh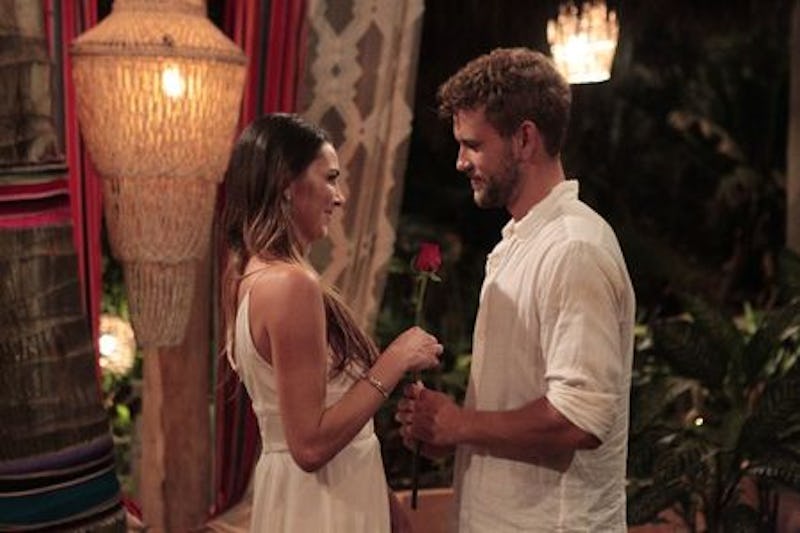 When I first found out Nick Viall would be on Bachelor in Paradise this season, I was so pumped to see this deserving guy finally find love. And, once he hit it off with Jen Saviano, I was even more convinced that he'd finally found it. But now that we know he's the next Bachelor, it was obvious before the BIP finale that things didn't work out between them. Now, we finally got to see it all go down for ourselves. Nick and Jen broke up on Bachelor in Paradise Tuesday night, and it was super heartbreaking to watch.
And, don't worry — this time, it was Nick's turn to do the dumping. Usually, when a Neil Lane ring is involved, he's the one getting turned down, but, this time, he had to be honest about how he wasn't really feeling it for Jen. When it came time to either pop the question or split, Nick chose the latter... unfortunately, right after Jen finished explaining to him that she was totally in love with him and wanted to spend the rest of her life with him. Not the best timing, but is there ever good timing when it comes to ending a relationship?
To Nick's credit, he seemed really sincere when he explained to Jen that he wished he could return her feelings even though his heart just wasn't in it. And, was it just me, or was it really difficult to see him cry?! The good news is that we know Nick's happy ending is (hopefully) on the way; Jen's future seems a little more unclear. But, she's a gorgeous, awesome person, so I don't doubt there's someone out there who will be thrilled it didn't work out with Nick.
It's sad they didn't work out, but I'm too pumped about Nick as the Bachelor to get too upset about it. Don't sweat it, Jen. This, too, will pass.
Image: Rick Rowell/ABC