Amanda's & Andi's 'Bachelor' Rings Are So Similar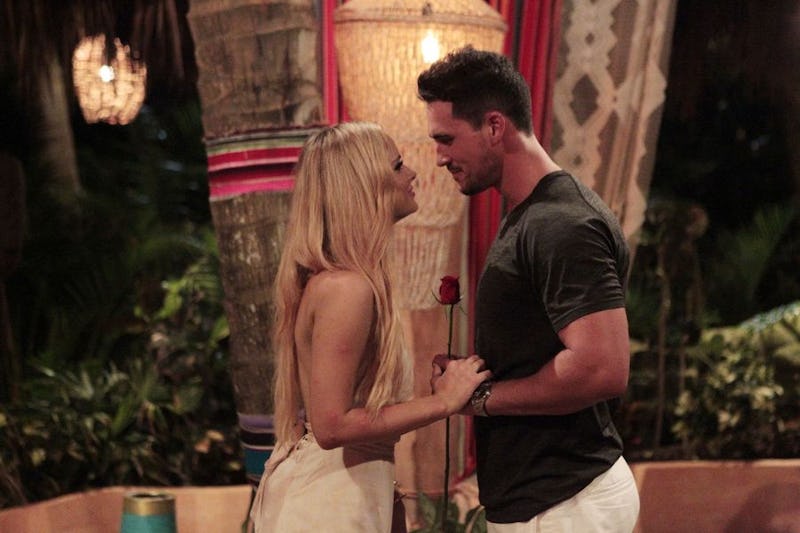 Now that Bachelor in Paradise Season 3 is over, there are a lot of potential TV weddings in our future... and if I had to guess one couple that will tie the knot on camera, it'll be BiP stars Amanda and Josh. After they spent most of this season totally inseparable, it was basically a given that they'd get engaged on the season finale, and, now, they're officially planning to spend the rest of their lives together. Until now, I never imagined I'd see Josh Murray propose twice on two different Bachelor franchise shows, but it happened. And, surprisingly enough, Andi Dorfman and Amanda's engagement rings are super similar.
But, since Josh is the one who chooses the rings, I guess I should have expected this. The man likes what he likes, right? I didn't realize it at first, but once I took a closer look at both rings, it was kind of hard to ignore. Both rings are sparkly AF, and in the exact same way. They're both giant diamonds in a halo setting, and it seems like the biggest (and possibly only) difference between them is their shape, since Andi's was round and Amanda's was more square. And, obviously, they're both beautiful!
Here's Andi's ring:
And here's Amanda's:
See?! Totally similar! But it doesn't mean anything other than the fact that Josh has pretty particular taste in diamonds, and not bad taste, either. These are both gorgeous!
I'm just hoping that this relationship (and this ring) lasts longer than what Josh had with Andi. Fingers crossed!
Image: Rick Rowell/ABC