The 'Bridget Jones's Baby' Soundtrack Is A Hit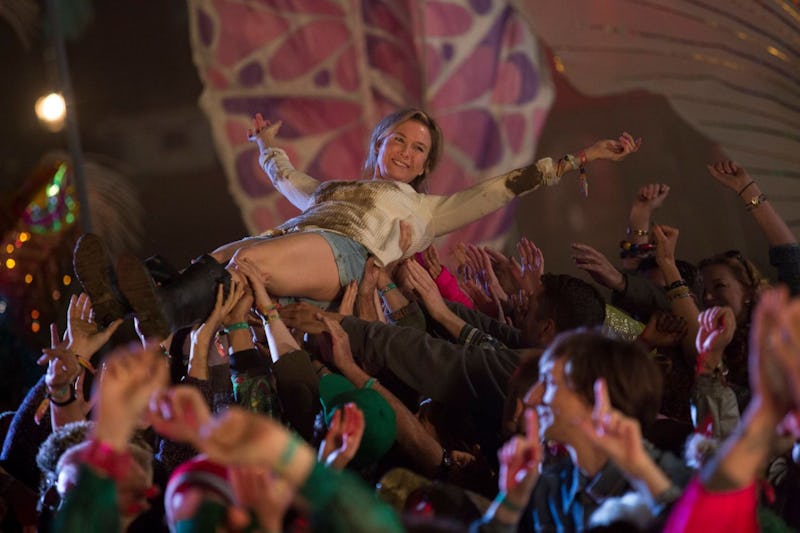 I have a confession to make: Bridget Jones's Diary is one of my top five favorite movies of all time. So it shouldn't be a shock to you, then, that the movie I'm most excited for this year is Bridget Jones' Baby. Renée Zellweger makes her return as Bridget, alongside hunky Patrick Dempsey as a new character, Jack, and the man of my dreams Colin Firth as the other man of my dreams, Mark Darcy. The film, released 12 years after the last one, is set to be another fantastic romantic comedy that fans will be able to watch over and over with a bottle of wine and a box of chocolates. And like any great romantic comedy, it's got an excellent soundtrack chock full of hits. Seriously, what's on the Bridget Jones's Baby soundtrack is truly impressive, and fans will certainly want to check these songs out.
The official soundtrack won't be available until the movie's release date of Sept. 16, the same day the movie is released in the US. The tracklist, however, has been released and oh my gosh, you guys, it's insane. Not that I had any doubts — I mean, Bridget Jones's Diary managed to have one of the greatest soundtracks of all time, so there was no way this third installment in the series would be subpar. There are so many great bangers and jams on this soundtrack that it might just be the only thing you listen to all autumn. Without further adieu, these are some of the best songs from the Bridget Jones's Baby soundtrack.
"Still Falling for You" By Ellie Goulding
Frankly, Goulding is the queen of writing songs for movie soundtracks, ones that hit you right in the feels.
"Thinking Out Loud" By Ed Sheeran
Another song to make your heart explode.
"Hold My Hand" By Jess Glynne
I dare you to try to not dance around your room to this one.
"Slave to the Vibe" By Billion
New workout song, anyone?
"King" By Years And Years
I seriously love this one.
"Run" By Tiggs Da Author Ft. Lady Leshurr
If you need a pick-me-up, this is the song for you.
"F*ck You" By Lily Allen
The ultimate "tell em off" / empowerment jam.
"Just My Imagination (Running Away With Me)" By The Temptations
An oldie but such a goodie.
"We Are Family" By Sister Sledge
No caption necessary.
Alongside all of these incredible songs are a few more memorable, ultimately pleasing, and wonderful songs to round out the soundtrack. Now that you know the tracklist is incredible, it's time to see if the movie is just as magical. I, for one, cannot wait to be reunited with my old friend Bridget.
Images: Universal Pictures