13 Best Bras For Plunging Necklines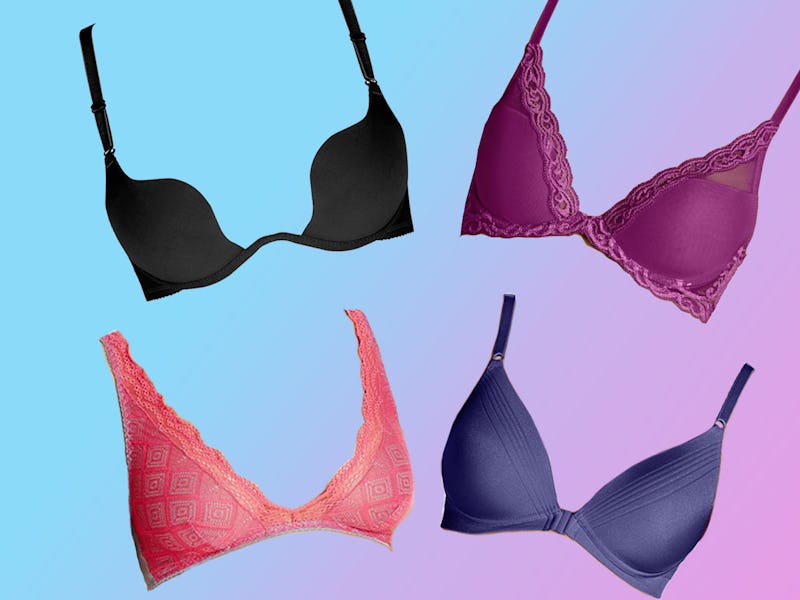 I have this really great top that falls just below my bra line. I never wanted to wear it, though, because I could never find a bra that looked right with it. But, if I had searched for a bra made for plunging necklines, I would have been set to wear that shirt whenever I wanted to.
Sometimes it seems like the options out there are limited when you're looking for bras for more revealing clothing. I discovered that I actually wasn't looking hard enough (I often find myself getting discouraged when it comes to finding a good bra). So, I spent some time looking around, and I found that there are a ton of great plunge bras that come in several different styles and shapes.
Don't make the same mistake as I did! If you want a deep 'V' bra, you can find one. If you'd rather find a more conventional style, like a low cut bra, you can find one of those, too. No matter what you're comfortable with (full coverage, minimal coverage, super deep U-plunge, etc.), there is a bra style out there for low-cut tops or dresses that will suit you and your new, amazing, stylish low cut top or dress.
1. Convertible V-Bra Ideal For Low-Cut Tops
Some people aren't a fan of padding, but if you're into it, a little bit can go a long way. This bra's V-shape neckline is ideal for low-cut crop tops, dresses, and more. Add in convertible straps, and you're ready for anything.
2. Wide Centered Plunging Bra You Can Wear With Anything
A bra that goes with anything is an essential to add to your lingerie drawer. This bra can be worn in so many ways: a regular plunge, strapless, halter neck, low back, criss-cross, and more. The wide center ensures that your bra won't show in a plunging top.
3. Molded Plunge Cups To Showcase Cleavage
When you're rocking a low-cut top, a seamless bra with molded cups makes sure everything is secure and in place. Plus, the structured fit will shape and support you, in order to give you a really natural and comfortable look.
4. Supportive Deep Plunge Bra
Just because you're going low cut doesn't mean you have to sacrifice support. The super plunge bra still gives you coverage in the places you may want, while making sure the bra stays hidden under the most revealing of tops. It comes with convertible straps and clear straps, too.
5. Low Neckline, Low-Cut Bra With Coverage
Sometimes, when you think of a plunging neckline, you think minimal coverage. That's not the case with this bra. It gives you the plunge you want, all without skimping on the support and coverage that you look for in a full bra.
6. Triangle Cup Creates Deep Plunge
If you're interested in a bra that provides minimal support (but is still elegant and adjustable), this Cosabella bra could be a great option. The elongated triangle cups come together to form a deep plunge neckline perfect for your favorite low cut top.
7. Pretty Lace Plunge
A plunging bra doesn't have to be simple, plain, and entirely utilitarian. You can find them in pretty lace patterns. This one comes with adjustable convertible straps, so you can wear it with whatever style low cut top you can find.
8. Deep U-Bra That Provides Lift
A bra that lifts and shapes your chest can be fun to rock when sporting a low-cut top. Padded cups enhance shape, or you can insert silicone pads into the pockets for a little bit more. Convertible straps let you wear the bra as a halter, criss-cross, or conventional.
9. Front Close Sports Bra For Low-Cut Gym Tops
Stay comfortable during your next workout with this spandex bra. It's a good fit for a medium impact activity, and it's made with moisture-wicking technology to keep you dry.
10. Regular Bra With A Sheer Insert To Mimic A Plunge Bra
If you're not into rocking a regular plunge bra, then a good choice for you could be a regular bra with a sheer insert. The sheer portion of the bra allows you to wear a "conventional" bra, yet still reap the benefits of a plunge bra that usually comes in 'U' or 'V' shape. The bra is slightly lined and seamless and comes with convertible straps.
11. Lace Trimmed Plunge Bra
A bra that's comfortable and allows you to wear a low cut top may seem hard to come by. This underwire bra is equipped with plunging contour cups that aren't just functional — they're stylish, too. The cups are designed with semi-sheer paneling, and this style comes in 30 different colors.
12. Wire-Free, Front Close Comfortable Option
Sometimes, you just don't want to wear a bra that has underwire. But, you still want the support that you'd get from one. This wire-free bra has adjustable straps and a front closure that creates the plunge you may be searching for with a revealing shirt. It's super comfortable, and it will probably become one of your go-to options.
13. Plunge Bustier Style Bra With Customizable Fit
Wear it criss-cross, wear it halter, or wear it regular. Whichever way you choose to wear this pretty bra, you can customize the fit with the full adjustable straps. The microfiber cups are seamless and give you a natural look, too.
Images: Amazon (13); Design: Brit Phillips
Bustle may receive a portion of sales from products purchased from this article, which was created independently from Bustle's editorial and sales departments.