What's Carly's Job After 'BiP'?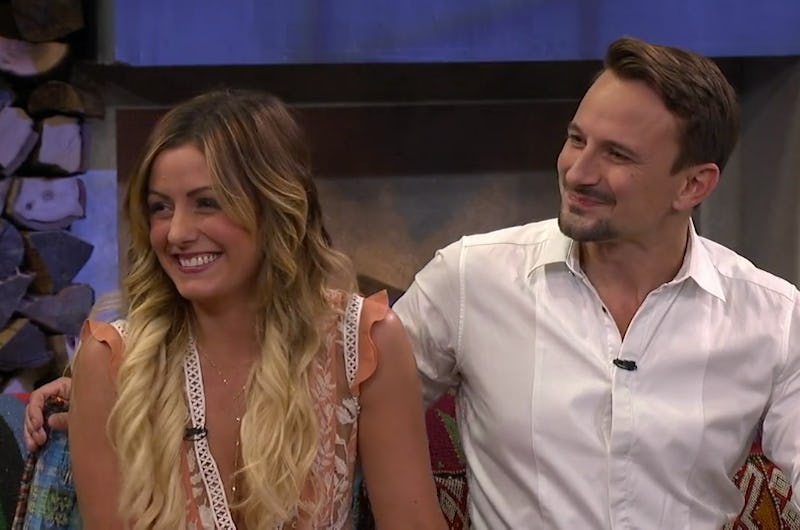 It feels like so long ago that young, wide eyed Bachelor world newbie Carly Waddell stepped out of a limo singing. Carly introduced herself to then-Bachelor Chris Soules, as a cruise ship singer looking for love. Fast forward one season of the Bachelor and two seasons of Bachelor in Paradise and a lot has changed for Carly. We have watched her get her heart broken twice before getting engaged to Evan Bass on Bachelor in Paradise. Since then, the newly engaged contestant has been expanding her personal brand and promoting her career, so Carly's job after Bachelor in Paradise is kind of a dream job: She seems to be an aspiring country singer while also making money off her Bachelor fame.
Carly is a trained singer and has made money performing regionally and on cruise ships. She released a single called "I Do" that she sung at fellow Paradise friend Jade Roper's wedding. Other than this release and a few YouTube songs, there isn't a ton of visible movement in her singing career. Much of her public life has revolved around Bachelor world promotion. Whether she's attending charity events or talking about her recent stint on Paradise, Carly has been busy.
Like many of her fellow contestants, Carly is able to promote products on Instagram for a profit. Carly has 650k followers so companies are willing to pay to have her publicly use their products. On her personal website, there is a whole section where she promotes different beauty products. This use of her new personal Bachelor brand is as much a part of Carly's career as singing is.
That doesn't mean Carly isn't still an aspiring country singer. While Carly has only released the one song, "I Do," she is still in Nashville chasing her dreams. Nashville is the home of aspiring country singers so it speaks volumes that she is staying there. In addition, in her Twitter bio she labels herself as a "Country Singer." And Twitter bios never lie.
For now, it seems Carly is going to let her Bachelor fame fund her singing dreams. She's got a personal brand going as the quirky, cute girl who fell in love. And she's cashing in on it. Just look at her promoting vitamins on her Instagram. I have nothing but respect for Carly utilizing her time on TV to expand her brand and make some sweet, sweet cash. Get that ring and those endorsements, girl.