Watch ModCloth's New 'Hot Tub Round Table' Episode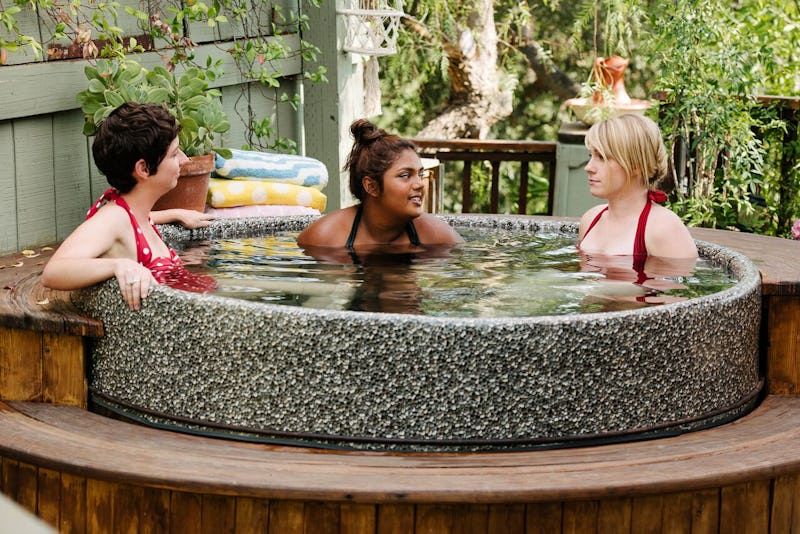 What do you get when you put three incredible women together in a hot tub wearing some of this season's most adorable vintage-inspired swimsuits? A judgment-free, feminist conversation, of course. In the second installment of ModCloth's "Hot Tub Round Table" series, company founder Susan Koger sits down with Christen Brandt from She's the First and Niki Srinivasa from I Am that Girl to discuss the importance of empowering young women.
Both women's organizations help foster self-confidence in girls, and work to inspire them to achieve their dreams through scholarship and mentoring. According to Modcloth, "a future filled with strong, successful women begins with empowering girls today," which is exactly what Srinivasa and Brandt are trying to do.
If we are going to create a new generation of strong, confident women — like the three featured in the video — it's important to start early. She's The First, which Brandt started in college and has now grown into a major international organization, draws on the importance of role models. "Girls need to see women around them succeeding," Brandt said in the video. "They see it and they know, if she can do it, I can do it."
Srinivasa, who is only 17, started the Thousand Oaks, California chapter of I Am That Girl after she was bullied, and is working to create a positive environment in which girls can grow together.
"Girl on girl behavior doesn't have to be a negative thing," she explained in the video. "It can be an empowering thing." Like, for example, when you put three women in a hot tub together for a meeting of the minds.
Self-confidence and body positivity have always been at the forefront of ModCloth's own mission: The site is a leader in the "anti-photoshop" movement, constantly features models of all different shapes and sizes, and firmly believes (according to a blog post) that "every body is a swimsuit body."
This makes the "Hot Tub Round Table" series all the more fitting, because what could be better than bringing smart, professional women together in a place where they can hang out in their (adorable, vintage-inspired) bathing suits and talk about things that actually matter without having to worry about unwanted judgments on their bodies. Plus, who doesn't love hot tubbing?
Images: Courtesy of Modcloth