These Romance Quotes Can Up Your Sexting Game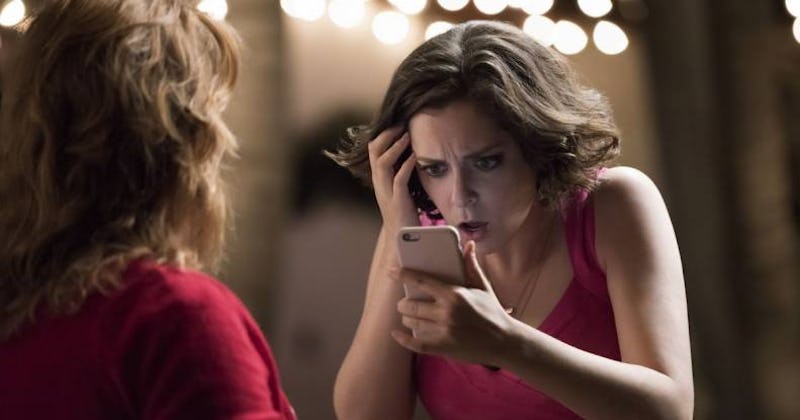 I'm going to be honest with you, internet: I'm... not that big on sexting. But for those of us who have trouble turning romantic sentiments into saucy text messages, there is a solution: the world of romance novels. Romance novelists have been crafting the perfect hot-and-heavy sentences for years. So here are some sexting ideas from romance novels to help you spice things up in your virtual love life.
Romance novels (like most things created by and enjoyed by women) have gotten a bit of a bad reputation. People write them off as "chick lit" or "trashy." But romance is a genre like any other: it has its masterpieces, its brilliant works of art, and its trash—and even the trash is pretty fun to read, if we're being honest. Plus, there's something to be said about the fact that romance makes more money than any other genre. So if your sex life needs an overhaul, you might want to consider diving into a stack of romance novels. After all, nothing can throw cold water on a relationship faster than awkward text flirting. Take your sexting to a steamier level with a few borrowed phrases for the best romance novels out there:
1. I mean to make you sigh as though your heart would break, and scream with the wanting, and at last to cry out in my arms, and I shall know that I've served ye well.
― Diana Gabaldon, Outlander
2. "I want you," she said. "I told you so," he said.
― Loretta Chase, Lord Perfect
3. I want to fill every part of you, breathe the air from your lungs and leave my handprints on your soul. I want to give you more pleasure than you can bear.
― Lisa Kleypas, Devil in Winter
4. I place my hands over her ears and tip her head back, and kiss her, and try to put my heart into hers, for safekeeping, in case I lose it again.
― Audrey Niffenegger, The Time Traveler's Wife
5. When he threaded his fingers through her hair and tugged her lips to his, she had melted in his arms, crumbled into infinite pieces, and allowed every single one of them to merge into him.
― Sonali Dev, The Bollywood Bride
6. "You are the contrariest woman I have ever met." Hester snorted. "Contrariest. What kind of word is contrariest? French?" He grinned. "Be careful baby girl, I bite. I'll give you more French than you'll know what to do with."
― Beverly Jenkins, Indigo
7. Your arms around me…the prescription for all that ails me.
― Brenna Aubrey, At Any Turn
8. We were a galaxy exploding into a million pieces, creating a whole new world, as we crashed against each other on the soft surface of his mattress, a cloud in the darkness, our bodies finally falling together like rain.
― Emme Rollins, Dear Rockstar
9. That beautiful face is going to be clamped between my legs as soon as we get home, don't you worry.
― Jeaniene Frost, Destined for an Early Grave
10. "I respect you," he murmured. "And your views. I think of you as an equal. I respect your brains, and all those big words you like to use. But I also want to rip your clothes off and have sex with you until you scream and cry and see God."
― Lisa Kleypas, Smooth Talking Stranger
11. Ignite, my love. Ignite.
― Tahereh Mafi, Ignite Me
Images: The CW, Giphy (13)