12 Sexting Ideas From Classic Literature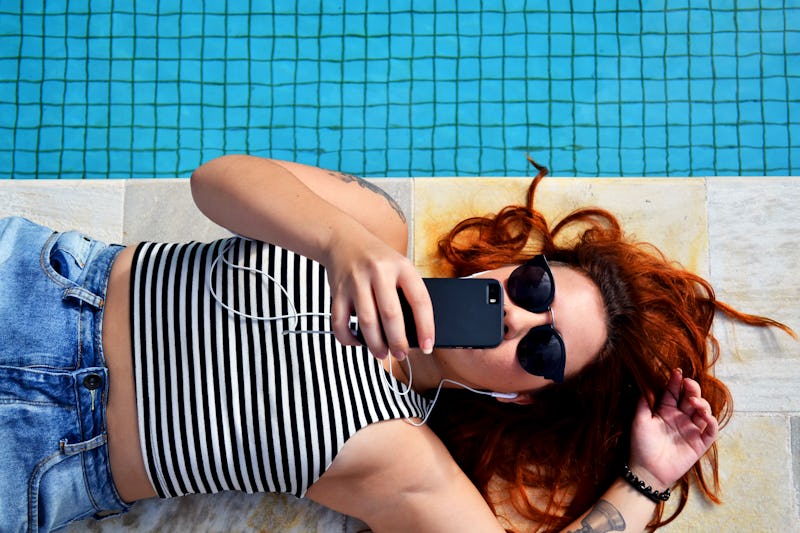 If you're ever dated a true book-lover, then you know that their passion for the written word seeps into just about every part of their lives, including their romantic relationships. To keep your reader satisfied, you can always to attempt to recreate their favorite sex scene from a book, read erotic fiction and poetry together, or try out some sexting ideas from classic literature that will make any book-lover weak in the knees. If you think Shakespeare knew how to be romantic, just wait until you see how dirty he could be.
How many times have you heard that romance is dead? Emails have replaced love letters, Instagram likes have replaced handwritten notes, and watching TV and chilling has replaced romantic moonlit strolls. In our fast-paced world of 140-word communications, emoji-based expression, and constant digital contact, it's easy to get swept away in technology instead of romance. That's where sexting comes in.
I know, I know, sexting isn't exactly romantic, but it is, as the name implies, sexy. It's a fun and naughty way to tease and tantalize your significant other, share a fantasize, reminisce about a night of passion past, or let you partner know exactly what you want to do when you see each other later. Sexts are usually quick, dirty, and directly to the point, but when it comes to sexting book-lovers — well, that's a whole other story.
Like in most parts of their lives, book-lovers want some art and beauty, maybe even a little poetry, in their sexting conversations. Luckily for you, some pretty great writers have already come up with the perfect lines for you with these 12 sexting ideas from classic literature to turn your book-loving lover on. An eggplant emoji just won't cut it.
1. "Spread thy close curtain, love-performing night,/ That runaway's eyes may wink and Romeo/ Leap to these arms, untalk'd of and unseen."
— William Shakespeare, Romeo and Juliet
2. "I want to do with you what spring does with the cherry trees."
— Pablo Neruda, Twenty Love Poems and A Song of Despair
3. "What holds the world together, as I have learned from bitter experience, is sexual intercourse."
— Henry Miller, Tropic of Cancer
4. "Only the united beat of sex and heart together can create ecstasy."
— Anaïs Nin, Delta of Venus
5. "The only way to get rid of a temptation is to yield to it."
— Oscar Wilde, The Picture of Dorian Gray
6. "At the same moment the other hand softly separated her legs and began to slip up the old path is had so often traveled in darkness."
Edith Wharton, Beatrice Palmato
7. ".. light of my life, fire of my loins. My sin, my soul."
— Vladimir Nabokov, Lolita
8. "Wild Nights! Wild Nights!Were I with thee,Wild Nights should be
Our luxury!"
— Emily Dickinson, Wild nights - Wild nights! (269)
9. "My cherry lips have often kissed thy stones. Thy stones with lime and hair knit up in thee."
— William Shakespeare, A Midsummer Night's Dream
10. "... not the play-thing of a boy, not the weapon of a man, but a maypole of so enormous a standard, that had proportions been observ'd, it must have belong'd to a young giant."
— John Cleland, Fanny Hill
11. "Shhh, it's all right, don't worry, just relax and listen to your body."
— Madeleine L'Engle, A House Like a Lotus
12. "Big Boy, Big Boy, oh give me all you've got [...] Come on, Big Boy, come."
— Philip Roth, Portnoy's Complaint
Images: Bruno Gomiero/Unsplash; Giphy (5)