How To Dress Up Like Barb For Halloween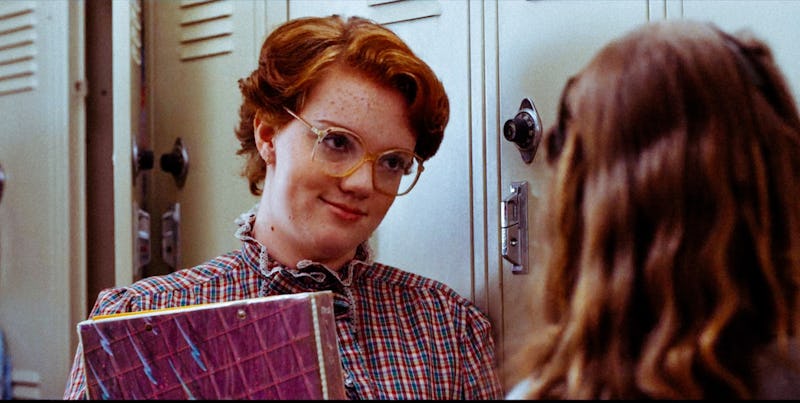 If you binge-watched all of Stranger Things in just a weekend, you might have fallen in love with the cautious, intelligent character of Barb, incredibly portrayed by actress Shannon Purser. And if you loved the show, chances are you're trying to figure out how to dress like Barb from Stranger Things for Halloween. Barb didn't appear in too many episodes of the show, but when she did, a lot of us flashed back to our own high school moments, realizing that Barb was pretty much the person we used to be — and based on that, she's a solid choice if you're looking for a Stranger Things -themed Halloween costume this year.
First, let's chat about why Barb is a great choice. While friendship was a key element of the show, it's often shown between Eleven and Mike — after all, Mike tells Eleven what being a friend truly means. "A friend is someone that you'd do anything for … and they never break a promise," he says. "That's super important because friends tell each other things; things that parents don't know." Friends don't lie to each other, and friends always look out for each other — I mean, it's pretty much why the kids are so set on finding Will on their own regardless of the dangers ahead, because Will is part of their team.
Barb pretty much did the exact same thing for Nancy. She went to a party she was uncomfortable at, made sure Nancy was as safe as she could be, and eventually (and unknowingly) put herself at risk. While the friendship seemed pretty one-sided at first, it was obvious that Nancy did have a ton of respect for her as well, later on — especially when she started venturing away from the boy-crush mode she found herself in. Thus, while Barb wasn't the star of the show, she's definitely a character worth portraying.
Here's what you need to be Barb for Halloween.
1. The Glasses
The first noticeable accessory that Barb wears? Her glasses. While the look is retro today, they were all the rage a few decades ago — which, thankfully, makes them not super hard to find.
Round Retro Orange Glasses , $10, Amazon
Your best bet would be these round frames from Sunglass Stop Shop, in Frost Orange. At $10 on Amazon, they're the perfect price to tie your Halloween costume together. For a much bolder orange (or, if you're looking to portray a cartoony version of Barb),
2. The hair
The next noticeable thing about Barb is her hair. As a short-haired redhead, you might not naturally fit her description, so a wig is probably necessary. (And to all of those out there with short red hair? Lucky for you, you can totally skip right ahead to No. 3.)
So, as it turns out, Barb's exact style is tough to find. Barb doesn't have much hair to work with, and the purpose of a wig is to, well, showcase a lot of hair. So the best contender is likely this short red wig from AliExpress.
Light Red Color Synthetic Wigs For Women, $13, AliExpress
You can snatch this wig up for under $20, which in the land of wigs, is pretty much a steal.
3. The wardrobe
Barb's clothes were pretty casual. But, one thing was made certain — she preferred shirts with a bit of a frill to the collar. It seemed like all of her shirts had this special, added detail — and it's one you definitely don't want to miss, if you want to be a successful Halloween Barb.
Light Blue Blouse, $14, Etsy
One amazing place to look? Etsy. The vintage shirt above, available from treaclebeardvintage, is totally Barb. Of course, the trouble with vintage clothes on Etsy is that they're not widely available, and might not come in your size.
Luckily, the same store offers a few items that fit the "frilly blouse" requirement. Here's another, in a pattern that your inner-Barb will truly love.
Striped Blue Blouse, $14, Etsy
Light Blue Blouse, $14, Etsy
If it's got a bit of hidden flare, it'll totally work.
As for Barb's pants, they seemed to be stretchy, high-waisted khakis. If you're a fan of jeggings, you can pick these up at Kohl's for about $25.
Juniors' SO® Perfectly Soft High-Waisted Ankle Jeggings, $25, Kohls
Or, if you're looking for pants that you'll get some real use out of after Halloween (or just happen to be anti-jeggings), you can pick up some of these ankle pants from The Limited.
Exact Stretch High Waist Skinny Ankle Pants, $45, The Limited
Blouses: All blouses featured from treaclebeardvintage are $12-$14, Etsy
Pants: Juniors' SO® Perfectly Soft High-Waisted Ankle Jeggings, $25, Kohls; Exact Stretch High Waist Skinny Ankle Pants, $45, The Limited
4. Accessories
So, congrats — you're super close to being Barb. But, of course it's not Halloween without a prop or two. As we know, Barb's moment of terror happened all thanks to a beer can trick gone wrong. When we last saw Barb, she was bleeding from the hand — so, obviously you'll want to include a bit of gauze (or tissues to be more accurate, but that'll be a bit messier to deal with at a Halloween party) and fake blood.
Of course, you can pick both up from CVS or Walgreens (in the medical supply aisle, and the seasonal aisle, of course). Or, you could grab a few tissues from home, and whip up your own batch of fake blood based on things you already have in the kitchen.
Not only is Steve Spangler's recipe above pretty realistic looking, but it's also edible. Barb would probably approve.
Main image: Netflix