DIY Avengers Costume Ideas For Your Squad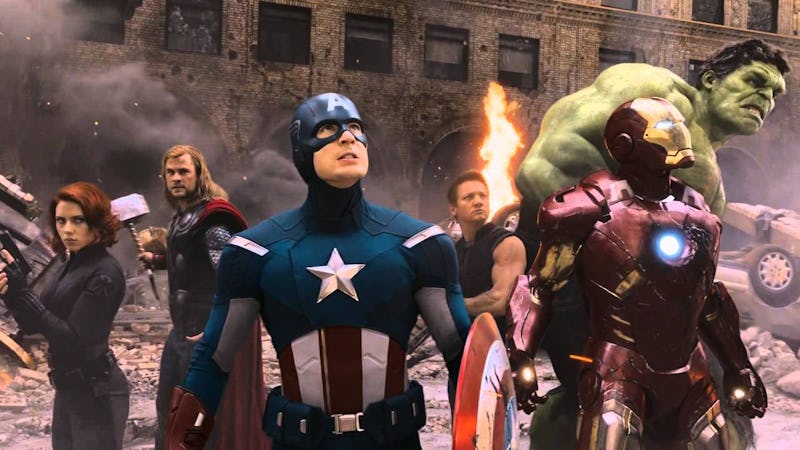 When it comes to picking ideas for group Halloween costumes, there are few better squad costumes to opt for than The Avengers. With such unique, varying looks to choose from, and plenty of opportunities to do some truly flawless superhero group poses together for your Instagram feeds, The Avengers have some truly knockout costumes. And, yeah, you could all go and just drop a upsetting amount of money on some ready made costumes, but where's the fun in that? Making your own costume is hella fun, and it's even better as a group. None of these DIY Avengers Halloween costume ideas might make you look like the real deal, but that's also not the point — trust me when I say that wearing something that you've made yourself, no matter how homemade it might look, will make you feel amazing.
Plus, the advantage of creating and wearing Avengers costumes for Halloween as a group, is that it gives you and your besties plenty of opportunities to hang out together, help each other in creating different parts of the outfits and have a blast as you do so. And isn't that what all of this Halloween costume business is truly about? I think so. Here are some ideas to give you and your very own super-squad some inspiring ideas:
1. Captain America
The Essentials: A helmet, a mighty shield, and a patriotic ensemble.
Difficulty Level: Intermediate
How To Assemble: Truthfully, a Captain America DIY costume seems a lot more complicated than it actually is. So long as you're somewhat capable of some crafting ability and have some time and patience, then you can probably nail this costume. First and foremost, you're going to want to make yourself a mighty shield. Like many of the items that you'll come across in this article, there are various tutorials available online that will show you how to make one with various levels of difficulty and end results of quality.
However, this tutorial by those smart fellows over at The Prop Master's Handbook YouTube Channel have one of the best. It involves simple materials such as a hula hoop, cardboard, paints, and duct tape and is full of fun and incredibly easy to follow:
There's also a range of somewhat simple tutorials online that provide simple solutions to making your very own Captain America helmet. This one by Cosplay Extraordinaire, Xieng Prod only requires some form of styrofoam head for moulding along with materials like craft foam, duct tape, and paint:
For those of you already wondering about where to find a styrofoam head, there are plenty on eBay, with prices as cheap as $2, like this one. Just be sure to find one with similar measurements as your own head:
And now for the clothing part of this DIY costume. Should you be wanting to wear those red and white stripes on the waist of Cap's top, then I strongly recommend making your very own underbust, cardboard corset for it. For this, you'll need only an old t-shirt, cardboard, red and white duct tape, and a fellow Avenger to help out. There's a terrific (and totally punk rock) tutorial of how to make a cardboard corset over on Instructables — and yes, you can easily adapt it to look as sexy or as practical, as you like.
To complete the look, you'll want a simple dark blue top and bottoms. Picking up any fitted, dark blue, jersey top should do the trick:
Dark Blue Jersey Top, $10, H&M; Hazil Boots, $155, Dr. Marten; Red Comabt Boots, $19, Ebay
Pair with something like these Utility Chinos from GAP and a pair of Hazil boots by Dr. Martens in Cherry Red. For those of you, however, not wanting to flash so much cash at a pair of boots, then this pair of Red, PVC combat boots from EBay come at the far more affordable price of $18.99, and will do the job great.
And finally, complete with a silver star patch on your chest, like this one from Wholesale Applique via Amazon:
Silver Star Patch, $5, Amazon
Phew. Who knew that being a war hero would involve maintaining such a look?
2. Black Widow
The Essentials: A cool-ass belt, black fighting clothes (or catsuit), and some iconic red hair
Difficulty Level: Beginner
How To Assemble: Because Natasha Romanova is both so damn chill and stealth, her ensemble is pretty low maintenance and easy to put together. But one of the main components of her look to create is her eye-catching belt buckle:
There's a pretty handy set of tutorials for creating all of Black Widow's costume accessories yourself over on DIYCostumes.com, and the advice for making your own version of this belt (out of craft foam, elastic or an old belt) is superbly simple.
Unless you're willing to opt for some specialist tailoring (for some specialist prices), then you might find it a little difficult to pick up a catsuit that matches Black Widow's. However, wearing a zip-up bodysuit like this one from Missguided underneath some faux leather pants like these, also from Missguided, should manage to present the same vibe:
Zip Up Bomber Body Suit, $42, Missguided; Faux Leather Pants, $27, Missguided
Affordable and comfortable plus-size alternatives to this look, however, would be to pair this ribbed, zip-up body suit from New Look via ASOS with a pair of black, skinny jeans like these also by New Look via ASOS for just $25:
Zip Up Bod Suit, $11, ASOS; Curve Skinny Jeans, $24, ASOS
And should you not be blessed with Romanov's luscious, auburn locks (don't worry about it, neither was Scarlett Johansson), then be sure to top the look off with a bold, auburn wig like this one from Spirit Halloween:
Auburn Wig, $23, Spirit Halloween
Now all you'll need to do is find a sneaky, stealthy way to infiltrate the Halloween party before causing a ruckus (with your dance moves, of course).
3. Hulk
The Essentials: Purple pants, green body paint.
Difficulty Level: Beginner
How To Assemble: Besides all of the green hair and body paint that you're going to need to apply (and wear all night), Hulk is probably the easiest Avenger look to wear. Start with a simple, comfortable, and cheap pair of purple pants, shorts, or jeans that you don't mind shredding the bottom of. These burgundy joggers would be perfect:
Burgundy Joggers, $10, H&M
Add rips to the knees, the bottoms, and wherever to give those pants the Hulk Smash look that they truly deserve. Next, you'll want some high quality green body paint. You might even need two packs of it to be on the safe side of things:
Ben Nye Creme Color, $7, Camera Ready
And complete the costume with a basic, green t-shirt such as this basic one from H&M (which you can also shred to pieces, too. You're a Hulk, honey — you can do whatever you want):
Green V-neck T-Shirt, $3, H&M
Now, whatever you do with your Halloween night in that Hulk ensemble, just be sure to stay chill, you hear?
4. Thor
What You'll Need: A helmet, a cape, some body "armor," and, of course, Thor's mighty hammer.
Difficulty Level: Expert. Like, chill some wine, Sally, because this could get tricky.
How to Assemble: Ooh, boy. Thor has got probably one of the best costumes out of all of The Avengers (after Iron Man, who I'll talk about soon), but that also makes his costume one of the most difficult. For starters, let's look at making Thor's cape. Unless you're happy to simply tie a bed sheet from your neck (and more power to you if that's how you roll, lady), then you're probably going to have to do some simple sewing to create the cape. Man Sewing, thankfully, has a terrific tutorial for making a superhero cape up on YouTube that would be perfect for creating Thor's one:
Once we've got that out of the way, then the next important component to tackle is Thor's helmet. Miss Piratesavvy has a short, simple and exceptional quick tutorial on how to make a Thor Helmet, which requires little more than a headband, some craft foam, glue, and paint:
But of course, the most important piece of Thor's costume is his mighty hammer. This part of the costume might seem simple, but it's actually a little trickier than you might think (but still, you can totally do it yourself. Just know that it's achievable and I believe in you). Those guys over at The Proper Master's Handbook have the best tutorial on how to make your own — it requires a few more materials than usual, but all of them are relatively easy, everyday items to source:
As for the body armor, I'd highly recommend considering making your own by using the cardboard corset tutorial from Captain America's costume (and adding your own creative touches such as silver foam appliques).
Truly evoke that Norse warrior look by layering metallics on more metallics, such as these magnificent leggings ($30) and this tough looking top ($30), both from Boohoo via ASOS, and ideal for plus-size figures:
Metllic Oversized Shirt, $20 ,Boohoo; Metalic leggings, $20, Boohoo
Another option would be to pair with this metallic t-shirt and these metallic glitter knit leggings, both from Forever 21:
Metallic T-Shirt, $24, Forever 21, Metallic Glitter Leggings, $16, Forver 21
Oh, and don't forget to bring lashings of Mead to the party, too.
5. Iron Man
The Essentials: It's Iron Man. What isn't essential?
Difficulty Level: Tony Stark (AKA Pretty damn expert).
How To Assemble: Let's keep this as simple as humanly possible, okay? The truth is, there are some awesome Iron Man costume creations and cosplay to be found out there. But it's also pretty tricky to put together yourself to a high standard. However, the suggestions I'm going to put forth to you here should not only do the job, but they're also pretty fun to make. For starters, you'll want to make yourself an Iron Man mask. Since it's a little complex to do with craft foam, you're going to want to use cardboard all the way:
Dustin McClean's Iron Man helmet DIY tutorial above is as simple as you could want it, and for use at a Halloween party it still slays (even if doesn't look exactly like the real deal). For those of you wanting to go all out and create as much of the Iron Man costume as possible from scratch, then Dali DIY has a set of tutorials involving every part of the Iron Man suit:
But if you're already sweating over the idea of spending the next few weeks leading up to Halloween covered in hot glue and weeping over craft foam (me too), then you can still totally rock a basic Iron Man costume with just your homemade helmet and some basic threads. Look around online and you'll find a slew of people who sell Iron Man-inspired leggings, such as these from eBay:
Iron Man Inspired Leggings, $11, Ebay
Add a red, ribbed knit top like this one from Forever 21
Red Ribbed Knit Top, $9 Forever 21
And finish the look off with this LED flashing lanyard:
LED Flashing Lanyard, $8, Ebay
You know, just so everyone knows that you mean business.
6. Nick Fury
The Essentials: Eyepatch, mean looking clothes.
Difficulty Level: Beginner
How To Assemble: OK, so the following YouTube tutorial from Animal Plates is supposed to be for a pirate eyepatch (and for children), but it still totally works for creating your very own (adult sized) Nick Fury eyepatch, too:
Once you've got that out of the way, then you'll need to find yourself some serious threads.
Pair something like this Cropped Knit Turtleneck from Forever 21 with a pair of black, skinny jeans or jeggings like this pair from H&M:
Cropped Knit Turtle Neck, $8, Forever 21; Super Skinny High Jeggings, $15, H&M
Alternatively, you could create the same look with this roll neck top ($16.50) from New Look via ASOS and these Stovepipe pants from the H&M:
Roll Neck Top, $10, H&M; Stovepipe Pants, $10, H&M
And then ensure that you look well and truly ferocious and furious in this beyond cool maxi, duster coat from Missguided:
Maxi Duster Coat, $57, Missguided
Just make sure you arrive with your own set of witty asides, okay?
And that's it. You guys should be ready to go. Now just remember to play nice with the other superheroes at the party and definitely don't succumb to any in-squad fighting once you're in your costumes. We all saw how that worked out for some of The Avengers during Captain America: Civil War...
Images: Giphy; Missguided (3); Forever 21 (4); H&M (5); GAP (2); Drmartens; Camerareadycosmetics; Ebay.com/Fashionwomensale; amazon.com/Wholesaleaplique; Ebay.com/Jackcraft; Ebay.com/streetjuggernaught; Ebay.com/Luus_djxaj; Asos (5);