'Narcos' Touches On Escobar's Homelife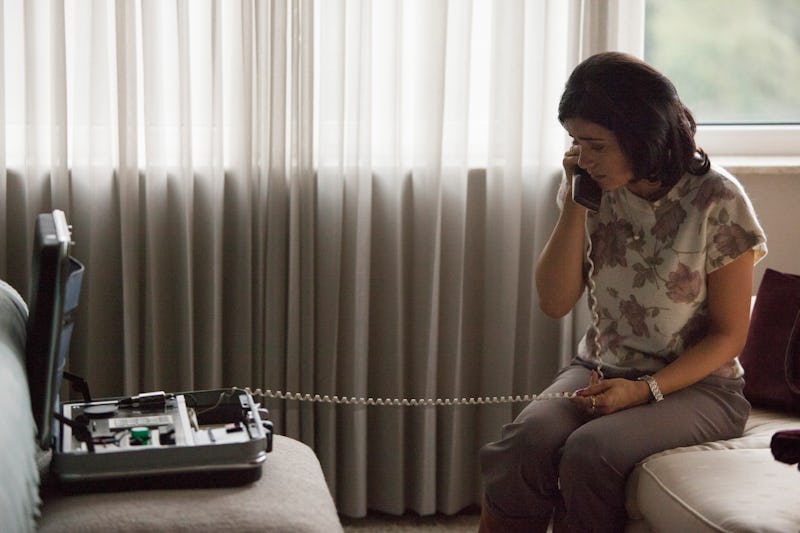 In Narcos Season 2, Pablo Escobar and his entire crew come more clearly into view, after he spent most of Season 1 as a largely inscrutable and seemingly undefeatable villain. Also given more of a spotlight this time around is Escobar's wife, and actress Paulina Gaitán does an amazing job with the role, really making you feel for the woman who spent 17 years with the drug lord. But on Narcos, how accurate is Tata Escobar? Based on Pablo's real wife Maria Victoria Henao, Tata is given a lot more shading in Season 2, and even carries several huge scenes and emotional moments, as everyone around Pablo begins to realize that he won't live long as a fugitive, particularly with both the government and the Cali cartel after him. While most of the details, like Tata's nickname and the Escobar marriage lasting until Pablo's death, are accurate, the emotional life witnessed in Season 2 had to be largely invented.
In an interview with The Hollywood Reporter, Narcos producer Eric Newman talked about how they came up with Tata Escobar and where their story intersects with history. The interior life of Maria Henao is mostly unknown, so, according to Newman, the writers had to put themselves in her shoes and imagine what she must have been feeling as Pablo's fate became darker and darker over the course of 1991 and 1992.
"We like to imagine that as the walls were closing in on her, her duties as a mother began to overtake her duties as a wife," Newman told THR. "Did she actually question what he was doing? She definitely tried to get out of the country. But did she consider trying to get him to surrender? Probably not, but that felt like the kind of thing that we could do in the context of our story without straining authenticity."
That kind of license with the truth bends the facts — since there's no way to know whether or not Maria Henao really felt one way or another. But, her son, Sebastian Marroquin, one of the few people with actual memories of what happened inside the Escobar home, has some issues with her portrayal in Narcos Season 2. To The Mirror, Marroquin claimed, "My mother, Maria Victoria Henao, never condoned Pablo's violence. She never helped him in his business as an accomplice. Completely the opposite."
Making the character a part of the business in Narcos was a way to add the Tata to more scenes and really make her a part of the story, sacrificing some of the truth on the way. Bustle has reached out to Netflix about Marroquin's claims, but has not yet received a response.
According to the BBC, the real Tata left the country after Pablo's death, and went on to live a largely quiet life with her sons. Since the third season of Narcos will start after Pablo's death, Tata may find herself out of the story. But if Newman and his fellow showrunner Jose Padhilla wanted to keep Paulina Gaitán in the role, they could try to figure out a way to add her to the cast. And even though some of the facts have been changed, it largely served to make Tata Escobar a more effective character as viewers took a peek inside Pablo's life.
Image: Juan Pablo Gutierrez/Netflix (2)