10 Book-Inspired Halloween Costumes For The Squad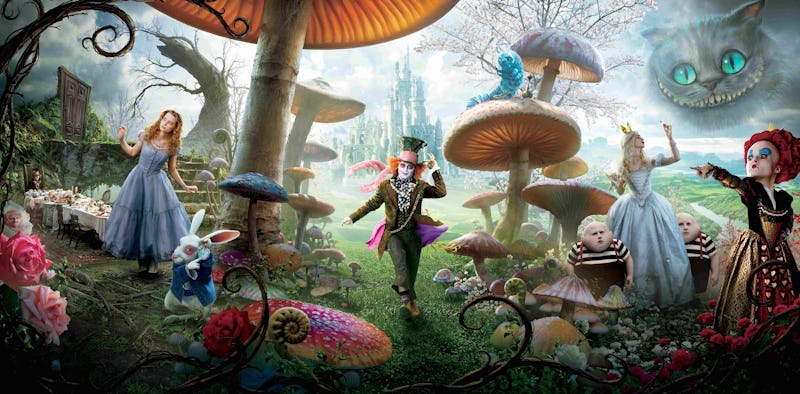 Choosing a Halloween costume is a difficult process — after all, you want to find something that is relatively easy to obtain, but also shows off your flawless taste. And inevitably, the moment you think you've found the perfect costume, your squad decides on matching costumes.
Suddenly, your solo outfit is no longer doable. You find yourself scrambling for ideas that will include everyone in the group, while still being simple to pull off. Everyone has an opinion, but somehow you have to get everyone to agree on just one idea. Luckily, if your squad is full of book-lovers, this isn't too hard to achieve.
You need only look in the pages of your favorite works of literature in order to find great Halloween costumes, and the good news is, most books don't have just one character. They often have an entire cast of characters. This means that everyone in your group can find the perfect costume, and you can both coordinate and be unique.
It can be incredibly difficult to organize a group Halloween costume, but with book-inspired Halloween costumes, everyone can pick a character and go their merry way. The only tough decision at this point is: which book should you choose?
1. The Characters From Alice In Wonderland
From Alice to the Mad Hatter to the Queen of Hearts, there are so many fun costumes to choose from in Lewis Carroll's Alice's Adventures in Wonderland and Through the Looking-Glass . No matter how large or small your squad is, this group costume can accommodate it — and it's not tough to DIY the costumes.
2. The Brides Of Dracula
Forget the infamous Count, these creepy female vampires were the most terrifying characters in Bram Stoker's Dracula . Grab your squad and some fake fangs, and you'll have a classic literary-inspired costume.
3. The Three Musketeers And D'Artagnan
Do you have a four person squad, but you keep finding costumes that are just for three people? Well, one of your favorite trios — the Three Musketeers — is actually a group of four. Alexandre Dumas's book is all about young D'Artagnan and his adventures with the Three Musketeers, making it the perfect coordinated costume for a four-person group.
4. The Pevensie Children, The White Witch, And Aslan
There are so many great costume possibilities in C.S. Lewis's Chronicles of Narnia series — from the Pevensie children, to the White Witch, to Aslan, to Mr. Tumnus, your options abound. You could even go as a lion, a witch, and a wardrobe.
5. The Characters From Charlotte's Web
You have plenty of choices for characters from this beloved children's story. From Wilbur the pig, to Charlotte the spider, to Templeton the rat, there are plenty of animal costumes that can all coordinate. And if someone from your squad isn't a fan of dressing as an animal — there's always Fern.
6. Roald Dahl Protagonists
Roald Dahl has so many characters that would be great for your squad, so why choose just one book? If you have a big squad, go as all the iconic protagonists — from James and the Giant Peach to Matilda to Charlie and the Chocolate Factory , there are plenty of great Roald Dahl books from your childhood that are perfect for Halloween.
7. The Characters Of Miss Peregrine's Home For Peculiar Children
They're creepy, they're literary, and they're the perfect squad costume. If you love Miss Peregrine's Home for Peculiar Children , dress up as the eerie children from the series, and include your whole squad.
8. The Characters Of The Lunar Chronicles
You have plenty of fairy-tale inspired costumes to choose from in the Lunar Chronicles series — enough for the whole squad. From Linh Cinder the cyborg, to Snow White-inspired Winter, to Queen Levana, these characters are perfect for Halloween.
9. The Characters Of The Night Circus
Celia and Marco would make an excellent couple's costume, but why stop there? There are so many interesting characters in The Night Circus , and the black-white-red color theme is easy to coordinate.
10. Max And The Monsters From Where The Wild Things Are
Let the wild rumpus start when you and the squad go out for Halloween — this costume is great no matter what size your group is, and everyone can customize their monster outfits accordingly.
Images: 20th Century Fox (2), Warner Bros Pictures (1), Paramount Pictures (1), Buena Vista Pictures (1), Walt Disney Studios (1), Universal (1), Summit (1)