Alexander Wang x Adidas Is Already On eBay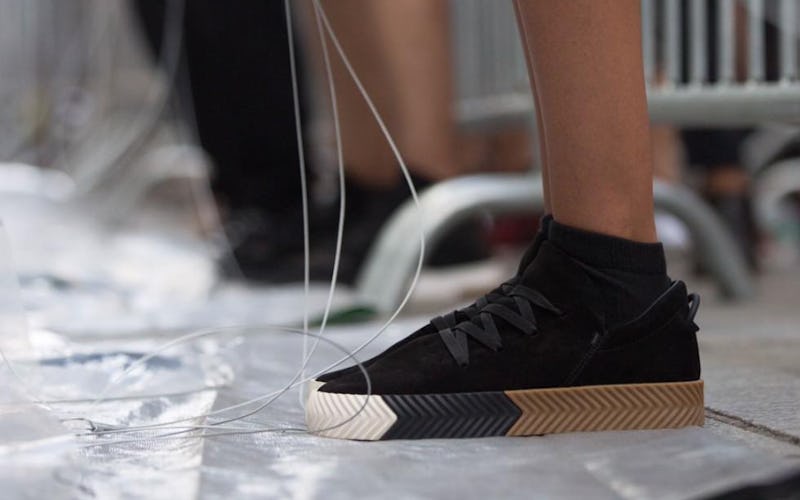 That didn't take long. Alexander Wang revealed his Adidas collab over the weekend at NYFW. The expansive range includes 84 unisex pieces, according to reports. Judging from the killer items I've seen on social media and online, Alexander Wang x Adidas is yet another benchmark in urban street chic, like the Rihanna x Fenty Puma collection. That is, it's comprised of beloved and necessary basics like hoodies and sneakers with fashion-forward details and prices. It's a slaytastic high x low mashup.
Select Aexander Wang x Adidas pieces became immediately available via pop-up shops x trucks, which turned up in NYC after the fashion show. Eventually, the full collection will arrive in stores and online for Spring 2017, per an Adidas Originals Instagram post, which can be viewed below.
But since pieces from the line have only been available in limited supply via the pop-up trucks and aren't easy or widely available to purchase just yet, I was left wondering if Alexandar Wang x Adidas made it to eBay already.
The answer is yes, it has. As to be expected, the prices for A. Wang x Adidas via a third party are expensive AF. The sneakers, sweatshirts, and tees are all on the site, with many prices tags north of $300.
These kicks have proven popular.
The Brooklyn pop-up was the last chance to grab this limited capsule collection in the U.S. for now. So if you are relegated to shopping via third parties, proceed with caution. You need to consider your budget and how much you are willing to spend in order to add these pieces to your wardrobe immediately. You also need to do your homework to make sure you are buying legit Wang x Adidas items. Don't be snookered by fakes.
Keep on trucking for fashion, yo!
Here is the Insta post revealing the future purchasing intel re: Alexander Wang x Adidas.
The pop-up shops were a fun way to launch... especially for those of you who nabbed pieces.
I love the twist on the familiar Adidas logo.
Fans were ready to shop... because the collab is so stylish.
If you are impatient and want to shop via third parties right away, do so after completing the necessary research. Or wait until it eventually arrives in stores and online platforms.
Images: Adidas Originals/Instagram (4); Alexander Wang NY/Instagram (3)