11 Of Missy Elliott's Most Inventive Style Moments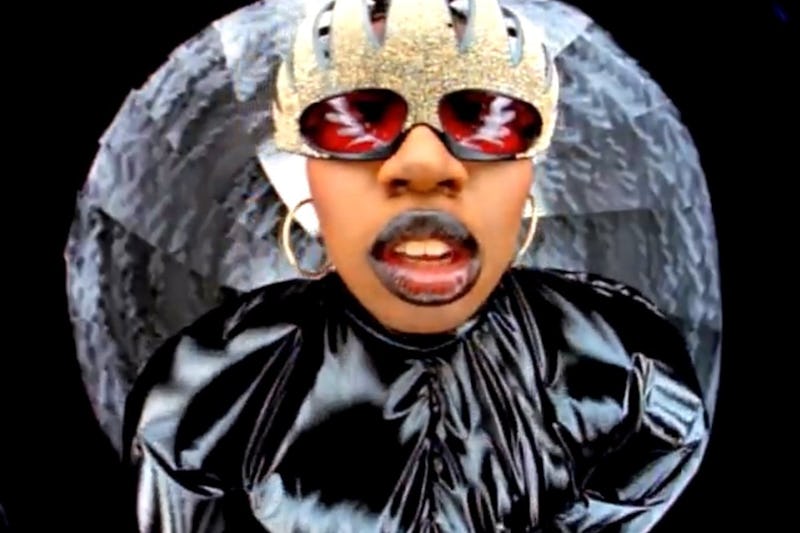 Missy Elliott is a woman who has always marched to the beat of her own drum. Paving her own way in terms of both musical ventures and fashion outings, over a career spanning more than 20 years, it's no surprise that Missy Elliott's most iconic style moments are perhaps more controversial than many other popular music icons.
Elliott made a killer comeback in 2015 after a hiatus spanning almost a decade. One of her most recent ventures — appearing in Marc Jacob's Fall 2016 campaign — sent me down a long road reminiscing over all her great style moments from years past.
From making her first music video with Hype Williams (who also directed the Marc Jacobs clip) while wearing nothing but a black garbage bag, to the countless number of killer outfits she's put together, her reputation for always bringing her A-game has arguably cemented her status as one of the most creatively dressed women of our time.
While many of her looks might feel completely unwearable to most of us, Elliott was and is a complete trailblazer for all women who don't fit the cookie-cutter mold of 21st century beauty standards, and don't seem to care about straying from the norm when it comes to dressing creatively. Below are 11 of her most iconic and inventive looks.
1. When She Vamped It Up For Marc Jacobs
Proving she's no one trick pony when it comes to making a fashion statement, Elliott recently ditched her usual sportswear inspired image in favor of Marc Jacob's gothic fantasy, appearing in his first ever music video collaboration at NYFW.
2. When She Made Garbage Bags A Legitimate Fashion Item
In a move that no one saw coming, Elliott defied expectations and beauty standards while sticking a finger up to an industry that over-sexualises female pop stars and rappers alike. She did so by rocking an ill-fitting garbage bag in the video for "The Rain (Supa Dupa Fly)", and from that moment, she secured a spot for herself amongst music's most fashionable.
3. When She Proved Bandanas & Flip Phones Are Forever
Despite certain technological advancements, snapping your cell phone closed after finishing a call has a certain level of nostalgic cool associated with it, and Elliott probably perfected the art. Between that and her airbrushed denim vest worn at an MTV appearance in 2001, this is easily one of her best aesthetics.
4. When She Channeled Ice Queen Realness
Summer's coming to a close and I for one will be channelling Elliott at the 2003 Honey premiere and her white, fur-lined coat of dreams when deciding what to purchase for my winter wardrobe.
5. When She Made Bubblegum A Must-Have Accessory
While many celebs might consider being caught with gum in a paparazzi shot a fashion faux pas, for a period of time Elliott was rarely pictured on the red carpet without blowing a bright pink bubble. And while you might not be able to afford most of Elliott's wardrobe, her penchant for bubblegum is both easy to recreate, affordable, and cute.
6. When She Had Her All-Dior-Everything Moment
Many of us owned at least one monogrammed item of clothing (real or fake) during the first half of the '00s, but Elliott took it to a new level: She rocked a ton of print all at once back in 2004 at the premier of Shark Tale , and it was absolutely epic.
7. When She Wore A Jacket Adorned With Michael's Face
Paying homage to one of pop's greatest icon the best way she knew how at the 2005 BET awards, Jackson's face made a fine addition to the tracksuit uniform Elliott has become best known for.
8. When She Wore Her Face On Her Jeans
When she wasn't wearing the face's of those she admired on her apparel, she sported her own. What's more badass than a healthy dose of self love?
9. When She Sported The Double Denim Of Our Early '00s Dreams
Double denim may be the makings of some our worst wardrobe nightmares, but here Elliott proves the defining trend of the early '00s had it's time and place in fashion history – more specifically at the 2006 Grammys.
10. When She Was An IRL Piece Of Pop Art
Rocking a Roy Lichtenstein inspired beauty look and matching Adidas tracksuit, Elliott blurred the line between art and fashion in her 2015 video for "WTF (Where They From."
11. When She Rocked A Robot Suit That Resembled The Gmail Logo
Looking at this image, one could argue that Elliott may have taken inspiration from Gmail's instantly-recognizably logo. It's hard to deny the similarities between this look from 2006, and the little red M envelope that graces the top of our laptop screen — and even though it's just a personal theory, we can definitely pretend like it's real.
While you might not wear jeans with your own face on them any time soon, reflecting on Elliott's fashion legacy is a whole lot of fun, and can remind us all there's nothing more powerful than being yourself when it comes to personal style. Thanks for the garbage bag-covered memories, Missy.
Images: Missy Elliott/YouTube (3) Marc Jacobs/YouTube