How To Create Opportunities Through Social Media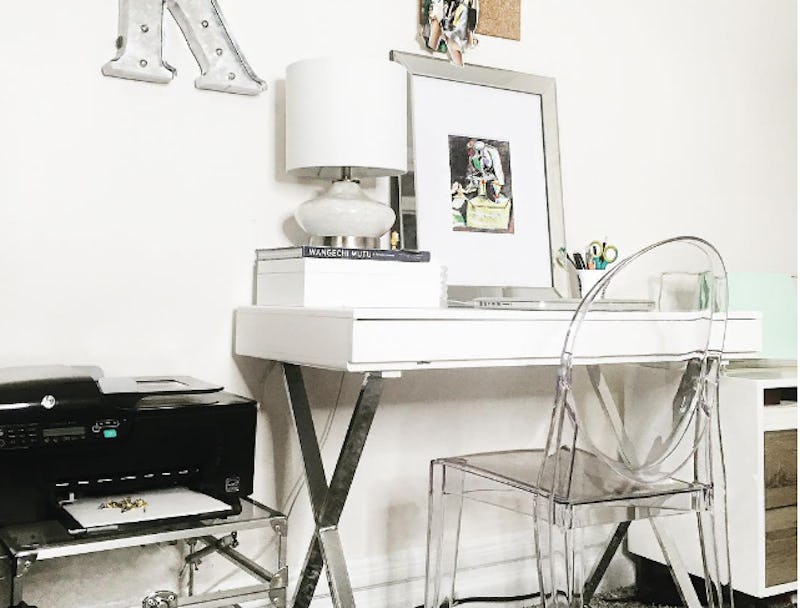 It's no secret that you can find career opportunities through social media — in this day and age even a person's great-grandmother is hooked up with a LinkedIn. But while you might be sharing industry stories and updating profile pictures with professional head shots, are you really doing absolutely everything you can in order to let those opportunities flood in?
While it can feel overwhelming to update a deck of platforms every day and every hour, creating career opportunities on social media doesn't have to feel so labor intensive. In fact, a lot of it just has to do with making yourself visible enough so your industry finds you. For example, do you have an email signature that links out to your social media, or are you just blasting away hundreds of emails without giving people the option to learn more about you? Are you catching your industry in hashtags when you post that "working out of the office" coffee picture, or did you let yourself miss that small opportunity? Do you have an online portfolio set up where people can check out your projects, or would you rather do all the legwork yourself? Get ready to beef up your game plan this afternoon — below are 11 tips on how to create even more opportunities for yourself on social media.
1. Start A Dialogue With Companies You Admire
Twitter and Instagram don't only have to be used for your strategic shots of Pumpkin Spiced Lattes. They can also be a stepping stone when it comes to starting dialogues with companies you admire and want to work for.
"Follow companies you're interested in and comment on their posts. People often complain about how some people have an 'in' but don't take advantage of the information companies are putting out through their social media, career coach Kim Wensel shares with Bustle in an interview over email. Whether you catch job listings, become familiar with a key player in a department, or just register yourself on the company's radar, social media offers you an easy and effortless "in." It's up to you to take advantage of it.
2. Make Sure All Your Media Is Cohesive
From your blog to your Instagram to your LinkedIn, the key to being remembered and clearly understood is to make sure all your platforms are telling the same story about you.
"Make sure your personal branding is cohesive across social media. This means describing yourself the same way on LinkedIn as you do on Twitter," Wensel recommends. If one account is saying you're a writer but another is boasting you're an entrepreneur, employers might become confused what you focus on and pass you up. Wensel continues, "Twitter is an amazing place to make professional connections, but you have to make sure that how you describe yourself in your profile is in line with the type of content and people you're engaging with on the platform. If you do so, you'll get noticed." In other words, if you're trying to get noticed in a specific field of work, make sure every single one of your platforms underline how you're an important and influential member in that particular industry.
3. Always Have Links To Work Samples
If you don't have an online portfolio or resume yet, create one right this second (I'll wait) and link it to every platform you're currently active on. It's not enough just to say you're a fabulous hire — you need to prove it to those that might be nibbling on the bait!
"To build professional credibility, it's not enough to simply list out your job duties on your social media platforms. A more effective approach is to demonstrate your capabilities and accomplishments by including links to work samples," Jim Belosic, contributing career writer to career development site The Muse, explained. Include projects, statistics, and presentations you're most proud of, and you might just see more emails coming your way.
4. Don't Be Afraid To Show Your Personality
In the past, how often did you wish you could impress an employer with your upbeat attitude and personality, rather than just having them judge you with a bland resume? Well, that's what social media is for!
"Almost 40 percent of those surveyed said that a candidate's personality on social media seemed like a good fit with company culture," career writer Hannah Morgan shared with U.S. News. Tailor your voice to fit the kind of company you want to work for, and you might receive more offers from those specific corners.
5. Use It As A Powerful Research Tool
Social media is also a great tool when it comes to research. For example, if you're going to an industry event, you can use it to become familiar with a couple of key guests so you can make your first introduction impressive and memorable.
"If you're attending a conference or industry event, use and follow the hashtag to see who else is there. Often you'll find people you already follow on social media are also attending and this is the easiest, most natural way to make that in-person connection you've been wanting to make," offers Wensel. In addition, if you have an upcoming interview or received an offer via email, you can also mine the company's social media to prove your interest and knowledge in them.
6. Don't Be A Lurker
While it's great to use social media as a tab of sorts for your favorite industry leaders and companies, you'll get so much more out of it if you actively participate across your platforms.
"Consider social networks today's version of the informational interview. Every social network offers a different way to connect with influencers — for example, by using hashtags, participating in Twitter or Facebook chats, publishing, commenting, and more," offered Belosic. If a possible employer comes onto your page and sees a dedicated and passionate feed of industry information, they'll be impressed before they even speak to you.
7. Keep The World In The Loop With Your Projects
It's not just enough to pop into Twitter chats or share interesting reads — if you want your industry to notice you as a key and valuable player, you need to keep them abreast as to what exciting things you have got currently brewing.
"Share something you've accomplished or just something exciting that you're working on," career writer Anna Haotanto from entrepreneur site Fast Company suggested. Snap a pic of yourself working at a fun coffee shop, share snippets from a new project, and highlight wins loud and proud. Your statuses could be your portfolio come to life, meaning you're pushing your credentials straight into employer's feeds and smartphone screens.
8. Have An Email Signature
If email signatures make you think of corporate stamps approved by compliance legal teams, let me stop you right there. You can have fun with your signoff and get cheeky with it, but the important thing is that you actually have one.
"More than 100 billion emails are sent and received every day. Whether you're sending an email to apply for a job, check in with a client, or say hello to a fellow employee, your email signature can be a powerful tool for promoting your social profiles," Belosic pointed out. You never know when a random email can domino effect into an opportunity, so you're not doing yourself any favors when you skip linking your portfolio and accounts.
9. Blog It Out In A Specific Voice
If you're gunning for a certain position in a particular company, a great way to prove you'd be a perfect addition to the team is to blog about their topics of choice in their voice.
"Writing an article on a relevant topic to your desired jobs shows employers that you are serious and knowledgeable and can show off your communication skills. If you don't have your own website/blog, LinkedIn Pulse is an easy place to place your writing and get lots of likes and comments and views from hiring managers," suggested business write Matt Sweetwood from Entrepreneur. If you look like you already fit in, an opportunity is easier to be given away.
10. Make Yourself Easy To Find
You can have an account on every social platform underneath the sun, but if you don't use keywords or hashtags while using them, all of that will be moot.
"Make yourself appealing and findable to recruiters who might be searching for you online," Lida Citroen, author of Reputation 360: Creating Power Through Personal Branding, advised. Add your profession as a hashtag in your Twitter profile, use industry hashtags in all your posts, create industry-rich SEO in your blog titles and text, and don't be afraid to copy the hashtags of key industry players so you're lumped in with their posts in searches. If you make yourself easy to find, then you're only widening the door for opportunities.
11. Engage With Anybody That Mentions You
The internet is a vast, endless place, which means there's no way you'll be able to catch everything that's said about you with only your mere mortal efforts. In order to see if your work has been noticed and shared by others, you need to add Google alerts to your name.
"If your goal is to increase your visibility online, you'll want to regularly Google yourself. You can set up a Google Alert to notify you when your name appears in a tweet, blog, article or mention online. This gives you an excellent opportunity to reply and engage in the conversation," Citroen suggested. You never know what a little "thanks for sharing me!" email can lead to.
By doing these simple little tweaks to your usual social media hustle, you can multiply the amount of opportunities you receive!
Images: @itsmekellieb/Instagram