The 'Fifty Shades Darker' Trailer Gets Terrifying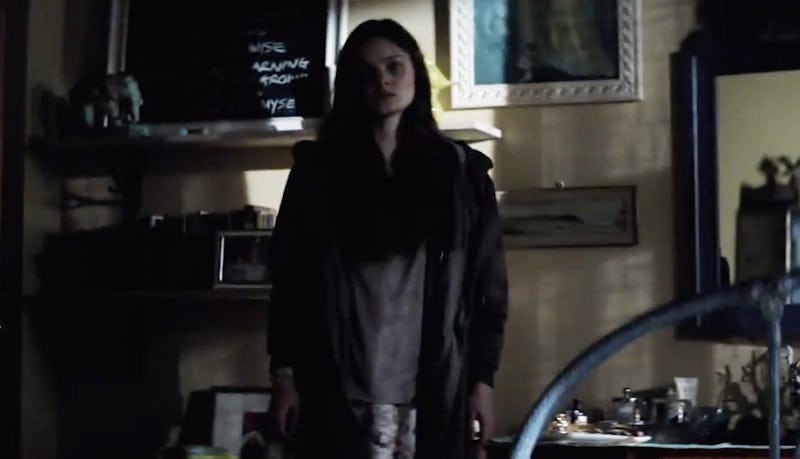 Christian Grey is getting 50 shades darker in the new Fifty Shades Of Grey sequel trailer. However, it's not just his relationship with Anastasia that's taking a dark new turn. In fact, a whole new slew of mysterious characters are getting into the action since, following Ana's request for "no more secrets," Christian's past appears to be coming back to haunt him. It all really starts at the 1:15 mark of the trailer, when a woman is seen standing in Christian and Ana's bedroom... and then disappears. Before you get all creeped out, get excited. Bella Heathcote is playing Christian Grey's ex-girlfriend, and this breakout actress should be on your radar.
The latest character in the Fifty Shades series, Leila Williams, is bringing herself back into Christian Grey's game by force. While you may not be too familiar with the actress behind the character, something tells me that it won't be long until you know the Australian-born actresses name. We're already getting quite a bit of her in the trailer. Heathcote's second appearance at the end of the trailer allows her to ask Ana one seriously skin-crawling question: "Do you think you're the first woman who's tried to save him?"
Honestly, I'm in love with her performance already. But, aside from her role in Fifty Shades Darker, who is Bella Heathcote?
The 29-year-old actress has taken on a number of different roles before her dark turn in the book-to-screen adaptation. Some of her previous roles include playing Amanda Fowler in the short-lived Australian soap opera, Neighbours, and the role of Michele Weis alongside Justin Timberlake and Amanda Seyfried in 2011's In Time. She then went on to act as Victoria Winters in Tim Burton's 2012 adaptation of Dark Shadows, she took on the lead role in 2015's The Curse Of Downers Grove, and she even got the chance to play Jane Bennett in 2016's Pride and Prejudice and Zombies. This all led up to a role in an episode of the Amazon series, The Man In The High Castle, and her upcoming role in Fifty Shades Darker.
However, there's more to Heathcote than the list of credits on her IMDB page. In fact, she first gained attention for her acting in May 2010, when she was the proud recipient of the Heath Ledger Award following her studies at the Australia National Theatre Drama School. The actress also has quite the social media following. With over 67,000 Instagram followers (@bellalheathcote), Heathcote is sure to share everything with her fans including (but not limited to) her killer fashion sense and her hilarious antics with friends. Something tells me we'll be seeing a whole lot more of this actress in our future.
So, step aside, Dakota Johnson. I'm getting ready to watch Heathcote's standout performance in Fifty Shades Darker on February 10, 2017. She's already the one stealing the trailer.
Images: Fifty Shades Darker/Twitter