How To Draw On Photos In iOS 10 Text Messages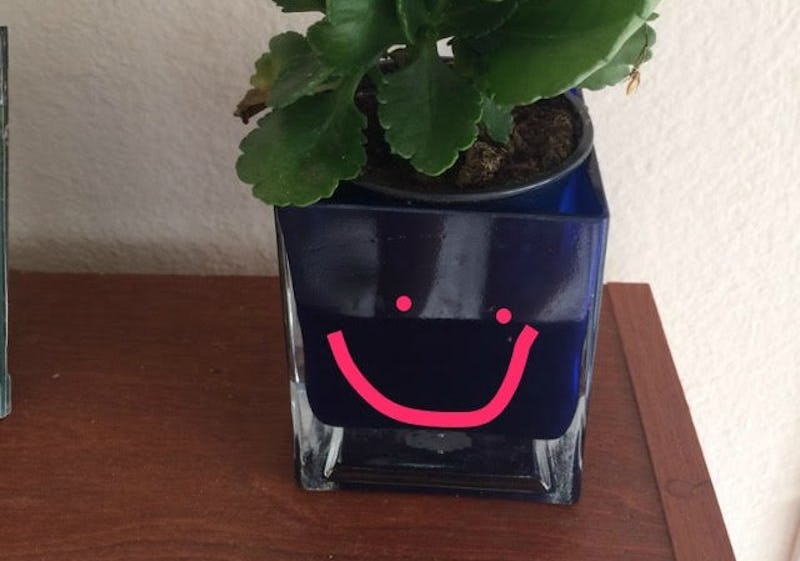 The newest Apple mobile operating system is finally out, and if you've taken the metaphorical plunge into iOS 10, you're already aware of the most pressing question of the morning: How do you draw on photos in iOS 10 text messages? The update's overhaul of the Messages app has been a major topic within the tech industry since iOS entered developer beta back in June, and the changes are as big as we were promised.
iOS 10 brings all kinds of new messaging capabilities to Messages, from predictive emoji to Invisible Ink, which hides messages and photos until the user swipes over them. (Can't imagine why that would be useful — oh wait.) The latter is one of the new Bubble Effects allowing users to change the appearances of their messages; aside from Invisible Ink, you also have the option of sending texts that shrink or expand as they send, eventually settling into their regular size. Basically, if you've ever wished your text conversations had a more dramatic flair, iOS 10 is a total dream come true.
Equally important is the addition of Digital Touch. Previously available only on Apple Watches, this feature allows you to send little images like fireballs, kisses, and heartbeats, but we both know that's not the bit everyone's obsessed with. That honor goes to the ability to send sketches and draw directly on photos, much like a certain app that baffles everyone over the age of 35.
There are actually several ways to draw on photos in iOS 10 text messages, so here's your step-by-step guide to all of them:
1. Open A New Message
Let's just assume you know how to do this bit.
2. Press The Camera Button
Once you choose the person you're messaging, you can access the icons to the right. This part is important: If you want to draw on a photo you've already taken, press on the camera button to the far left. Scroll through your options on the right select the photo you want to draw on, then tap on it to pull up the full-screen version. To draw on the photo before you send it, select "markup" in the bottom left corner of the screen, and get to sketching.
Once you're done, save your masterpiece and press "done." Finally, send the photo by pressing the tiny upward arrow.
It's not terribly complicated, but it's far from the only option for drawing on photos. Digital Touch comes with a range of other possibilities, which we'll explore below.
2.1 Open Digital Touch
If you want to draw on a photo through Digital Touch, it's a different story. Instead of pressing the camera icon when you pull up a new message, select the icon shaped like a heart with two fingers, which will pull up the Digital Touch options. Next, press the icon shaped like a video camera, which should be on the bottom left.
Here's the cool part: The next steps can be done in any order, depending on what you're going for.
3. Start Drawing
If you want to send a still photo with a sketch laid on top of it (like Snapchat), you can draw on the photo before you take the photo. Just line up the shot and draw with your finger — the automatic color is blue, but you can select different colors from above the photo. When you're done, take the photo by tapping the white circle.
4. Take Your Photo
If you take the photo first (by tapping on the white circle) and then draw on it, your picture will send as an animation — the photo is still, but your doodle will show up and disappear.
5. Take Your Video
To draw on a video, line up your shot and start recording. While it's recording, you can sketch directly on the video to your heart's content.
To send your photo or video, press the tiny arrow pointing upward on the bottom right side of the screen. Keep in mind that these doodles disappear after a bit, so if you want to save one, you'll have to select the "keep" option underneath the photo after it sends.
Now go forth and doodle up a storm!
Images: Claire Warner/Bustle (8)