13 Breakup Texts That Remind You Technology Sucks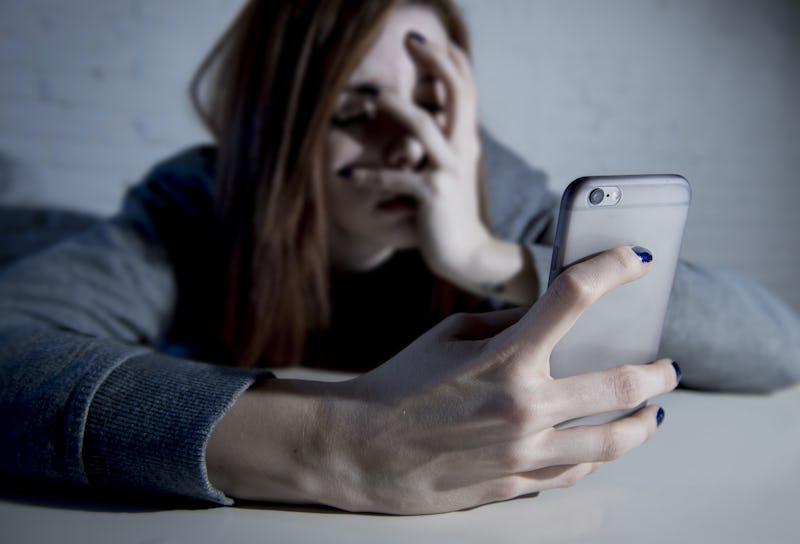 "I'm sorry. I can't. Don't hate me."
Those were the words written on the breakup Post-it note Carrie received from Berger on Sex and the City. It was 2003 when the episode premiered and you were probably appalled by his behavior, right? The actual words were fine (if breakup words can even be anything but awful) but this message scribbled in black marker lacked tone, emotion, and courage. Why couldn't he do it face-to-face? Fast forward 13 years later, and we're essentially doing the same thing —minus messy hand writing — in our dating lives: breaking up over text.
In fact, in a survey of 7,500 men and 8,300 women, dating site WhatsYourPrice found that men are more likely to send a breakup text (88 percent), while only 18 percent of women admitted to doing so. Either way, there's no denying being on the receiving end sucks.
"As harsh as these words might seem, at least these senders put in some effort towards ending the relationship in a finite way rather than simply ghosting their romantic partners," Michelle Drouin, Ph.D., Professor of Psychology tells Bustle. "Yes, it would have been better for the breaker-uppers to do it in person, or minimally, send a message that communicates love, respect, and appreciation for the relationship. But those conversations are tough, and when an alternate route to a tough road exists, many people take it. In essence, text messaging has become the desire path of modern breakups."
Technology has become such an integral part of our romantic relationships — how they form, how they're maintained, how they grow, and certainly, how they fall apart. But putting an end to something over text message, whether it's casual dating or something more serious, has a certain sting to it. Yes, ghosting hurts too, but even if you haven't been dating that long, those final words staring back at you can feel so cold. And scrolling from top to bottom of your text conversation, you can even see how your entire relationship played out in words and emoji.
In an effort to bring the voice back to conversations, Bustle is partnering with Blogologues' No Text Weekend, a challenge to not text from September 23-25. There will be event series featuring comedy, workshops, and classes all to help you connect better with others. And it's not just about changing how you communicate with your significant other (or ex), the weekend encourages you to have more meaningful conversations with your friends, family, and co-workers, too.
Why do people break up over text? Turns out, the reasons are endless. Below are all the real ways people have broken up over text message, from short-term pairs to LTRs. Have a breakup screenshot you want to share? Email blogologues@livelyproductions.org, or upload it to social media with #notextweekend.
1. When They're Not Ready To Date Again But Want You To Have A Good Easter
2. When You Come Back From Vacation And There's Someone Else
3. When There's No Future
4. When They're Not Ready
5. When 'It's Not You...'
6. When It's Too Late To Say Sorry
7. When You're Not What They're Looking For
8. When They Feel Like A Scumbag
9. When They Want To See Other People
10. When They Already Are Seeing Other People
11. When You're Rude
12. When They're Very Confused
13. When They Get Back With Their Ex
Have a breakup screenshot you want to share? Email blogologues@livelyproductions.org, or upload it to social media with #notextweekend.