Female Emmy Nominees Are More Than Just Wives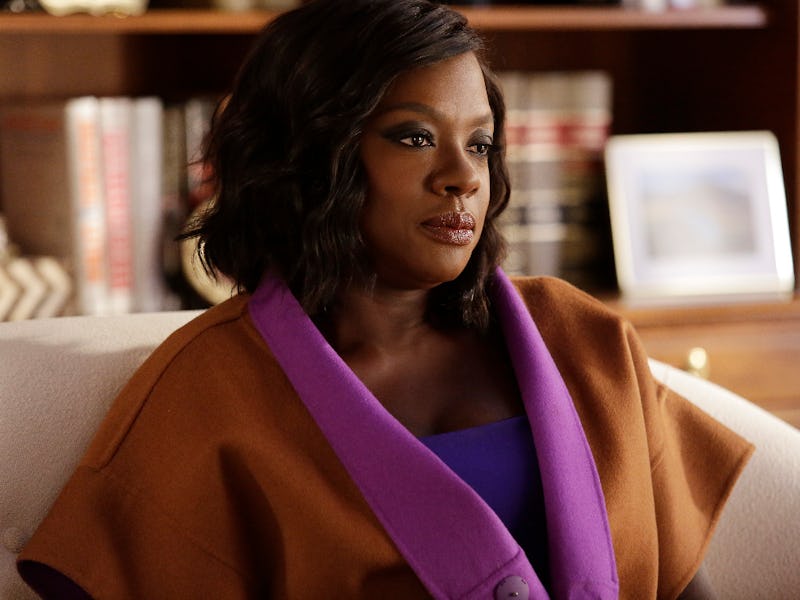 If you're a woman looking to get a Best Actress Oscar nomination, you should probably play a wife. In a study from earlier this year, Fusion looked at every Best Actress Oscar winner over the Academy Awards' 88-year history and found that 16 percent of women who took home the statue did so for playing wives. A role that could be a complicated one, but in most cases, meant these women were defined by their relationship to their husbands, who were the real stars of the film. (Only two Best Actor winners were playing husbands.) But, if you're a woman looking to win an Emmy, you have a lot more options. Looking at the 2016 Emmy nominees for Best Actress in Drama and in Comedy, you may notice "wife" is not the only word that would be used to define any of this year's 12 nominees.
Between both of these categories, only three of the women nominated are playing characters that are married — Black-ish's Tracee Ellis Ross, The Americans' Keri Russell and House Of Cards' Robin Wright. (Two have been once married, in the case of How To Get Away With Murder's Viola Davis and Empire's Taraji P. Henson.) But, wife is certainly not the only word that would be used to encapsulate who any of these women are. In fact, none characters who are nominated this year are easy to define in one word. Seriously, just try it with Homeland's Carrie Mathison or Kimmy Schmidt on Unbreakable Kimmy Schmidt. Not easy, right? It's why this year's Outstanding Actress nominees are even more outstanding. They show that strong, complicated female roles are becoming the norm on television.
Wives have had their place in Emmy history — Jane Wyatt won Outstanding Actress three times for the '50s sitcom Father Knows Best, Michael Learned won four times for The Waltons — the biggest winners of that same award, which wasn't separated into drama and comedy categories until 1966, are women who redefined what female characters could be. Candice Bergen won Outstanding Lead Actress in a Comedy five times for playing journalist Murphy Brown, a character that got caught up in a political controversy over family values for being a single mom. Mary Tyler Moore also won that same award five times for playing a journalist on the sitcom that bears her name, become known as the original career woman for choosing work over marriage in the '70s. And Julia Louis-Dreyfus has won four out of her five Emmys for playing Vice President turned President Selina Meyers on Veep where politics and gender make for a lot of laughs. Tyne Daly won four consecutive Outstanding Lead Actress statues in the '80s for playing a cop on Cagney & Lacey, who was also married with kids.
But even the most famous wife on TV — Lucy Ricardo on I Love Lucy — was redefining what that word meant at a time when it seemed so clearly defined. Lucille Ball broke all the rules. She was no '50s housewife, staying home to put dinner on the table. Dinner would come when her scheming was through. She was the one who wore the pants in her house, doing what she wanted to do in her quest to break into show business. While she always chose being a wife over her own career, the fact that she was even pursuing something outside of the home seemed like a real leap forward for the time period. Lucy was a messy character, who wasn't interested in cleaning herself up for her husband or anyone else. She wanted to be something more. She never succumbed to being just a wife or a mother, she was a complicated woman and it's why she's still an iconic character today.
Unlike the Oscars, the standard roles that women may be forced to play, never really seem standard. While Ellis-Ross' Rainbow "Bow" Johnson on Black-ish may seem like the most conventional character among this year's other nominees for Outstanding Actress in a Comedy, which include Laurie Metcalf's the psychologically abusive director of medicine on Getting On and Lily Tomlin's hippie art teacher on Grace And Frankie, she's certainly not just a wife.
Ellis-Ross' role is layered: She's a wife, a mom, a daughter, a surgeon, who is also mixed-race and was raised by hippies. All of these things is what makes her who she is. Bow doesn't just solve the problems of her husband or her kids, she's got her own. It does a disservice to write her off as just being a wife, because it's that, combined with all the other roles she takes on, that really makes her who she is. It seems that TV writers understand this, and realize that no one is just one thing. These roles need to be written in a way that show the complexities of being a woman, which is always many roles in one. Just maybe not as many as Tatiana Maslany plays on Orphan Black.
But, as Viola Davis said last year when becoming the first African-American woman to win Outstanding Actress in a Drama, "You cannot win an Emmy for roles that are simply not there." It's something TV still needs to hear, being that a new study from San Diego State University's Center for the Study of Women in Television and Film found that the number of female characters on broadcast network shows was down slightly from a year ago. But, shouldn't be ignored by Hollywood movie studios either. There is a reason why the Huffington Post reported in 2014 that 30.2 percent of all Best Actress wins have been for playing wives, girlfriends, mothers, sisters or daughters. It's because those are the roles women are being written.
It's the same reason why this year's Emmys nominees are so complex. They were written that way and will continue to be written that way as long as the Emmys keep rewarding these kinds of characters with nominations and awards. While there's still work to be done, if Emmy history shows us anything it's that strong women tend to come out on top. In the end, that's a good sign for all the wives, mothers, sisters and daughters out there who are more than one word could possibly explain.
Image: ABC; Giphy (3)