Lupita Nyong'o Is Not Letting Hollywood Define Her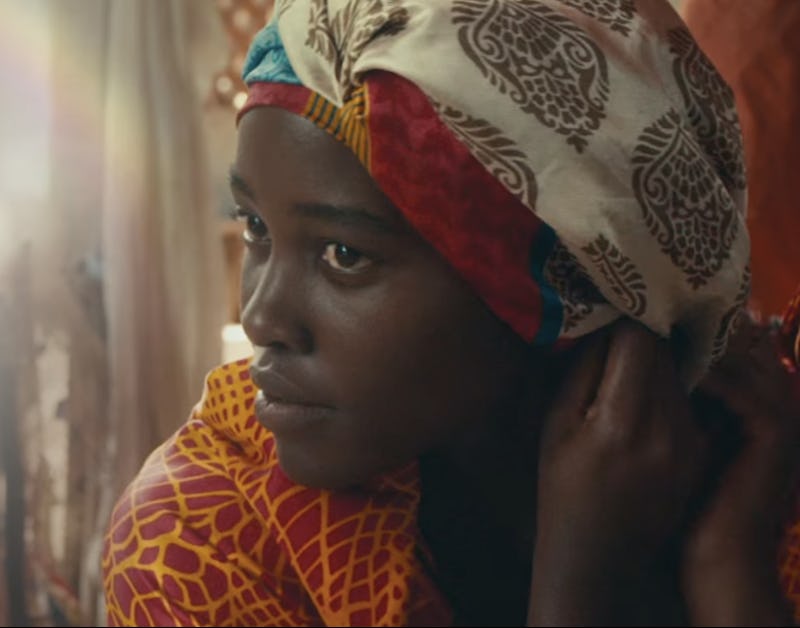 Ever since earning her Academy Award for Best Supporting Actor in 2013's 12 Years A Slave, Lupita Nyong'o has been working towards stepping up her career and becoming one of Hollywood's biggest talents. However, now that fans are finally starting to see more of her work on the big screen almost three years later, some may say that her rise to leading lady fame has taken longer than expected. But the upcoming release of Queen of Katwe (in which she plays Harriet Mutesi, the mother of Ugandan chess prodigy Phiona Mutesi) makes it clear that time has only made Nyong'o stronger. The award-winning actress is now taking on a highly-coveted female character as her first ever lead role in a major motion picture, an achievement that only came as a result of patience and pure precision.
"In retrospect, I was looking for ways to reengage my artistry [over the past couple of years], and there have certainly been things I passed on to do the things I felt gave me the right amount of challenge," Nyong'o shared in an interview with Entertainment Weekly . "I spent a lot of time talking about acting and not acting."
Waiting for the right roles in film may have been tough for her at first, but it certainly didn't stop the offers from rolling in. Nyong'o was able to star, and exercise her artistry with a lead role, in the dramatic Broadway play, Eclipsed. She also had the opportunity to play smaller roles in other high profile films — including lending her voice and an animated version of herself to both Star Wars: The Force Awakens and The Jungle Book.
That's what makes the timing of her role in Queen of Katwe so special. She could've easily taken something else that was similar to her role of Patsy in 12 Years A Slave or something that provided less depth. However, by embracing the power to say "no" to certain roles, Nyong'o held out for the best. She didn't take everything Hollywood wanted her to take, she didn't pick projects just for the sake of getting hired, and she wasn't going to do anything that didn't (in some way) further her interests or own artistic integrity. Basically, she was a champion for actresses in Hollywood and the future of strong female characters. It's not everyday that an actress will be brave enough to stick to her standards and say "no" to something. That's something that won't only be recognized within Hollywood itself, but is also sure to increase the overall longevity of her career.
"I couldn't think of anything worse than seeing her playing one slave after another," shared Nyong'o's Queen of Katwe co-star, David Oyelowo. And, as for Nyong'o herself, it was holding out for the perfect script that made all the difference. "It was the first time I felt really awakened by a script and super challenged." Clearly, she is a feminist force to be reckoned with.
Queen of Katwe opens in theaters September 23. You know you want to be there to see it.
Images: Giphy; DisneyMovieTrailers/YouTube