A Joyce From 'Stranger Things' Halloween Costume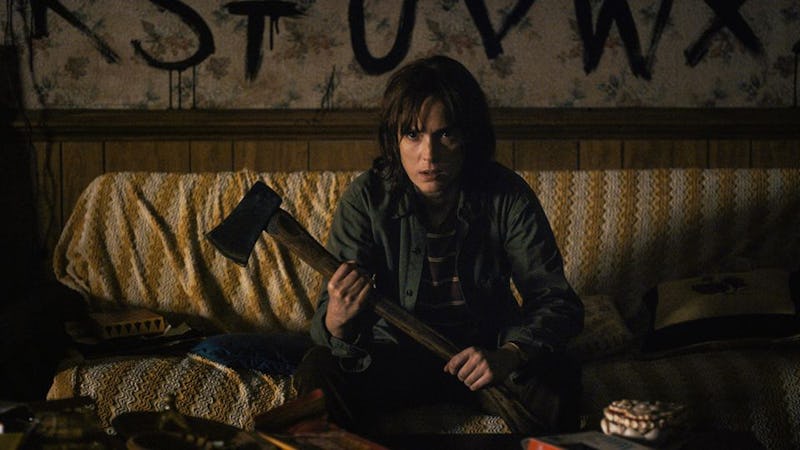 In the world of Stranger Things, it's easy to root for Eleven and her badass powers, or honor poor Barb, who wasn't given nearly enough time to shine. But if we're really talking about amazing and inspiring female characters on this show, we can't leave out Joyce. So if you're looking for a Joyce from Stranger Things Halloween costume idea, you need to give off a fiercely protective mom vibe, don't care what others think, and rock a sensible outfit and minimal makeup. And that's really the best part. Joyce doesn't have a drastic look. Yet she is endlessly fearless, loving, and determined to find her son. She's the kind of hero we're all capable of being.
Even if Joyce wasn't your favorite character in the show, because let's face it, she didn't get any of the glory moments beyond the ones with the flickering Christmas lights, choosing her as your Halloween costume might be the best decision you've ever made. Why? Because her wardrobe is comfortable, functional AF, low maintenance, and you probably have most of it in your closet already. So, you can save your extra cash on Halloween beverages and candy instead. And it does not get better than that, people.
Here's how to assemble a perfect Joyce costume for Halloween.
1. The Hair and Makeup
Joyce is no fuss when it comes to her 'do and her makeup. Mostly because she endures several sleepless nights worrying about her missing son, Will. So her wavy brown hair (with bangs) is a lob, and if that's what you already have, then curl it up a bit and shake it out, giving it a slightly disheveled look. And her makeup is extremely minimal as well. I'm talking concealer, maybe a little blush, and lip balm. Because Joyce has a lot of sh** to deal with and she doesn't have time to contour, y'all.
If a long brown bob with bangs is not your current hairstyle, then throw on a wig and add a little style to it. This one from Paramount Wigs on Etsy is perfect.
Medium 12-inch Layered Brown Wig, $50, Paramount Wigs on Etsy
2. The Attire
Military Jacket, $70, Amazon; Volcom Striped T-shirt, $27, Amazon; Puma Sneakers, $70, B loomingdales ; Patagonia Corduroy Pants, $53, M oosejaw
Joyce and her family live in a small town in Indiana, and the closer it gets to winter, the chillier it gets. So since season one takes place in fall, Joyce is always rocking comfortable pants, sensible shoes, a basic top, and a light jacket. She's usually casually dressed for work at the drugstore in town, rocking the clothes she wore the previous day (while waiting for Will to contact her from the Upside Down via Christmas lights or corded phone), or with an ax in hand ready to bash the skull of a Demogorgon bursting through her wallpapered living room.
3. The Accessories
Toy Axe from Smiffy's, $9, Amazon
Speaking of an ax, if you're Joyce, it's good to keep one nearby. You never know what's coming. This one on Amazon is perfect, because it's also a toy, so it's zero percent dangerous.
Holiday Living 140-Count Multicolor Mini Christmas String Lights, $13, Amazon
Draped around your Joyce attire should be a string of multicolored holiday lights. Your son is trapped in the Upside Down, so he might only be able to blink his current status to you. It's important to be prepared. Plus, you can hang them up in a few weeks when the holiday season officially kicks off.
Native Union Pop Phone Retro Handset, $9, Amazon
And just in case you need to make yourself available by phone, this retro handset plugs into your modern-day phone and you can keep it with you at all times.
4. The Vibe
The best thing about Joyce is her courageous vulnerability. She doesn't care if the entire town thinks she's crazy. She loves her son and will never stop looking for him. She has dedicated her life to her kids, and has so much love to give, even when nobody gives it back. It's easy to shut down when facing tragedy, or injustice, but Joyce. Keeps. Fighting. If you can master Joyce's vibe, then you're another hero the world needs — here, and in the Upside Down.
Image: Netflix; Giphy; Polyvore