7 Halloween Costumes From Your Favorite '90s Books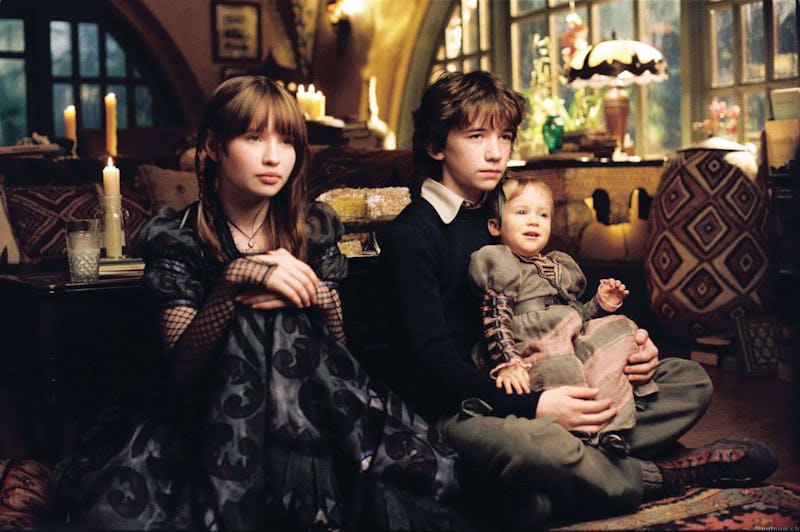 Books, halloween, and '90s nostalgia are my three favorite things. So what could be better than a Halloween costume from your favorite '90s book? Spoiler: absolutely nothing. Whatever your Halloween plans are, you'll be riding bookish vibes all night long, instantly becoming BFFs with the other book nerds who recognize you from their '90s reading.
I love Halloween so much because I can really live out my dreams — there is truly no limit to my imagination. My favorite thing is to think up creative ways to DIY a costume. When it's close to Halloween, you'll find me swimming through a sea of crafts supplies, crazy fabrics, and strange props. I can't get enough the thrill that comes when I figure out out a simple way to get the look I want. With a little creativity, I can really be anything!
And if you're a reader, you've already got a huge imagination from which to source ideas. You've probably spent hours daydreaming that you were a certain character. This Halloween is the perfect chance to finally walk in the shoes of those '90s characters you walways wanted to be. So make it happen with these costume ideas, planned out just for you.
With the new movie just released, this one is strangely appropriate (and easy to do). Bridget has tons of crazy costumes, and of course, you could always dress up like a Playboy bunny. But in my mind, I think Bridget is peak Bridget-y in that classic moment when she runs out to Mark in her underwear and running shoes. Plus, it's a pretty easy costume to recreate:
Rudolph Reindeer Christmas Jumper, $16, Amazon
This sweater completes the costume and keeps you sheltered from the October chill.
Women's Annette Faja Firm Control Brief, $23, T arget
If you don't already own a comfy pair of "granny panties," buy yourself some for the costume.
Saucony Women's Cohesion 9 Running Shoes, $35, Amazon
Who could forget Bridget's iconic (and practical) shoe choice for running after her true love?
Kate Spade "This Just In" Pink Journal, $30, Jet
Of course, the costume wouldn't be complete without a diary...
Fake Puff Cigarettes, $4, Amazon
...and don't forget about Bridget's ever-present cigarette.
2. Junie B. Jones from the Junie B. Jones series by Barbara Park
Everyone's favorite mischief-maker makes for a great Halloween costume! As someone whose daily look is naturally very close to Junie B.'s frenzied style, I had a blast bringing these crazy elements together. Be sure to keep a snarky expression on your face while rocking this costume.
Merryfun Grosgrain Ribbon Bow Headband, $7, Amazon
Step number one is to muss up your hair. Like, really go crazy. And then, for the classic Junie B. look, add in the floppiest bow you can find.
Ruffled Star Print Top, $20, Forever 21
Junie B.'s style is all about crazy patterns, colors, and ruffles that don't really go together.
Organza Tulle Skirt, $33.92, Chic Wish
Junie wears really flouncy skirts. Just like with the shirt, you want bold patterns and bright colors, but it absolutely should not match with whichever shirt you've chosen.
Women's Cotton Mary Jane Shoes Ballerina Flat, $12, Amazon
To make your Junie B. look complete, slip on a pair of Mary Janes, and pair them with big white socks.
3. Your Favorite Animorph from The Animorphs series by K.A. Applegate
The cool thing about the Animorphs series (besides all of it) is that for a costume, you have lots of options. You can pick your favorite Animorph (mine is Rachel) as well as their favorite morph.
Speedo Women's Xtra Life Lycra Electric Shock Super Pro One-Piece, $10-12, Amazon
For the Animorphs' morphing suits, they wear leotards, and you'll see on the book covers that they're usually pretty funky (as '90s style tends to be.) It's hard to come across an adult leotard that's as fun as the morphing suits on the books, but this one-piece swimsuit does the trick.
Bedtime Originals Plush Toy, Humphrey Elephant, $9, Amazon
If only we could actually morph... Since we're mere mortals, we must bring along a stuffed animal to symbolize the morphing abilities of the Animorphs.
4. Enfield Academy student from Infinite Jest by David Foster Wallace
If you're one of the legions of people obsessed with Infinite Jest, you've certainly imagined yourself as a student of Enfield Academy. With this costume, you can rep the massive novel without having to take on an addiction.
Cafe Press Enfield Academy T-Shirt, $18- $21, Amazon
Start with a shirt that reps your Enfield and tennis pride.
Women's Pleated Tennis Skort, $30, Target
Fill out the rest of your costume with tennis and athletic clothes.
Tennis Racket, $30, Amazon
Sling a tennis racket over your shoulder. For an extra touch, maybe take a sharpie and write your favorite Infinite Jest quote on the case. Or, maybe "Eschaton Champion, Year of the Depend Adult Undergarment."
Pam Cooking Spray, $3, Amazon
One of my favorite details from Infinite Jest is how Enfield students spray themselves with cooking spray as sun protection.
Paisley Cotton Bandana, $3, Amazon
Finally, if you want to add an extra homage to the late David Foster Wallace, don a white bandana.
There are so many fantastic Tamora Pierce characters to choose from, and Daja is one of my favorites. Plus, her look is iconic and so much fun to pull off.
Robie's Costume Women's Forest Princess, $30, Amazon
For your base, start with a medieval outfit. Daja prefers pants, so this costume is a good start.
The Hobbit 2: Desolation Of Smaug Gandalf Staff, $18, Amazon
If you've read the books, you know that Daja's staff is a big deal. It represents her standing in the Trader society, which is very important to her development as a character.
Anddas Conjure Up Fire Flame Gimmicks, $8, Amazon
To make your Daja look extra special, you need a little fire magic. These little devices make it look like you can produce fire from your bare hands. You'll wow everyone at your Halloween party!
Plus, Daja is known to wear her hair in braids, so for some inspiration, check out these braid tutorials to find the braided look that works best for you.
5. Lyra from the His Dark Materials series by Philip Pullman
The world of The Golden Compass and its sequels is very, very cool, and Lyra is a fantastic character to emulate on Halloween.
Jiayiqi Jewelry Women Vintage Compass Necklace, $7, Amazon
Obviously, Lyra needs a golden compass.
Partiss Women's Faux Fur Down Coat, $34, Amazon
Lyra doesn't really have a set uniform, but a lot of the branding for the movie shows her in a parka.
Stretch Knit Corduroy Jumper, $30, Old Pueblo Traders
If a parka's too hot, though, a dress will do the trick. This jumper matches another one of Lyra's looks from the movie.
Stuffed Animal Marten, $30, Amazon
Of course, Lyra is not complete without her daemon, Pan.
The eldest Baudelaire orphan is such a badass, who wouldn't want to spend an evening in her shoes? (You know, minus all of that misfortune and such.) Being Violet is mainly about embodying the steam punk vibe of Lemony Snicket's famous books.
Hair Ties 20 Pack "Pink Ombre", $8, Amazon
Violet always ties her hair up with a ribbon when she's inventing.
M4U Women's Classic Black Layered Lace-Up Cotton Lolita Dress, $45, Amazon
Violet almost always wears old-fashioned, gothic dresses. To keep with the vibe of A Series of Unfortunate Events, I would stick to black and grey tones. The Costumer's Guide to Movie Costumes has a detailed guide to Violet's dress if you want to DIY it. Or, this one from Amazon is a pretty close match.
Wellington Puritan Twist Manila Rope, $14, Amazon
To make your Violet costume complete, add a prop. For instance, a strand of rope is an easy addition to your costume, and an homage to one of Violet's inventions: her rope machine.
The Very Hungry Caterpillar is a classic, and a really great excuse to eat a lot this Halloween. There are a million cute caterpillar costumes for little kids, but to do it as an adult requires a little creativity. (But don't worry, it's worth the trouble.)
PajamaMani Women's Fleece Onesie Footed Pajama PJs, $29.99, Amazon
For your base, start with a green onesie or green outfit.
4-Pack Foam Pool Noodles, $12, Amazon
Use duct tape (or the adhesive of your choice) to attach pool noodles to the back of your costume for your additional caterpillar legs. Buy them online, or check your local sports goods store for end-of-summer sales.
Assorted Pipe Cleaners, $4, Amazon
Every caterpillar needs cute antennae. Grab some pipe cleaners and DIY a headband for yourself, or buy one on Amazon.
Images: Universal Pictures (2), Jackman34/Pixabay; Barnes and Noble; Amazon (21); Forever 21; Chic Wish; New Line Cinema; Old Pueblo Traders; Paramount Pictures