11 Accessories every Stephen King Fan Will Love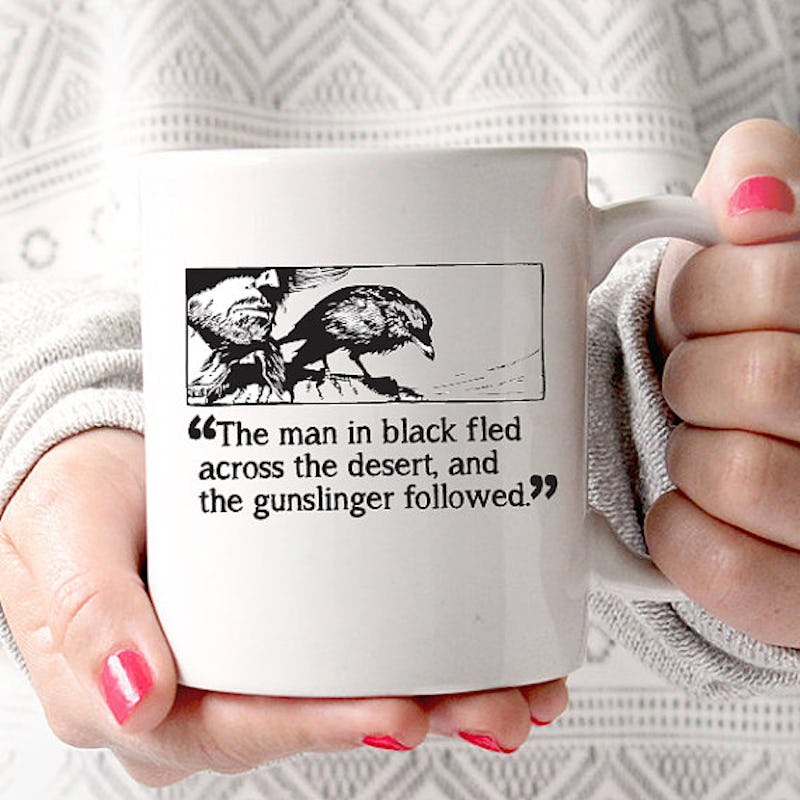 Readers have been getting nightmares from Stephen King books since the early '70s, with no signs of stopping any time soon. The popularity of Stranger Things — which was heavily inspired by King's work — proves that his work endures. With over 50 books in print, countless film adaptations, and and a Twitter full of book recommendations, readers are never far from another King fix. September 21 marks the 69th birthday of the king of the horror genre, and to celebrate, you can pick up another one of his books. Or you can also buy yourself an accessory for Stephen King fans. It's in celebration, after all.
There are some pretty dedicated fans out there, who make amazing Stephen King prints, shirts, and anything else a reader might want. If you want a vintage Stand By Me print or a set of bookends inspired by The Shining, we've got you covered. Whether you're reading the Dark Tower series for the first time or the millionth, and regardless of how you feel about the movie adaptations, there's something out there for you. To celebrate the true king of horror, here are 11 accessories every Stephen King mega-fan will love.
1. A Minimalist Print
Because it speaks the truth.
Book Are Magic Print, $13, TheBookWormPrints, Etsy
2. Vintage Stand By Me Poster
No Stephen King collection is complete without something to decorate the walls as well as the shelves!
Vintage Poster, $24.07, CinemaStudio, Etsy
3. REDRUM Book Ends
Because where else would you keep all your Stephen King books?
REDRUM Book Ends, $62.99, KnobCreekMetalArts, Etsy
4. Stephen King Rules Shirt
Obviously.
Stephen King Rules Shirt, $20.00, TShirtBordello, Etsy
5. Paperback Throw Pillow
Is there a better way to curl up with a book than with a Stephen King pillow?
Stephen King Throw Pillow, $38.00, LisaBonowiczPhotos, Etsy
6. The Gunslinger Mug
Just in time for the upcoming movie!
The Gunslinger Mug, $15.00 JitterMug, Etsy
7. The Shining Shirt
For when you want to scare the people around you.
The Shining T-Shirt, $17.99, SlickerThanSlime, Etsy
8. Misery Print
Who knew a horror novel could look so pretty?
Misery Print, $8.00, CartabanCards, Etsy
9. Pennywise Mug
For those hardcore fans who don't mind a little terror with their caffeine.
Pennywise Mug, $9.00, BuyAPrint, Etsy
10. The Dark Tower Series Charm Necklace
For the serious Dark Tower fan.
Keyhold Pendant, $9.99, WearableCollectibles, Etsy
11. Nightmares Tank Top
Because, admit it, he does.
Nightmares Tank Top, $23.00, WoeAndShucks, Etsy
Image: JitterMug/Etsy