How To Adjust Your Nighttime Beauty Routine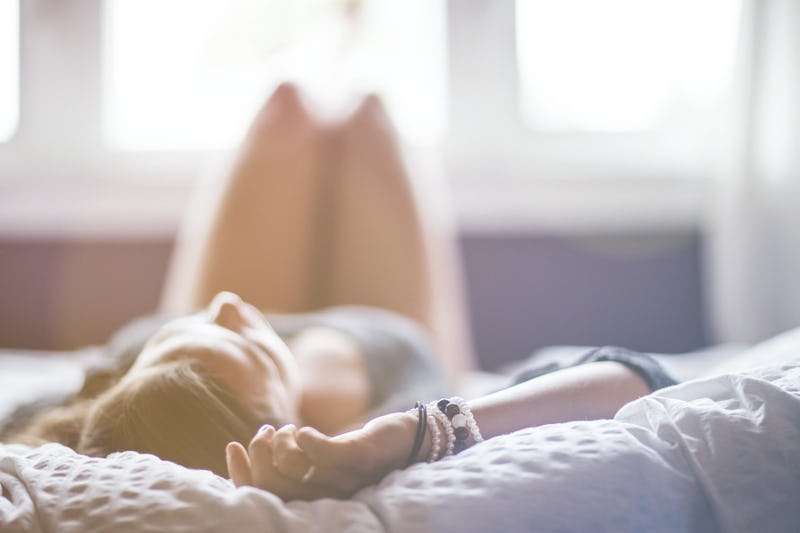 Back at work on a Monday morning, your coworkers are in-the-know on what a great weekend you had. Beyond the debriefing sessions, your fun times are showing all over your face — literally. Amidst the memory-making, you ditched your nightly skincare routine in favor of some quality shut eye after those 4 a.m. nights and even wilder late-afternoon brunches. Breakouts and under-eye bags on a Monday morning? Say it ain't so!
Repeat offenders of this all-too-familiar scenario know how easy it is to forgo good skincare habits in favor of a more nonchalant approach. On the other hand, women who have admittedly not taken the time to initiate a skincare routine are probably feeling pretty clueless about where to start.
To answer to our prayers, I consulted with Dr. Goesel Anson, a certified plastic surgeon based in Las Vegas, who has not only practiced facial aesthetics and skincare routines for years, but also studies the effects of sleep patterns and nightly routines on skin. While there are several factors that affect how our skin fares over time, we can take an active role in protecting ourselves from the factors we can control, according to Dr. Anson.
Here's how to turn your nighttime routine into a proactive daily regimen that will leave you with healthy, glowing skin.
1. Protect Your Skin From The Sun
Though most of us crave the sun for its mood-boosting, skin-darkening qualities, UV rays can do serious damage to our bodies, like cause skin cancer. For this reason, it's essential to protect your skin from the sun, even on overcast days.
Despite popular belief, the SPF contained in your moisturizers and makeup is "almost never enough," according to Dr. Anson, who says, "Moisturizers with OAP (optically active particles) are nice to deflect light from minor imperfections."
While "cost-efficient," "daily," and "SPF" are keywords green-lighting you to spend on popular brands at CVS every other month, these products alone are insufficient for your skin's needs.
2. Up The Ante On Choice Products
Kate Somerville ermalQuench Liquid Lift + Retinol , $98, Amazon
Your daytime and nighttime skincare routines will serve two different purposes according to Dr. Anson, who tells Bustle, "Daytime should focus on protection. … Nighttime skincare should focus on strengthening and repair."
For a nighttime regimen in particular, she advises, "Retinols and Vitamin C products are ingredients known to improve sun damaged skin," which are crucial following a day of UV exposure.
A protection-focused morning regimen, however, will begin with cleansing, followed by an antioxidant before soothing the skin with moisturizer and sealing it with an added barrier of sunscreen.
3. Invest In The Sensitive Area Around Your Eyes
A "big fan" of eye cream as a beneficial product to add to either your nighttime or daytime beauty routine, Dr. Anson explains, "The eyelid skin is the most thin and delicate on your face. It also takes the biggest beating with distortion caused by makeup application and removal."
The added cost to introduce more products to your routine might make you cringe at first, but you'll notice the return on investment in your wrinkle-free, even-tone complexion over time.
4. Cleanse Morning & Night
Maintaining order has been hard for most of us since we were in grade school and could hardly remain single-file during fire drills. When it comes to your skincare routine, stay in line.
Dr. Anson suggests nightly cleansing in two rounds with a gentle, non-soap cleanser: "We don't want to strip all the natural, protective oils in the skin." Give your skin a good rinse and a quick cleanse prior to removing your makeup with a product of your liking, whether oil-based or not. She then says to "cleanse after using makeup remover to eliminate any residue."
It's up to you which method or product you use to remove your makeup; what's important is remembering to do it and ridding your face of any remaining impurities with a thorough cleanse.
5. Cater To Your Skin With Serums That Help Restore Its Youth
When your skin is feeling fresh and clean post-cleansing, Dr. Anson recommends, "Serums with ingredients that help restore healthy skin should be applied. Retinols, peptides, and other 'anti-aging' ingredients can help restore normal skin barrier function, and maintain skin strength and elasticity."
Again, while serums and added steps to your regimen may seem "unnecessary" to some, Dr. Anson attests to their benefits. Shop around for products that won't break the bank and put a little effort into trial and error. Not to mention, many beauty shops and counters will offer samples for customers who aren't ready to commit.
6. Don't Over-Scrub
The skin is the largest organ on the human body, and it is most often cared for with reckless abandonment. Your skin is your barrier to the outside world; it is fragile, yet exposed to every toxin and harmful emission you encounter. It's important to take caution when treating your skin, as Dr. Anson details, "Too much of a good thing can be damaging."
A common mistake women make when it comes to caring for their skin is exfoliating. While exfoliation has its benefits for many skin types, including aging and acne remedies, it's easy to take it too far with harsh products or aggressive treatment. Dr. Anson tells Bustle, "A gentle exfoliant a couple of times a week is plenty. Same holds for cleansing brushes. One of the biggest mistakes is over-aggressive exfoliation, which can damage your natural protective barrier function of skin."
7. Choose The Appropriate Products For Your Skin Type
Radiance Serum , $13, Amazon
Every person has a different skin type; being in-tune with your own is key to curating the ideal nighttime skincare routine.
Dr. Anson also mentions climate as a factor in choosing the proper moisturizers and products for your skin. She specifies, "Oily skin types will want to use a moisturizer that is not comedogenic. Drier skin will require more hydration. But remember that even oily-acne prone skin may need moisturizer, especially with over aggressive stripping and surface dehydration."
8. Avoid Over-Treating Acne Or Periodic Breakouts
Ain't Misbehavin' Medicated AHA/BHA Acne Cleanser , $30, Amazon
Since some of us can't seem to escape breakouts when "that time of the month" rolls around, or during periods of major stress, Dr. Anson recommends regular use of retinols to treat acne-prone skin.
She further explains, "Products with beta and alpha hydroxy acids are also beneficial. A common problem with this skin type is over aggressive surface treatments that strip normal skin moisturizers and cause surface dehydration along with pimples."
In addition to incorporating the appropriate products, breakouts should be treated delicately, as stated above, it's easy to overdo it.
9. Roll Onto Your Back When You Hit The Sack
One major key to preserving your skin outside of your beauty regimen is to avoid sleeping on your face. Dr. Anson highly suggests, "Start a lifelong habit of sleeping on your back. Avoid stomach or side sleeping if possible to limit distortion of your skin at night and resulting sleep wrinkles."
It might take some getting used to if you're like me and tend to leave a puddle of drool on the pillow under your squished face, but a minor change in your sleep habits could majorly impact the wealth of your skin.
10. Don't Put Your Trust In One Cure-All
Spectrum Essentials Organic Unrefined Coconut Oil , $8, Amazon
When it comes to your skincare routine, Dr. Anson says, "There is no one magic bullet." Despite popular belief, natural products like coconut oil will not cure all of your skin's impurities or life problems; though it won't hurt to try, avoid oils or natural solutions with heavier viscosity that might clog your pores.
11. Don't Wait To Take A Proactive Role In Caring For Your Skin
For women looking to take better care of their skin, Dr. Anson tells Bustle via email, "Remember that your skin has to last your lifetime, and the earlier you pay attention to your skin, the better."
Your nighttime routine should accurately cater to your complexion type, avoid over-servicing your "problem areas," and treat your skin as the fragile, genuinely beautiful mark of age it is.
Images: Nomao Saeki, Kristina Balić, Nathan Anderson, Andrei Porfireanu, Christoph Peich, Sokoloff Lingerie, Eli DeFaria/Unsplash; Valeria Boltneva, Yannick Lepère /Pexels; Courtesy Brands