Your Complete Guide For All The UD Naked Palettes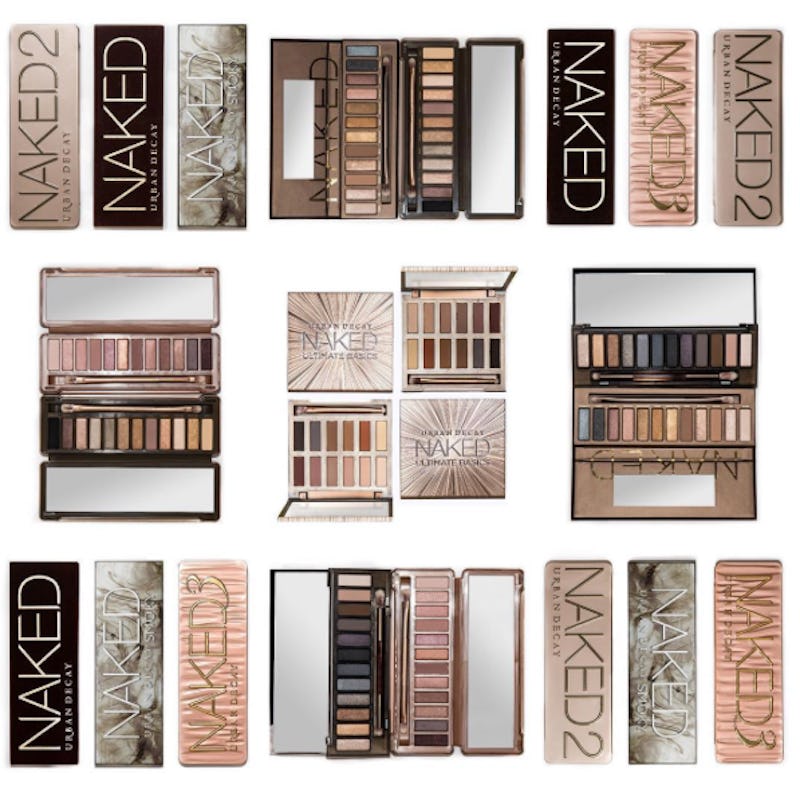 When the first NAKED palette launched in 2010, it definitely was a game-changer as far as eyeshadow palettes went. Since the launch of the brand's infamous palette, the company has given fans even more options for neutral shadows that can create countless dramatic looks. If you're wondering how many NAKED palettes there are, I've got the entire breakdown for you here.
The company's newest palette, NAKED Ultimate Basics, includes 12 all-matte shades that range in warm to cool colors. The new basics palette also has a new square shape and a shorter shadow brush. In addition to the newest palette, which is already available on the Urban Decay site and will be in ULTA Beauty stores on Sept. 22, Urban Decay now offers nine different palettes including different versions of the original NAKED palette and a few face/body contouring palettes.
The new basics palette with its matte shadows is meant to complement other NAKED pieces in the collection that have brighter and more shimmery shadows, so get to pairing the new basics palette with a favorite you already have! From the ultimate smoky look to a bright, rose-hued glow, the NAKED collection has so many different options to choose from since the original one launched.
Here's your complete guide for all of the Urban Decay NAKED palettes.
1. NAKED Ultimate Basics
NAKED Ultimate Basics, $54, Sephora
This new all-matte palette is extra special as Urban Decay crowd-sourced palette ideas from customer comments on their social media accounts.
2. NAKED Illuminated Trio
NAKED Illuminated Trio, $36, Sephora
Instead of just offering eyeshadow palettes, the NAKED Collection is introducing this shimmery trio to create a luminous glow for your face and body.
3. NAKED Smokey
NAKED Smokey, $54, Sephora
You don't have to save a good smokey eye for just nighttime. With 12 shimmer and matte shades, you can create the perfect smoky eye for day or night.
4. NAKED Flushed
NAKED Flushed, $32, Sephora
For another option to create that sun-kissed glow, this flushed palette includes a bronzer, a highlighter, and a blush in three different color schemes.
5. NAKED Basics
NAKED Basics, $29, Sephora
If you're more of a minimalist when it comes to doing your makeup, you might love this simple palette with just the basics, like its name suggests, including six neutral matte shades.
6. NAKED2 Basics
NAKED2 Basics, $29, Sephora
After the popularity of the first NAKED Basics palette, Urban Decay created a second, cooler palette with six more matte shades.
7. NAKED
NAKED Eyeshadow Palette, $54, Sephora
This is the original palette NAKED palette that has inspired so many more to love from Urban Decay. With its included mirror and brush, these 12 original NAKED bronze hues are still some of the best out of the palette selections.
8. NAKED2
NAKED2 Palette, $54, Sephora
For the second-round NAKED palette, this palette features lighter neutral shades to complement your first NAKED palette.
9. NAKED3
NAKED3 Palette, $54, Sephora
The first two were so successful, Urban Decay created a third NAKED palette that features 12 rose-colored shades to brighten your look.
If you're looking to add more palettes to your beauty collection, now you know which ones you've been missing out on!
Images: urbandecaycosmetics/Instagram; Courtesy of Urban Decay (10)