19 Plus Size Halloween Costumes In 5x, 6x & Higher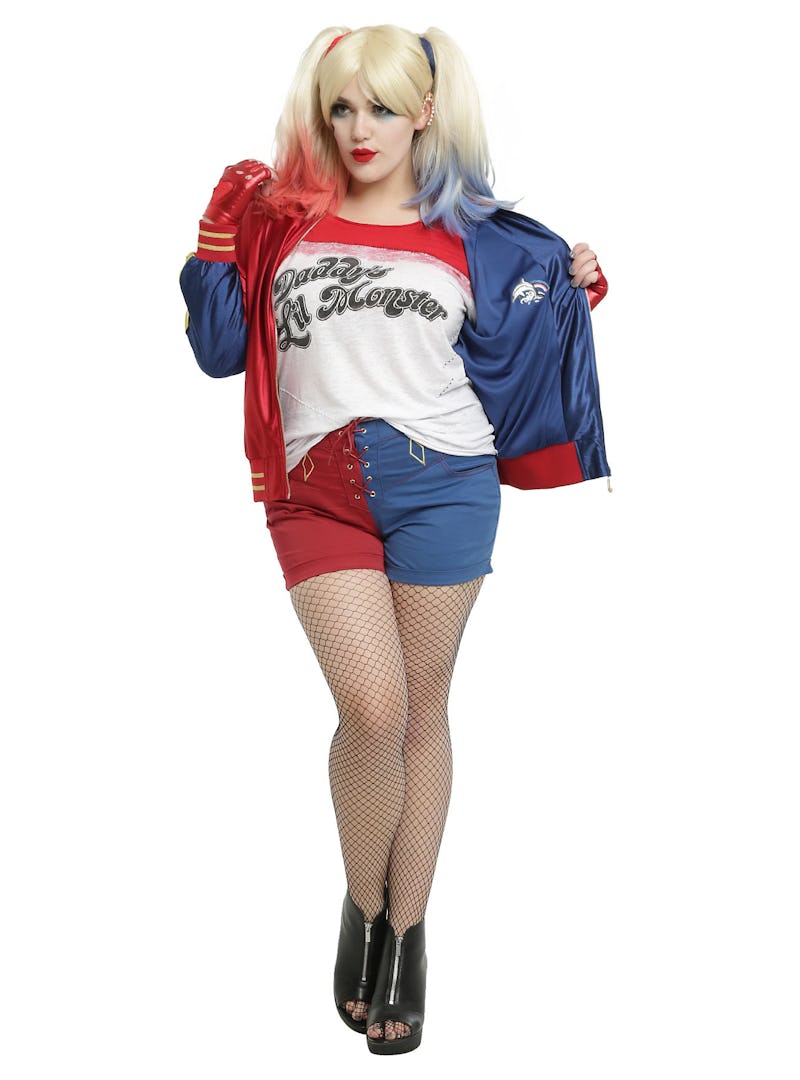 Finding the perfect Halloween costume is hard for anyone: You have an idea in mind, but it's a process to find the costume that ticks all the boxes. Finding Halloween costumes in 5x, 6x and bigger is a whole different level.
The truth is, finding clothing in extended sizes is always difficult: Fat folks beyond a size 26 are so rarely represented in clothing stores. Add to that fact that Halloween costumes are specialty items, and well, it's out out there for the big and beautiful.
Without tons of options to choose from, there's the risk of walking away feeling uninspired or overspent. Sure, you could make the costume yourself, but having the resources, time, and skills to manage that is a privilege that not all can afford. Things start to get really dicey if you don't plan ahead — if you've ever gotten stuck searching for a costume the day before Halloween, you know the stress feels all too well.
So for the 5X/6X peeps who still want to kill it on Halloween anyways, here's a list gathered from the furthest corners of the internet, a collection of costumes that include 5X, 6X, and beyond. The best part? Most of them won't cost you your entire fall wardrobe budget, and they're anything but boring and basic.
Check out the entire 'What's Up, Boo?' series and other videos on Facebook and the Bustle app across Apple TV, Roku, and Amazon Fire TV.
1. Adorable Bat
This bat costume is made from 100 percent polyester fleece, has a center-front zipper and faux fur lining the hood. If you're worried about being cold on Halloween, this is a great option — and of course, the ears and wings make it super cute.
2. Mermaid
Though you might relate more to Ursula than Ariel, this super cute mermaid dress from Torrid is to die for. This costume is one you can wear again and again with different makeup and accessories, just to be sure you get your money's worth.
3. Pink Ladies
The Pink Ladies costume is the perfect Halloween outfit for groups or for those who just aren't that into dressing up. All it really requires is this jacket and some leggings: You can fulfil the basic requirements for a costume without making too much effort or feeling uncomfortable.
4. Angel
Cheap, cute and available up to a size 9x, this is the perfect costume for anyone looking to get all the elements in one go.
5. Princess Fiona
Shrek is one of the best films ever. Fact. So why not dress up as one of the few animated plus size princess we've ever seen, Princess Fiona?
6. Sally
Cover a friend/partner/chill stranger in white face paint and reenact one of the best Halloween films of all time: The Nightmare Before Christmas.
7. Baseball Player
This super cute Halloween costume is a great excuse to carry a baseball bat around with you all night to threaten creeps with. (Disclaimer: Don't actually threaten people, that may end badly.)
8. Unicorn
This is the perfect option for anyone who believes in unicorns — it's a set that comes with a crushed velvet, candy-colored dress, a colorful tail, and a unicorn horn complete with ears. It's also machine-washable, so you can use it again and again!
9. Harley Quinn
If you're looking to channel the most colorful of DC Comics bombshells, consider channeling Harley Quinn this Halloween. In this red, white, and blue getup, you might even be able to use parts of it in your everyday afterwards!
10. Pirate
Hey, you were warned! This costume definitely feels more like cosplay than your standard Halloween costume and is perfect for those who don't subscribe to the Mean Girls philosophy of slutty Halloween wear.
11. A Fawn
This is another warm option for those who don't like to be freezing when going out on Halloween — it's a fleece zip-up dress with a cozy hood that has ears and antlers on it. Pair it with tights and boots, and you're good to go!
12. Flapper
A sassy little throwback costume that will get you noticed, this outfit would be great for dancing and awesome after Halloween for any '20s themed parties you're attending.
13. Good Witch
Dorothy might have been the scene-stealer in The Wizard of Oz, but sometimes you just want to dress up in something pink and made of tulle and channel your inner Glinda.
14. Marilyn Monroe
This amazing Marilyn Monroe costume will have you looking like one of America's greatest icons. Bonus points if you find a grate to pose over for your profile pic.
15. Minnie Mouse
Although it's sold as a Minnie Mouse dress, it's a dress you can wear long after Halloween is over—that is, if polka dots are your thing. For Halloween, just add some ears and white gloves!
16. Cave Woman
A classic Halloween costume but a good one. If you happen to get so rowdy on Halloween that you can't even speak, you can totally claim it as a characterization for your costume.
17. Red Queen
Be it an Alice In Wonderland reference or a more current Alice Through The Looking Glass costume, this outfit leaves you with loads of room to go all out with your Halloween makeup.
18. Cheshire Cat
Or if you're not feeling particularly evil this Halloween, but still big headed, this Cheshire Cat costume is too cute.
19. Princess Leia
Get this costume for Halloween and keep it to fulfil your partner's nerd-boy Star Wars fantasy. It's a win, win!
Whether you're being roped into dressing up this Oct. 31 or you genuinely look forward to fancy dress every year, you have to admit these costumes are pretty cool. You can buy the full set and get all your Halloween shopping done in one go, or go for a simple costume that you can jazz up yourself: Either way, you're going to look great.