Lolita II By Kat Von D Is Getting A Makeover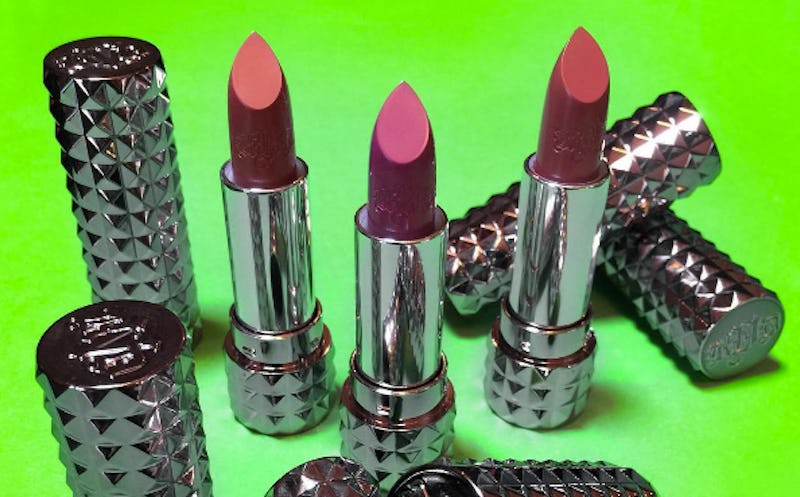 In case you missed the beauty news, Kat Von D Beauty created three new Studded Kiss Lipsticks. Well, sort of. The company too three of their cult classic liquid lipstick shades and made them into a brand new formula. One of them being Lolita II. You might be wondering if the Lolita II Studded Kiss Lipstick is limited edition. Unfortunately, unlike it's sister shade, it won't be a part of the permanent collection.
Kat Von D doesn't mess around when it comes to reformulating products. She's worked hard to change her Shade + Light Contour Palette to an animal-friendly powder and now she's changing up some of her cult classic lipsticks as well. That means that if you love the lip hues Lolita II, Mother, and Double Dare but not the matte formula, you can now try out a velvety look. They've never done this before, so it's pretty darn exciting.
You can pick the new Studded Kiss Lipstick shades up right now on the Kat Von D Beauty site, Sephora.com, or wait until Oct. 7 and shop in stores. You'll want to stock up fast though, because these three products are all limited edition. There's no telling how long they'll last on the virtual shelves.
Studded Kiss Lipstick in Mother, $21, Kat Von D; Studded Kiss Lipstick in Lolita, $21, Kat Von D
Lolita II is a bestseller in their Everlasting Liquid Lip collection, so it's definitely one to watch when it comes to the new formula. The color is based off a sister shade, Lolita, which is available permanently in both the liquid lip and lipstick collection. Does this mean Lolita II will become permanent as well? I wouldn't get your hopes up. According to the company, it will only be around for a limited time, just like the other two products.
Studded Kiss Lipstick in Lolita II, $21, Kat Von D
Let's not dwell on the negatives though. At least you still have ample opportunity to stock up on the hue. The color isn't the only thing that limited-edition either. While the standard Studded Lipstick collection is in a shiny black tube, the three limited-edition products have a silver tube instead.
That color is so spot on! I bet you it would look great topped on the matte liquid lipstick as well. I wouldn't wait much longer to get your hands on the color. Odds are it will be a bestseller just like the first formula.
Images: KatVonDBeauty/Instagram (1), Kat Von D Beauty (1)