11 IRL Snapchat Filter Makeup Looks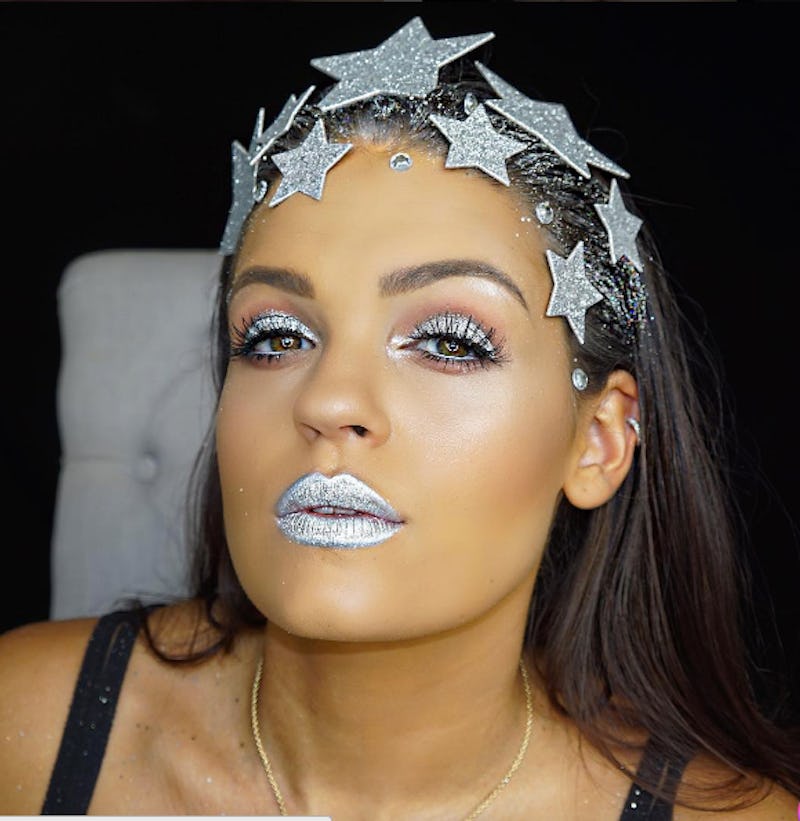 Thanks to the rise of the internet, we now have a vast world of information right at our fingertips. In a few swift clicks we can find out absolutely anything you desire, from where the nearest Sephora is to how to recreate Snapchat filters using makeup.
Ever since the update in Oct. 2015, Snapchat filters have been a constant feature in our technologically obsessed lives. They're pretty inescapable and seemingly everyone has uploaded at least one snap posing with the dog ears or face swapping with their friends and an assortment of increasingly strange inanimate objects. You can even apply to get your own custom filter for your event or celebration, which is actually pretty neat.
Even better though is when super talented makeup artists and beauty novices [get stuck in]? and bring the magic of Snapchat to their IRL faces. With today's budding vloggers and fervent Instagram users always on the lookout for new makeup inspiration, it was only a matter of time before a bunch of creative MUAs took on the challenge of bringing our favorite filters. Here are11 fabulous Snapchat inspired looks that will have you reaching for your phone.
1. Rachel Perkins
Makeup artist Rachel Perkins shows us that you truly don't need to download the app to enjoy playing around with the best Snapchat filters. This lace mask recreated using eyeliner is so detailed and elegant that it could almost be the real thing.
2. Allthingspure27
The paper appliqués are an amazing touch in this Snapchat filter inspired all blue makeup look. At first glance it seems as though a swarm of beautiful butterflies are resting on this lovely lady's face — or like it's a genuine snapshot from our favorite app.
3. Amakexup
The sweetest Snapchat look is definitely the bee filter and makeup honey Amanda completely nails it on her Instagram. Never before have the stripey sting-wielding insects looked so cute. What a great way to get your phone buzzing with Instagram notifications.
4. Julia Salvia
MUA and YouTuber Julia Salvia looks completely out of this world with this glamourous starry filter makeup. She could be an alien princess or queen of the galaxy.
5. Lisa Marie Carr
In comparison to the actual drag queen filter, this look from professional makeup artist Lisa Marie Carr is pretty on point. The arched eyebrows, the excessive eyeshadow, the overdone lip liner and even the heart shaped beauty mark are absolutely perfect. Work it gurl.
6. Kimberley Anh
This DIY golden butterfly makeup look is a stunning creation from the talented mind of Toronto's very own Kimberley Anh. No insects or any other creatures were harmed during the making of this look, as Anh's work is totally vegan and cruelty free! <-- does this mean she only uses vegan and cruelty free products? or is her technique for applying makeup somehow more vegan than other techniques? (that's what it's implying now, so just clarify)
7. Tiffany Kiong
The Roy Lichtenstein inspired pop art filter is a popular filter amongst the makeup community and Melbourne based MUA Tiffany Kiong absolutely nails it. You could almost face swap her look with the real thing and spot her in a gallery somewhere.
8. Cesario Fierce
Houston based makeup artist Cesario Fierce was so inspired by this intricate Snapchat filter that he decided to recreate it himself for another Instagram user's competition to celebrate their milestone of reaching of 30,000 followers. All he needs to do is release smoke from his eyes and the look will be complete.
9. Jackieline Huynh
Darling it's better, down where it's wetter, take it from Jackieline Huynh who takes mermaid glam to the next level with this under the sea Snapchat style. The metallic fish scale detailing is outstanding.
10. Alexa Marie Santy
The stars are truly in makeup artist Alexa Marie Santy's eyes in this out of this world Snapchat constellation rendition. This galactic look is totally cute and would be a great one to try out for club nights and parties.
11. Sabrina J Warnick
Let's face it, we wouldn't even be able to use all these fabulous filters without Snapchat's face recognition technology so it's nice to see a homage to the detector that makes it all possible. Without it, our favourite app would be a lot less boring.
Sure, it's easier to apply these filters to your face using the app on your mobile but it's so much more fun to experiment with the looks in real life — plus, you get to wear the look for longer than 20 seconds.