Brace Yourselves For Kylie's Chameleon Kyliner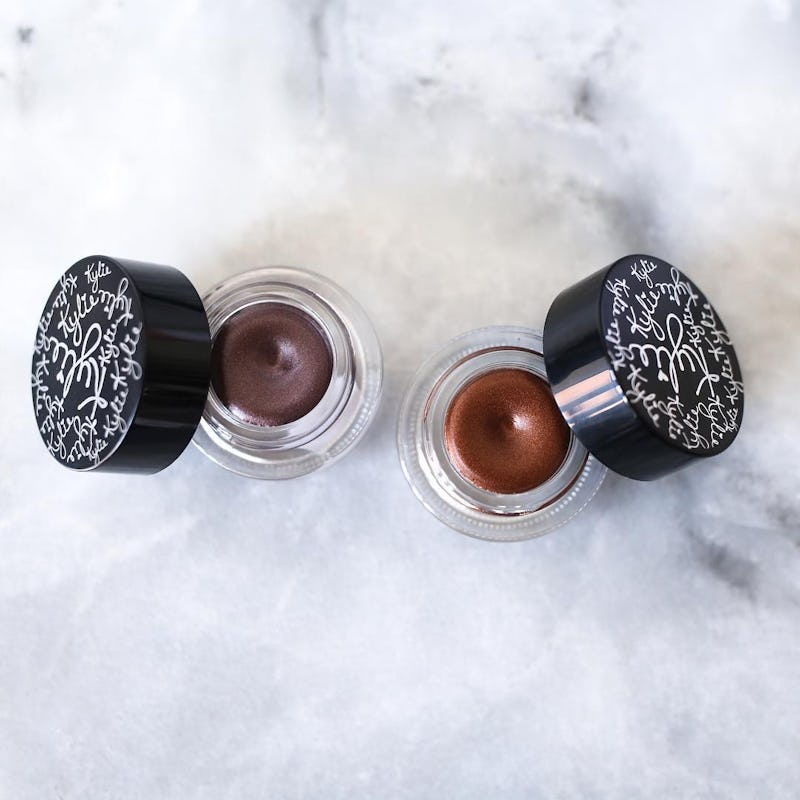 It's been over a month since Kylie Jenner launched her "Kyliner Kits" on KylieCosmetics.com, and we've all been patiently waiting for what seems like foreeeeeverrrr to see what the 18-year-old beauty guru would surprise us with next. Thankfully, as of Tuesday afternoon, the wait is over: Jenner announced two new Kyliner kit colors via (what else) her Snapchat. The colors are called "Chameleon" and "Bronze," and come in both a pencil and gel creme eyeliner. So what does the Chameleon Kyliner look like?
Both of the new shades are metallic (unlike the original black and brown kits, which are matte), and Chameleon has a purpley-brown shimmer tint that makes it perfect for trying to achieve a jewel-tone cat eye. It looks similar in color to the "Bronzite" powder from Kylie Cosmetics' bronze palette, which the website describes as "matte finish chocolate brown," but with a bit more sparkle. I, personally, can't wait to try the two products together to create a deep bronze smokey eye.
According to @kylizzlemynizzl: "This color is everything."
The new Kyliner kits will launch on Friday, Sept. 23 at 1 p.m. PT. She mentioned the possibility of giving away some of her new lip kits to subscribers of her app, so stay tuned for that!
Here's what the Chameleon creme gel looks like in the pot:
And here's a swatch — I love how shimmery and iridescent it is!
Gorgeous!
Images: Kylizzlemynizzl/Snapchat