How To Make Pumpkin Hair Products At Home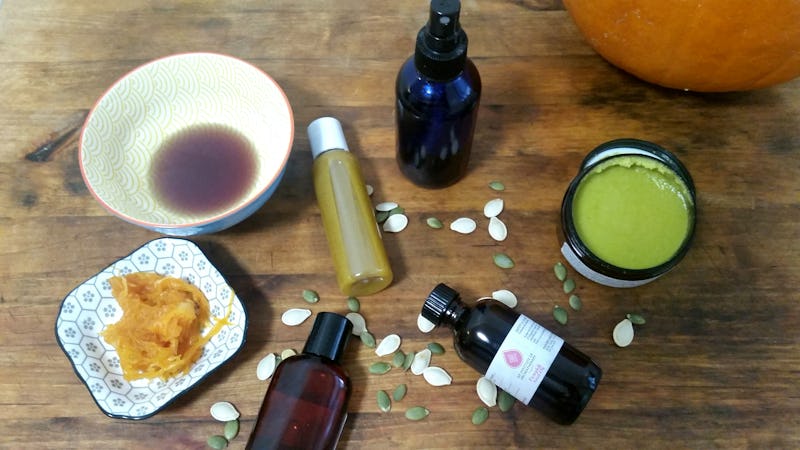 While some may suffer from pumpkin spice fatigue, I'm still fully embracing the quintessential flavor of fall. In addition to making my coffee more delicious, everyone's favorite gourd has some serious beauty benefits. These DIY pumpkin hair treatments promote hair growth and offer deep conditioning effects my strands are begging for after a long summer of fully blasting AC. While everyone else is chugging pumpkin spice lattes, my hair will be guzzling up those carotenoids.
You're probably most familiar with the benefits antioxidants can provide in skin care, but according to sources at Livestrong, they also play a key role in producing hair growth. The antioxidants found in pumpkins are impressive: Vitamin E is known to enhance blood circulation in the scalp (which may promote hair growth) and vitamin C strengthens hair follicles. You definitely shouldn't be turned off by the hard, orange exterior of pumpkins because that bright orange color is a sign of beta-carotene which converts to vitamin A in our bod's which is a vitamin you don't want your scalp missing out on. The best part about pumpkins is that every part can be used whether it's snacking, hair and skin treatments, or fall crafts.
To get the most out of your pumpkin, try your hand at one of the five DIY recipes below. You can get serious hair love from pumpkin seed oil and raw, pumpkin pulp.
1. Pumpkin & Coconut Hot Oil Treatment
All the nourishing, conditioning properties of coconut oil plus those potent vitamins and nutrients of pumpkin oil? Yes please! Gently heat equal parts on a stove top with low flame. Let cool slightly and apply to soaking wet hair, working from the ends to the roots. Wrap hair in a heat cap or hot towel for 20 minutes and rinse well.
2. Pumpkin & Oat Deep Conditioner
For this recipe you'll need the following:
2 oz raw, pumpkin pulp (seedless)
2 oz unrefined, raw coconut oil (liquefied)
2 oz raw shea butter (solidified)
1 oz fixed, vegetable oil (An oil packed with vitamin E like olive oil or sunflower)
1 tsp of raw, organic oatmeal powder
This hair mask smells of fall because it has the yummy autumn ingredients that add strength to weak locks. Start by separating the seeds from the pumpkin guts and saving them for another use. Add your oils, raw shea butter, and guts in a mixing bowl. Next, add the oatmeal powder; using a powdered form of the oats will fluff your conditioning mask and ensure a workable consistency for tight curls whereas those hard oats can be harder to detect in a blender. Blend your ingredients in a blender until a smooth consistency is reached before transferring to a sealable, tinted container. This is ready for immediate use and should be kept refrigerated with a shelf life of 5 days.
3. Pumpkin Oil Hair Mist
For a simple daily dose of the hair vitamins in pumpkin, add 2 oz of pumpkin seed oil to a spray bottle and fill with distilled water. The oil and water will not mix together, so be sure to give a hearty shake before each use or add a tablespoon of coconut oil to emulsify the ingredients.
4. Pumpkin Spice Hair Mask
For this recipe you'll need the following:
1 tbsp nutmeg oil OR 1 tsp nutmeg powder
Vanilla and sweet orange essential oils (optional)
This hair mask from Naturally Curly's blog has just enough spice to give your scalp the anti-inflammatory properties for a healthy growing environment, but I couldn't resist playing with the recipe for my looser-curled beauties.
Boil water and steep the raw honey in a heat-proof cup. While the honey cools, add raw pumpkin and nutmeg to a blender; nutmeg oil is a great way to promote hair growth; for those who can't get their hands on nutmeg oil, using a teaspoon of the powdered form. Once cool, add liquefied raw honey and begin blending. Make sure there isn't any nutmeg dander floating around before stopping the blender. Transfer to a sealable tube; for 2 oz container, use 5 drops of sweet orange essential oil and 3 drops of vanilla essential oil. Pour your mask on wet, clean(ish) hair and let sit for 10 minutes before rinsing with warm water. Follow-up with your usual conditioning routine and discard after
5. Pumpkin Hair Serum
This pumpkin hair serum is superb for giving life to dead ends and smoothing out edges or fly-away's in an up-do. My ideal blend? One part pumpkin seed oil and two parts apricot seed oil. Apricot seed is a lighter oil with a light scent that will balance out the heaviness of the pumpkin oil and it won't weigh down your hair. Lightly spritz water in your hair and then smooth down with a pumpkin serum.
These hair recipes will jump-start your hair growth and the fall pumpkin craze we all know and love.
Image: Kristin Collins Jackson (8)