Behold The Majesty Of The Pumpkin Spice Pizza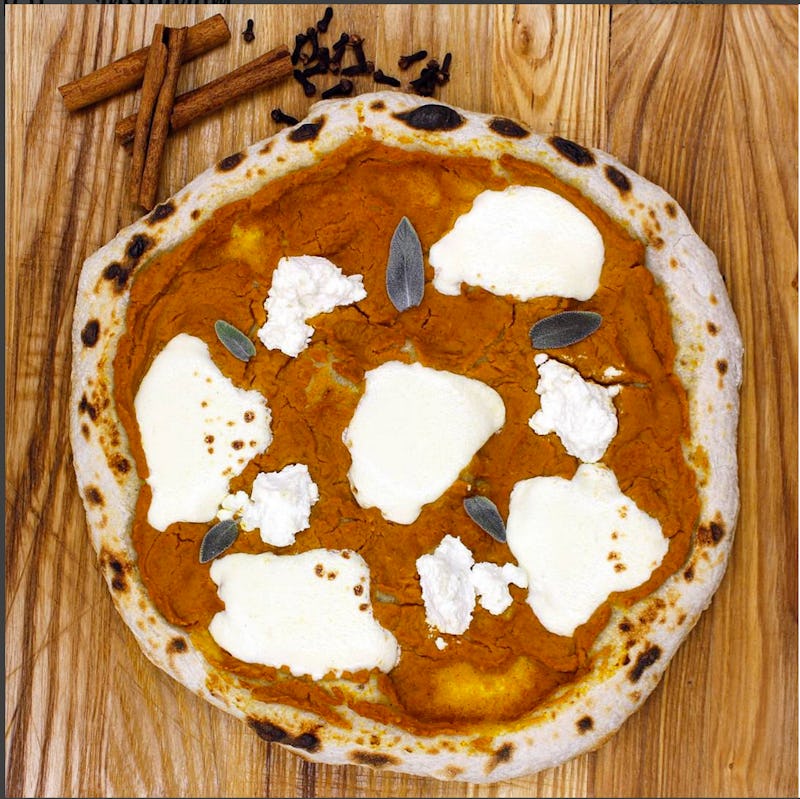 Now that we are officially rolling into the fall season, it's time to welcome back a favorite fall treat — pumpkin spice. The earthy flavorings are usually reserved for caffeinated drinks, which is why the news of a pumpkin spice pizza comes as such a surprise. Now you can enjoy the combination of America's greatest party food and America's favorite autumn drink! Mind. Blown.
Anthony Rotio of New Jersey has been hard at work crafting an invention, settling on baking steel that would allow people to make Neapolitan pizza in an 800-degree oven. With his new invention called the Pizza Shelf, Anthony Rotio wanted to make something that his wife could enjoy. Since she loves the fall, he figured that making a pizza combining pumpkin spice and a tristate favorite would be a marriage made in heaven. His creation has popped up on social media where it captured everyone's attention. Who wouldn't be intrigued by such a food combo?! Pumpkin spice and cheese? How is this even possible? Would it taste good? How do I make it for myself?
This is not the first pizza innovation to come out this week. Earlier, Pizza Hut announced that they have created a grilled cheese crust pizza that is available for purchase. So all of us cheese-loving folks can rejoice in the fact that some people are still pushing the boundaries of pizzadom. Until you get your hands on the Pizza Shelf, you can check out Anthony Rotio's creations online — specifically on his Instagram.
His pictures are mouthwatering. The Pizza Shelf looks like something you'd want to keep around your pantry. From the looks of the food Anthony has created, you can cook anything from pizza to fish. Not bad! And if you are looking for some other creative ways to get that pumpkin spice in your life — look no further.
1. Pumpkin Spice Cookies
This is an oldie but a goodie. Who wouldn't want a sweet treat that tastes like fall in their mouth and smells up their kitchens with mouth-watering aromas?
2. Pumpkin Spice Marshmallows
The best part about the weather getting cold is being able to camp out with blankets and roast marshmallows by a warm fire. Lucky for us, Pumpkin Spice marshmallows are a thing!
3. Pumpkin Spice Oreos
I didn't think anyone could improve on the original, but it looks like anything is possible. Oreos are getting the pumpkin treatment. I wonder if they are going to make them Double Stuffed next?
4. Pumpkin Spice DIY Lotion
And for those of us who are just really good with DIY projects, making your own scented lotion is now a possibility. Makes a pretty great gift!
Images: Courtesy of Anthony Rotio; Giphy