Makeup Geek Autumn Glow Bundle Is Worth The Money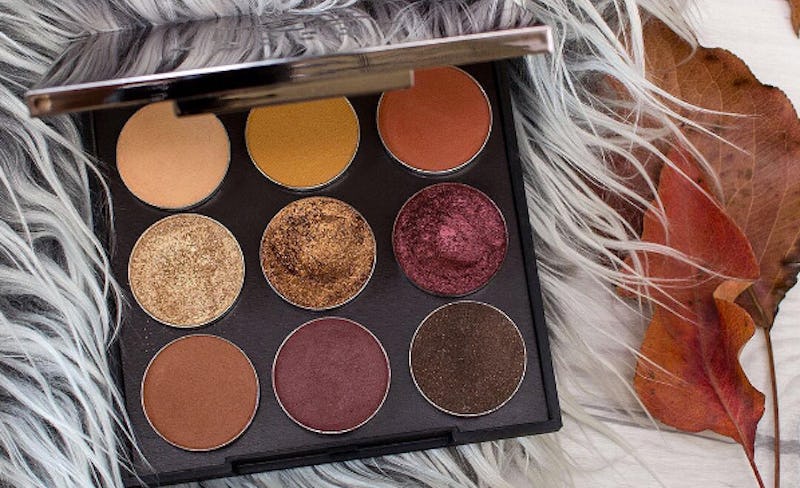 If you're not ready for fall yet, you will be after seeing this new eye collection. To celebrate the new season, Makeup Geek launched an Autumn Glow Eyeshadow Bundle. I'm talking nine completely stunning shades that will get you in warm-shadow mode. How much is the Autumn Glow Bundle, you ask? This nine-shade collection is definitely worth the price.
With tons of new beauty products being launched every single day, it can be hard to decide which ones to buy — until now, that is. A new season means brand new shadows, and Makeup Geek's Autumn Glow Bundle has all the seasonal shades you need. With everything from neutral mattes to shiny foiled formulas, these colors are absolutely gorgeous. Think of your perfect fall color, and it's probably in this palette.
So how much is it? Well, let me break it down for you. The nine shadow pans all by themselves are $49. That breaks down to about $5.50 per color, which is pretty darn affordable. You also have to consider that the round-up comes with three different foiled shadows, which are sold for $10 a piece on the site. If you were to buy all of them separately, it would cost your $66. That's some serious savings!
Don't let Makeup Geek's Instagram photo fool you though. The bundle only comes with nine eyeshadow pans. If you want to put the colors in a palette, that will cost you a little extra. The Travel Vault Palette, seen in the social media photo is $12, which their original z-palettes are anywhere from $14.99 to $28.
Makeup Geek Autumn Glow Bundle, $49, makeupgeekcosmetics.com
Does it get any more gorgeous than that? I think not. The bundle has everything from long-time favorites like Peach Smoothie, to their newer foiled formula. All of them are perfect for the new season, but could easily work year-round as well.
Makeup Geek Travel Vault, $12, makeupgeekcosmetics.com
If you're not into the entire bundle, then no worries. You can buy each one of them separately on the site as well. The pack just gives you the best bang for your buck. Whether you're looking to snag them all or just purchase a few, you can't go wrong with these fall shades.
Images: makeupgeekcosmetics/Instagram (1), Makeup Geek (2)