How To Make Guests Feel Comfortable In Your Home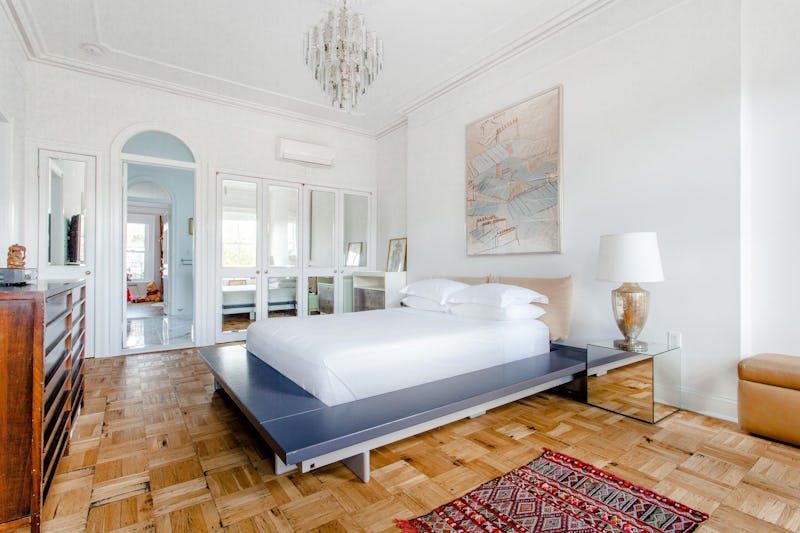 It's always great to have loved ones come to visit and stay with you. You get to be a guide for a few days as you show them around your town and your favorite places. But when they arrive, you want to make sure your guests feel comfortable in your home. While it's great to have company stay for a few days, it's easy to feel stressed when you want to make sure your home looks like it came out of Martha Stewart Living. But making guests feel comfortable is as easy as putting yourself in their shoes and thinking about what you'd hope to expect when you stay at someone else's home.
"It's easy to make someone feel at home when you think about what you would most appreciate as a guest. There are two angles to consider — how to help your guest feel special, and how to eliminate any potential awkwardness. For example, when getting them acquainted with their room and the home, point out the fun details like the coziest chair for reading, and give pointers on any squeaky stairs or unusual faucets," says director of brand at One Fine Stay Miranda Cresswell in an interview with Bustle over email.
Even though it's fun to host guests in your home, it's important to anticipate any potential issue. Here are 11 ways you can make visitors feel comfortable when they visit.
1. Make Room For Their Belongings
Whether they're staying in a room or sleeping on an air mattress, you want to make sure to provide an area where your guests can put their things. I mean, you don't want your guests to feel like nomads, right? "Clear out a drawer or a portion of the closet — no one likes to live out of a suitcase," says Cresswell.
2. Offer Your Bedroom Or Invest In A Sofa Bed
"Of course, if you're willing to part with your own bed for a night, it's most courteous to offer guests the bedroom. Some will graciously accept, others will refuse — but all will appreciate the offer. If you find yourself regularly hosting guests but do not have a guest room, it's time to invest in a sofa bed or a good blow-up mattress. Use nice linens, a good duvet and extra pillows (at onefinestay we always use two pillows). And on the first night, have the sofa bed made up before guests arrive, creating the welcoming feel of a 'real bed'," says Cresswell. Don't panic if you don't have an extra room for your guests to sleep in. As long as you provide an alternative way where they can sleep comfortably, then you're good to go.
3. Provide Opportunities Of Privacy
Even though your guests are staying in your home doesn't mean you need to be around them 24/7. Try to understand that your guests might have a few ideas on how they want to spend their vacation. Also, try to give them privacy when you both are in the house. Opt to go to bed early and watch TV in your room so they can have alone time and recharge. "Whatever the sleeping arrangements, be sure provide ample opportunities for privacy to change clothes, use the bathroom, make a phone call or wind down after the day," says Cresswell.
4. Get Rid Of Any Odors
Even though your house may look clean, it won't mean anything if it smells. Make sure you use candles, essential oils, or your handy-dandy Febreze bottle to freshen the air in your home. "I leave fresh flowers for them to enjoy during their stay (then I can enjoy them when I come home). And I leave a new oil stick fragrance in the living room. I also ensure every single surface and nook and cranny is clean enough to pass my mother's stringent dust test," says San Diego Airbnb host and interior designer Jen Guerin in an interview with Bustle over email.
5. Clean Your Entire House
To truly make your guests feel comfortable, you want to make sure your house is completely spotless. That means cleaning areas of your home that you normally ignore because they don't bother you (don't deny it, you do it, too). "You will want your home to be sparkling clean. Pay particular attention to seating in common areas (sofas, lounge chairs etc). Vacuum the sofa, fluff the pillows and freshen any rugs. Bathrooms can be deceptive — they may look clean but they need to feel clean. It's the room in the home where one will be barefoot and cleanliness on every surface is essential," says Cresswell.
6. Make Sure You Have The Right Number Of Items In Your Home
You want to make sure that you truly can accommodate your guests when they come to visit. For instance, you want to make sure you have enough towels, plates, chairs, etc. Sharing is not caring when it comes to your home items. "Before a guest's arrival, ensure you have enough seats at the dinner table to accommodate everyone. It's a thoughtful gesture to do this ahead of time rather than right as everyone is sitting down to a meal. It won't go unnoticed. Check your wine glasses, dessert plates and breakfast bowls as well," says Cresswell.
7. Make Food & Water Easily Accessible
"I recommend leaving a pitcher or bottle of water, glasses and a snack in the guest room. Often guests are a bit shy and do not want to bother you by asking for water. Or they're afraid of waking you in the middle of the night or first thing in the morning. If you leave water and a snack, they're able to help themselves," says Cresswell. Usually this little trick will alleviate any trouble, but if you're comfortable with your guests using the fridge and stove, let them know when they first arrive so they don't have to ask later on.
8. Provide A Travel Guide
One of the best ways to get your guests comfortable is by providing a guide of some of your favorite places. Email an itinerary beforehand or print one out for them to use when they explore so they have an idea of what your city is all about. "Onefinestay provides our guests with iPhones pre-loaded with city guides and recommendations, as well as free data and local calls. So along these lines, if a guest has never visited your city or neighborhood, email a list of your favorite local spots in advance. Include an equal mix of hidden gems and 'must see' attractions. Make it personal with details like your favorite dish at each restaurant or the bartender who knows you by name. You can also put a guide book in the room— this encourages independence and could give you some down time!" says Cresswell.
9. Communicate About Each Others' Expectations
When your guests ask if they can stay with you, take advantage of that moment to figure out what their expectations are, especially if they plan on staying with you for more than a week. "When guests turn into roomies, good communication is essential. Have a chat early on in the stay about what they— and you — want to get from your time together. Is it okay to spend a few nights in watching TV and vegging? Would you want them to organize takeout one evening? You cannot always put your life on hold when guests are in town — especially when they're around for a week or more," says Cresswell.
So how exactly should you go about this? "Print out a calendar with your professional schedule and personal appointments, and hang it on the fridge. This way if you slip out in the morning or arrive home late, the guests can know your whereabouts. Give them the rundown on how the kitchen works, and enlist them to make a meal together; there is nothing like cooking when traveling to make you feel more at home. At onefinestay, we have the housekeeping team come once a week during prolonged visits. They tidy up the home, change the linens, and make the bed, and give the home a little refresh. If you have guests staying for more than a week, we recommend doing the same—washing linens weekly and doing a quick cleaning spritz in the guest room and bathroom," continued Cresswell.
10. Offer To Leave A Key
Sometimes it's easier to just leave an extra key for your guests. They can come and go as they please and don't have to worry about interrupting your schedule. "Offer up a tour when they arrive or the option to just leave a key. Everyone is different and it's important to at least give them the option. Share the important details upfront so they don't have to ask any questions and to let them know everything in advance." says Guerin.
11. Make Sure You Have The Essentials
"Leave out much-needed items such as towels folded in plain sight (rather than making guests scout through closets) and travel-size everyday shampoos and lotions in the shower. It only makes you look like a wonderful host! Another special touch I like to do is wrap the towels in twine and set them on their bed," says Guerin. Before you give yourself a gold star for being an awesome host, show your guests where everything is so they don't have to search for anything. They will appreciate to know that they have everything they need to live comfortably for the next few days.
While it's exciting to have guests stay at your home, you want to make sure they feel comfortable. Offer to leave a key, provide a travel guide, and clean your entire house. Your guests will appreciate your effort to make them feel welcomed at your humble abode.
Images: Courtesy Of Onefinestay