You Need Sigma Beauty's 'On Point' Brushes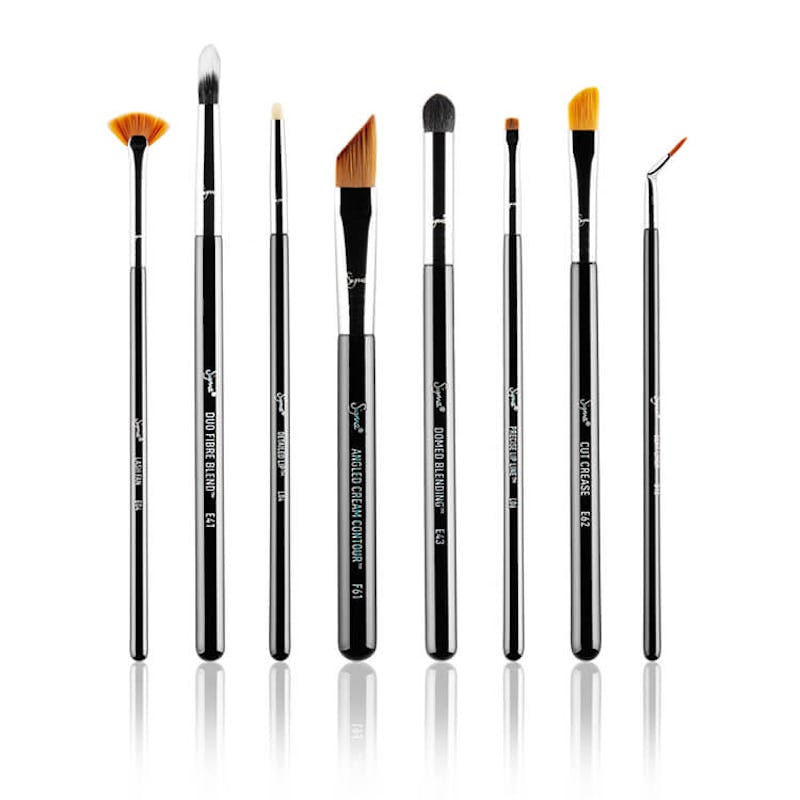 There's nothing beauty product junkies love more than a new product launch, and there's basically nothing that makes your makeup game more on point than having a great collection of brushes. That's why Sigma Beauty's On Point brush collection piqued my interest — it's definitely a game-changer when it comes to the brush world.
The recently launched On Point brush collection is eight brushes that are what Sigma Beauty calls detail-driven. So what exactly does that mean? They're each designed with a unique purpose to have a single use and do the job better than anything out there. For example, the collection includes a bent liner brush that has a thin tip and a bent angle that makes it easy to apply a perfect winged liner without smudging it. Also included is a lash fan that's designed to perfectly apply mascara, and not one but two lip brushes that help you get the perfect lip line for whatever look you're going for.
In other words, if you're a serious beauty aficionado, you definitely need these brushes. And at $98 for eight of them, they won't break the bank. Luckily, you can also buy the brushes individually if you're looking for one with a specific purpose.
Here's what's you're going to get.
Detail Brush Set, $98, S igma Beauty
The brushes are gorgeous, right? This is what each individual brush does.
E04, $15, Sigma Beauty
This brush is designed for "deep and controlled application of mascara," and it looks like it'd definitely do that job.
E41, $15, Sigma Beauty
This brush's packed bristles are designed to apply eyeshadow in your creases, and it looks like it's going to do an amazing job.
L04, $15, Sigma Beauty
The detailed lip brush is designed to apply lip color precisely and without smudges.
F61, $20, Sigma Beauty
The angled cream contour brush is a must-have in every beauty junkie's makeup kit, and it looks like it's perfect for precise application.
E43, $17, Sigma Beauty
The domed blend brush "easily darkens the outside corner of any makeup application while simultaneously, softly blending it," according to the company. It's designed to be used with eyeshadow or cream shadow.
L06, $15, Sigma Beauty
This super small lip line brush is designed to help create the sharpest lip line possible (and overline your lips if that's something you're into).
E62, $17, Sigma Beauty
This brush pretty much does what the name says — it's designed to make your cut crease super sharp and dramatic looking.
B12, $15, Sigma Beauty
This handy brush is designed to create the perfect sharp eyeliner look, and I love how the bent angle means it helps you avoid smudging.
Although $98 is a little bit much for the entire brush collection, if you're a beauty lover who wants a serious brush collection, this is a great one to start with.
Images: Courtesy of Sigma Beauty