Read At Your Own Risk: Season 5 'PLL' Spoilers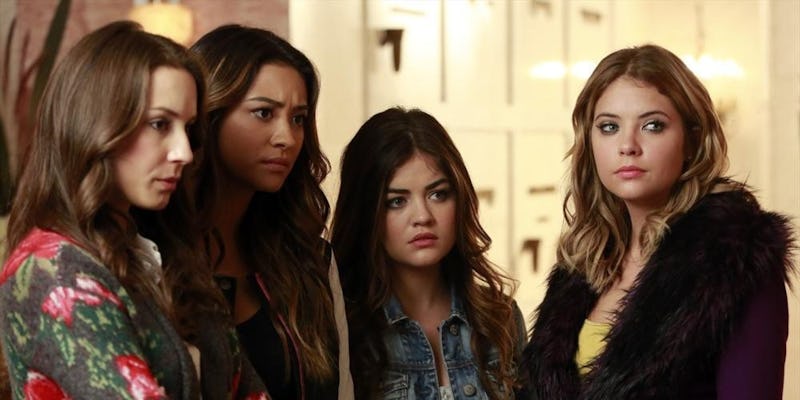 Am I the only one who was slightly disappointed in the Pretty Little Liars Season 4 finale? Don't get me wrong — I live and breathe for this show — but I desperately wanted to see who was underneath the mask. Sure, we got some solid answers about "that night" (Alison's mom buried Ali to protect her attempted murderer! Mona knew Ali was alive the entire time!) but we were still missing a very key piece to the puzzle — and that puzzle piece is named A. Luckily for us, showrunner I. Marlene King has promised us that Season 5 — which premieres on June 10 — will be "the season of answers." Yay! The Pretty Little Liars sat down with The Hollywood Reporter and dished some serious spoilers. She also filled us in on exactly what went down on the rooftop, the fate of Ezra, and Alison's future as a formerly-dead person. Here are some of the best Pretty Little Liars Season 5 spoilers we have for the new season:
Aria and Ezra are not over.
We don't know Ezra's fate for sure, but I. Marlene King does suggest that Ezra may survive this turmoil: "[Aria and Ezra] are like magnets who attract each other for hopefully the run of the show because I think they are soulmates." Hmm, sounds like Ezra may make it out of Season 4 unscathed.
We'll find out what Ezra knew about A's identity sooner than you think.
"Believe it or not, you won't have to wait a long time for those answers. A lot of those answers will come." I. Marlene King goes on to say that the first episode of Season 5 is really more of a "two-parter" and that the season will really be a season of answers.
The girls will start the new season in NYC.
I'm glad that this was addressed — when I saw the Empire State Building in the background of the final scene, I had assumed that it was just a cheaper stand-in for one of Philadelphia's skyline buildings. But no! It was intentional. According to I. Marlene King, they kept the exact location hidden from viewers and allowed them to assume that the girls were holed up in a different part of Philly. The just-released title of the Season 5 premiere is "Escape From New York."
Alison will return to the little liars.
Maybe this is just me, but I always found Alison most interesting when she was a ghost from the liars' past, rather than a full-fledged human being. On-the-run Alison is not nearly as much fun as ghostly Queen Bee Ali D. We'll be seeing a whole new layer to Alison's personality in Season 5. Has she really changed? Is she still the manipulative mean girl she was before she fake-died? King says: "Part of the journey is going to be discovering has Ali changed, is Ali the Ali we saw last night? It's all part of what we're exploring and what does her dynamic bring to the group and what the group brings to her."
Mrs. DiLaurentis is probably dead.
Let's not rule anything out, of course — Alison seemed pretty dead, too. The showrunner says that Mrs. D's supposed demise will be a major plot point of next season's mystery. As for Alison's mom's burial? According to King, it feels "very much like karma" for the way she buried her own daughter.
Nothing is alright in couplesville.
If you love Hanna and Travis' cute blossoming romance or the adorable bond between Spencer and Toby, don't get your hopes up that it will stay sweet in Season 5. "There will be a couple who spirals together as opposed to our usual formula where the girl saves the boy or the boy saves the girl or the girl saves the girl in Emily's case. In this case, neither is saving each other for a while."
The common thread for Season 5 is different.
King says that this season will focus on "emotion and intrigue." According to King, "The girls are growing up, our fans are growing, our stories are growing and it feels organically like it's tonally shifting in the right way."
Tune in to ABC Family on Tuesday, June 10 for the return of Pretty Little Liars.
Photos: ABC Family