Updates To South Carolina School Shooting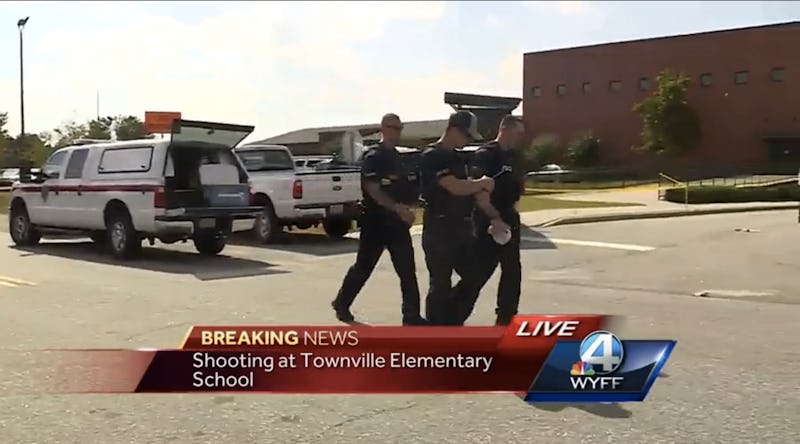 Update: On the afternoon of Sept. 28, a shooting at Townville Elementary School in South Carolina left two 6-year-old boys and a first-grade teacher injured, Anderson County's Capt. Garland Major confirmed. Less than an hour after the attack, a 14-year-old boy was taken into custody. Later that day, the suspect's grandparents found his father, Jeffrey Dewitt Osborne, shot to death in his home about 3 miles away from the school, according to Anderson County Coroner Greg Shore. The investigation of Osborne's death is ongoing.
Earlier: At least two children have been injured in a shooting at Townville Elementary School in South Carolina, according to Anderson County EMS Director Scott Stoller. The injured children were both airlifted to Greenville Memorial Hospital approximately 40 miles away for treatment while the other children at the school were evacuated in busses to a nearby church. According to a local coroner, the children did not appear to have sustained life-threatening injuries. The helicopter transporting the injured children arrived safely at the hospital at 3:15 p.m. ET, and updates on their conditions should be forthcoming soon. A female teacher was also injured in the shooting, which began just after 1:00 p.m. local time, and was transported via ambulance to a different local hospital.
Anderson County Sheriff's deputies told local NBC affiliate WYFF News that a suspect is currently in custody — according to live reports from WYFF, the alleged shooter is a teenager. According to local authorities, a death three miles away from the school is also connected to the shooting, and investigators from the Anderson Country Coroner's Office are heading to that scene now. Preliminary reports indicate that victim could be a relative of the shooter.
In addition to officials from Anderson County, neighboring Oconee County is also lending man power and other resources to help with the developing situation. "I have spoken with Sheriff John Skipper in Anderson County and have offered to make available any resources and assistance from the Oconee County Sheriff's Office that he needs as the investigation continues," Oconee County Sheriff Mike Crenshaw said in a statement.
Families were able to pick up their children from the local church — CBS affiliate WSPC captured footage of parents who rushed from work to go pick up their kids. Just 300 children attend the school, which only employs 18 teachers.
Updates
2:58 p.m. — South Carolina senator Lindsey Graham tweeted his support for the community.
3:16 p.m. — South Carolina senator Tim Scott also expressed his condolences for Townville via Twitter.
3:52 p.m. — WYFF reported that the school did not have a resource officer on campus.
This story is developing...
Image: