Laurel's Dad Is Important On 'HTGAWM'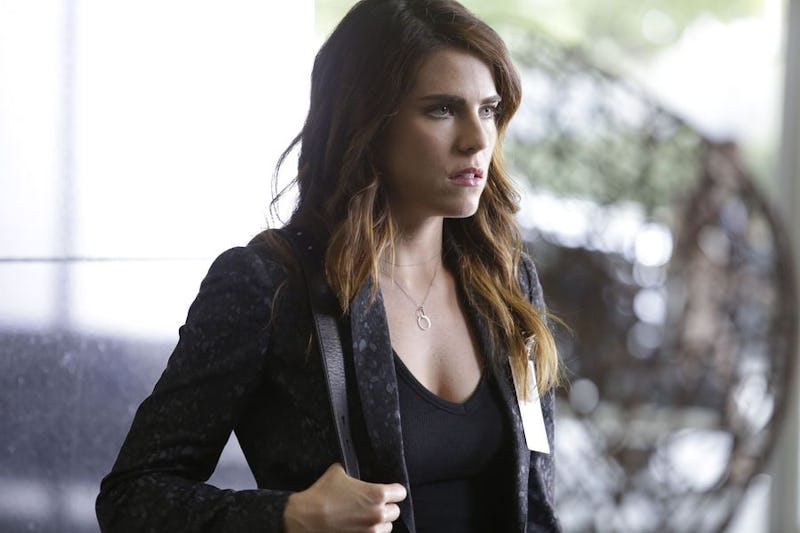 Frank is on the lam on How To Get Away With Murder, and Annalise and Bonnie know just how to get him to come back to Philadelphia — Laurel. Laurel and Frank, if you remember, were pretty hot and heavy in Season 2, until he left because he might have (probably did, maybe) killed Wes' dad in the Season 2 finale. Annalise told Laurel to call her father to help find Frank, but what does Laurel's dad know on How To Get Away With Murder ? Why does he know where Frank is?
We met Laurel's dad back in Season 1 at a very uncomfortable dinner at her parents' house, and Laurel constantly makes the insinuation that her father is not a good man, whatever that means. We don't know what kind of illicit activities Laurel's dad partakes in, but she once said that Frank was like her father, and Frank is an out-and-out murderer, so you do the math there. I'm not quite sure why Laurel's dad would know were Frank is — is there a phone tree for assassins that they call when they need help? Does Laurel's dad know Annalise and owe her a favor? Why else would she have Laurel call her dad? Does she know Laurel's dad beyond Laurel? Once again, How To Get Away With Murder leads with the questions and virtually no answers. Just kidding, we have one — showrunner Pete Nowalk said that Laurel's dad is coming to stay for a little.
I'm thinking that Annalise and Laurel's dad know each other somehow outside of her knowing Laurel. Annalise's closet is full of skeletons, so what's another murderer in it? Not much to her. What I'm hoping is that Annalise doesn't make Laurel's dad kill Frank or something. Imagine what it would do to Laurel — her father quietly offing her love? I know that Laurel actually loves Frank, and I just think she doesn't know what to do with it. I just hope her dad doesn't know about it, because I have a feeling it won't be good.
Images: Nicole Wilder/ABC