This DIY Makeup Brush Organizer Is So Simple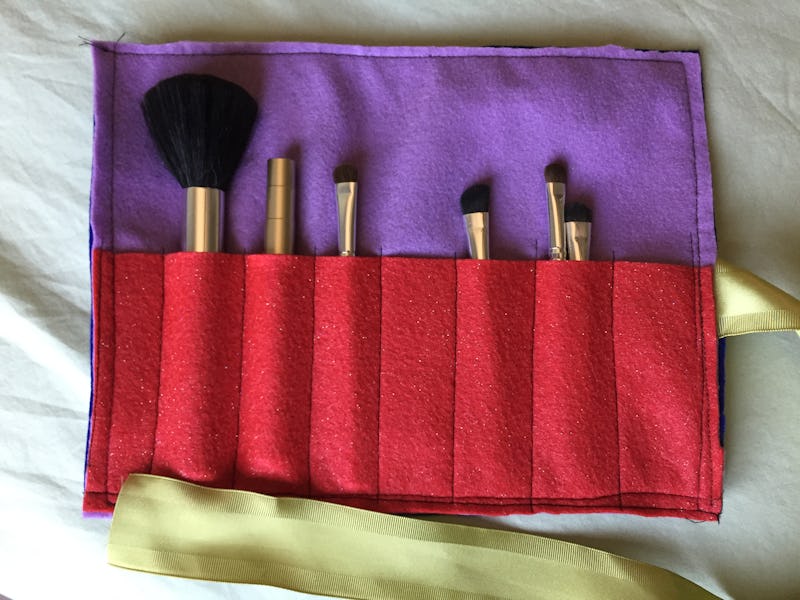 There are plenty of tips on the Internet to effectively organize makeup items, but when it comes to organizing brushes — arguably one of the most important tools in a makeup collection — the ideas are somewhat limited. Luckily, this DIY makeup brush organizer is not only clean and tidy, but also totally customizable and extremely budget-friendly.
So to all those makeup lovers out there that have searched far and wide for a makeup brush organization solution, be prepared to DIY your way into an easy (and chic) fix. The thought of disorganized and dirty makeup brushes is slightly disturbing, especially for the beauty-obsessed neat freaks of the world like myself. The bristles used to wipe and swipe makeup onto our faces with should be treated with tender loving care, not just haphazardly thrown into our makeup bags or vanities exposed and vulnerable to germs, dirt, and who knows what else.
Simply put, makeup brushes are gentle creatures that need to be taken care of. With this handy dandy DIY makeup organizer, that doesn't have to be a tedious task that takes you out of your creative moment with makeup. Follow these seven steps to an simple, chic, and smart makeup brush organizer that not only makes it easy to stay neat, but also shows you all your products that are within easy reach, make it easy to travel with, is totally customizable, and costs less than most store bought versions.
The Materials
DIY projects can be intimidating, but you don't have to be Martha Stewart to create this makeup brush organizer. And the material list attests to that, since there are only a few key tools and supplies involved. This is what you'll need:
1 pair of fabric scissors
3 pieces of felt 8" X 11" (in the colors of your choosing)
12 inches of decorative ribbon
Either fabric chalk OR fabric pins
1 glue gun with 2-3 glue sticks OR a sewing machine with 1 roll of thread and 1 seam ripper
You don't need a lot to create a flawless makeup brush organizer from nothing. Plus, these materials all cost around $5 each (or less) at your local craft store. Whether you want to use a glue gun or sewing machine is dependent on what you have available (glue guns are generally inexpensive, or maybe you know someone with a sewing machine who would let you borrow it for a few minutes).
Once you have all your materials laid out and ready to go, here's your plan of action.
1. Measure The Height Of The Pockets
Take two pieces of felt that will make up the inside of the organizer and lay them flat on top of each other. Then, grab your makeup brushes and line them up on the long side of the felt to measure their height.
If you have long brushes, the height of the inside pocket for the brushes will be longer. But if your brushes are shorter, the height of the pocket will be shorter. You want to make sure that the height allows you to see the tip of the brush. Once you determine the height, cut that piece of felt on top at that height.
2. Measure The Width Of The Pockets
Then, measure out how many brushes you'll want to store and how many pockets you'll need. If your brushes are thicker in circumference, then you'll probably have a smaller number of pockets. But if your brushes are thinner, you'll have more pockets.
You may want to place your brushes in between the two pieces of felt at this time to really see how many you can fit and what width they need to be at. Feel free to use either fabric chalk or pins at this point to visualize what this will look like.
3. Attach The Pockets
So you've got a cut piece of felt, a full piece, and some measurements of where you want to put your makeup brushes. Now, you get to attach the two piece of felt at those measurements. The key here is to take it slow.
In the photo above, you can see how I went around the small piece of fabric to make the larger pocket, and then sewed into the pocket to make the smaller pockets for the brushes. If you're working with hot glue, do the same with the hot glue gun, and try not to jerk the gun around too fast since the felt will need time to settle.
After securing the loose threads or letting the glue cool, and before moving on, double check that one of your makeup brushes does securely sit into one of the pockets. If it doesn't, you might need to reinforce the glue or re-do the stitch. If not, by all means move on to the next step!
4. Attach The Ribbon
It's all downhill from here. Next, you want to take the ribbon and glue or sew it to the back of the full piece of felt. You'll want to do this with at least one inch of the ribbon at one end, so you know it won't budge.
5. Secure The Back
Once the ribbon is secured, you'll grab your last piece of felt. This should be the same size as the piece that's the back of the pocket. Place it on the backside where you attached the ribbon, so it's covering where it was glued on. Glue or sew this final piece on, and don't worry about being too perfect — you'll see why in the next step.
6. Clean Up The Edges
The last step is to clean up the edges. Once the glue is cooled or the thread threaded, grab your scissors and cut around any jagged edges that may have occurred. Felt can be a little finicky, so be weary of long snips as you're best taking it slow and steady.
7. Enjoy Your Rad New Brush Organizer
Finally, place your makeup brushes in the pockets on the inside, roll up the felt, wrap the ribbon around the roll, and voila! You've got your own, handmade and personalized makeup brush holder!
It's an easy and cheap project for a makeup brush holder that's clean, organized, and dependable, whether it's on your vanity counter, in your makeup case, or in your travel bag. Even if affordable makeup brush organization options are slim pickings, this budget-friendly and fun project means that storing your beloved brushes doesn't have to be a chore or a major expense. Now, there's nothing left to do but geek out with your new makeup brush roll and store your tools in a chic and organized holder.
Images: Melodi Erdogan